Project Management KPI Dashboard Excel Template
Excel Project Management KPI Dashboard Template incorporates key metrics such as CPI and SV and provides comparisons with trend charts.
TEMPLATE DESCRIPTION
All Project Managers know how vital it is to measure the key performance metrics of their team to achieve success in each project. Keeping that in mind, our Project Management KPI Dashboard is the ideal thing to do just that. Also, it will keep you on top of each project and enable you to take the appropriate action.
On the other hand, this straightforward Excel Template will make it easy for you to track your metrics, determine changes, and impart them in a clear, concise way.
Knowing which Project Management KPIs You Should Track
Firstly, you need to research and choose the business metrics you want to track based on your business model. Then, we have made things easy for you and put together the top 15 KPIs for Project Management, these are listed below:
Cost Performance Index (CPI)
Scheduled Variance (SV)
Resource Utilization
And also many more…
Secondly, we have gathered them together and placed them in three key metrics categories, as follows:
Budget
Timing/Schedule
Effectiveness
To clarify, With Someka easy-to-use template, you can quickly add others which may be relevant to your projects and easily follow them.
Creating Your Project KPI Dashboard
Basically, once you have chosen your specific metrics, you are going to need to add some team targets and also compare your Target Values and Previous Year. Besides, it's worthwhile adding some trend charts to support your objectives. Our Excel Template gives you:
Project Management KPIs with their relevant descriptions
Trend Charts
Prior Year and Target Value Differences
Monthly and Aggregate Breakdowns

Menu
This template is divided into two sections: input and output. Please remember to enter your data carefully in the Input section because it will be analyzed in the output section with a dashboard and charts.
KPI Metrics

Firstly, there is some dummy data in this section, so you can look up some samples. Begin by specifying the KPI group, criteria, and unit. Also, decide whether it is better to have a lower number or not by adding "Yes" or "No."
Monthly Project Management KPI Analysis Template
Secondly, in this sheet, you can select which month of the year you want to see the analysis for by using a dropdown menu. The template will then compare Actual vs. Targets and display the results in Green, Red, and Yellow.

Trends and graphs
In this section, you can view the monthly and cumulative performance per KPI metric for each month. A monthly overall analysis with colors and a bar chart is also available.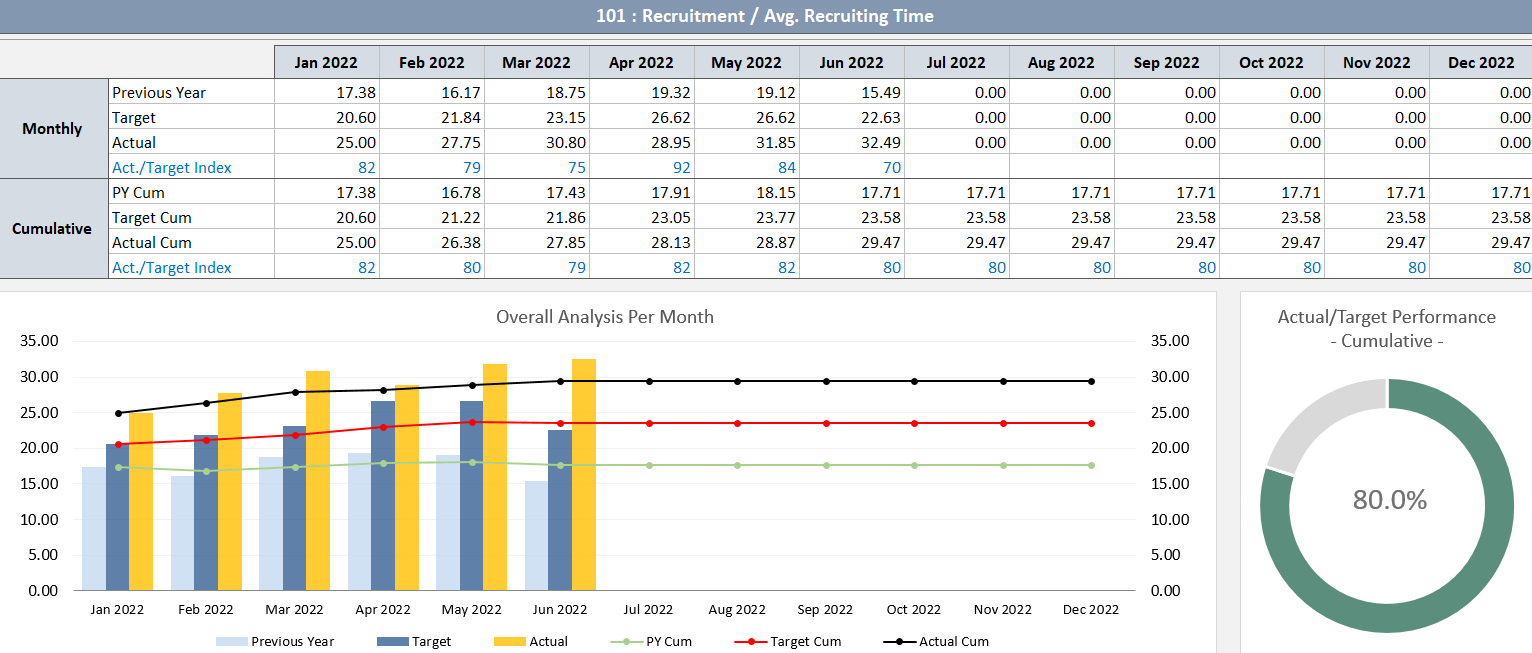 Finally, this is the perfect way to follow your essential business metrics, make assessments and remain on track!
Project Management KPI Dashboard Features Summary:
Monthly and Aggregate Breakdowns
Assessment of Prior Year and Target Values
Dashboard synopsis with interactive charts
A simple design which is easy to use for presentations
Precise instructions (on-sheet)
Compatibility with Excel 2007 (and later)
Fully functioning with Window and Mac
No set-up required
Pre-designed Project Tracker in Excel
Print-ready
White Label
No Excel VBA macros
FREQUENTLY ASKED QUESTIONS