Where are the sheet tabs in my Excel template? How can I add a new one?
In most of our templates, we hide Excel sheet tabs and put navigation buttons instead. We prefer this approach due to some technical advantages and also more professional look.
For example:

But if you want to see the sheet tabs, you can easily display them as explained below.
For Windows users:
Go to File > Options > Advanced, and under Display options for this workbook, and make sure the Show sheet tabs check box is selected.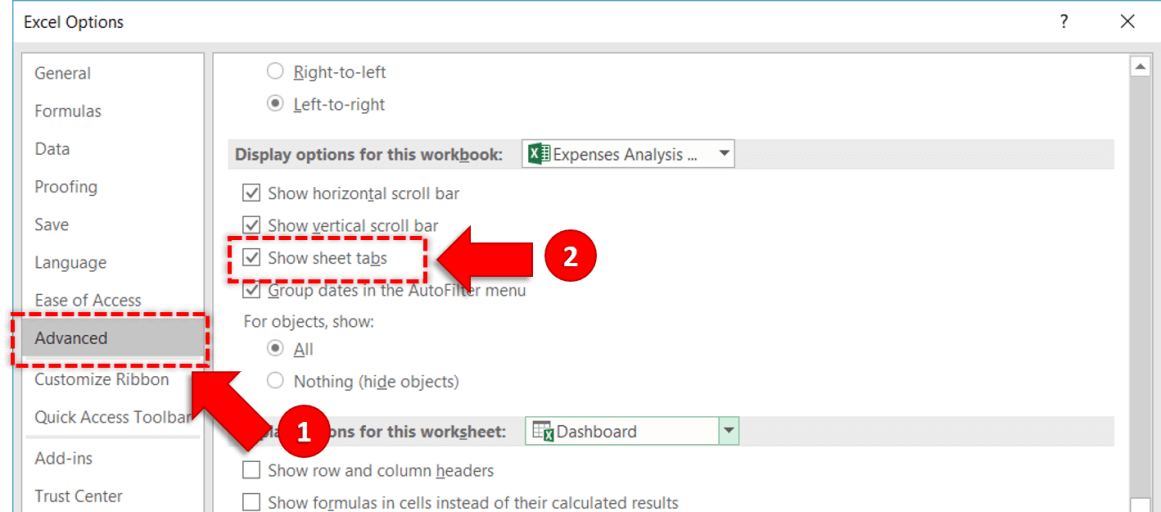 For Mac users:
Go to Excel (from menubar) > Preferences > View > Select Show Sheet Tabs

Still, don't see the sheet tabs?
If you have enabled the Show Sheet Tabs option and still don't see the tabs, then probably you arranged the Excel window so that the tabs are not present on the screen. In this case, simply maximize the Excel window by double-clicking on the workbook's title bar.
If you still don't see the tabs, click View > Arrange All > Tiled > OK
For a further explanation check this out: Where are my worksheet tabs? – Microsoft Office
I found the sheet tabs. But how can I add a new one?
After displaying the sheet tabs and unlocking the workbook, you may add new sheets to you Excel template.
To add new sheets, click on the plus (+) sign and the new sheet will be added to your Excel workbook:

The sheet I want to work on is a hidden sheet, how can I view it?
To avoid confusions, we mostly hide calculation sheets and other sheets that are not useful for our customers to fully use the template.
To view a hidden sheet, first display the sheet tabs.
Following that just right click on any sheet tab and select Unhide to see and unhide the hidden sheets:
---
Go back to FAQ Center