Restaurant Financial Model Excel Template
Excel spreadsheet template to make financial plans for your restaurant business. Helps you to prepare budget and run scenarios before/after investment.
TEMPLATE DESCRIPTION
How to open a Restaurant or Café of your dreams? Actually, it is quite hard to have a popular restaurant with high profits all at once. For this reason, before opening your café, you should make some calculations and some budget assumptions. We have built this Restaurant Financial Model Template to help you make startup feasibility studies in Excel easily.
By using this Excel Financial Feasibility Template, you will start to input your projections and see possible results of them without needing to learn complex concepts! Here is what you will get:
Long term plan of your business (1 to 5 years)
Profit predictions (EBITDA)
Financial Statements: Income Statement, Balance Sheet, Cash Flow Statement
Sales Revenue and Cost of Goods Sold
Capital budget needed
And the simulation of your plans with a lot of parameters like this.
Therefore, you will be aware of any risks before making your investments!
RESTAURANT / CAFÉ FINANCIAL MODEL FEATURES
Basically, this template consists of 3 main parts:
Sales and Pricing Assumptions
Fixed and Startup Costs
Reporting
Thus, the flow of the Restaurant Financial Model is:
First of all, in the Assumptions section, input your Sales projections, prices, and unit cost
Then input your fixed and startup costs like rent, electricity, equipment, and so on.
And according to your inputs, output reports such as profitability, break-even and many more will be automatically created.
Finally, you can analyze the outputs to make new projections until you get satisfying results.
Visually, this process works like this: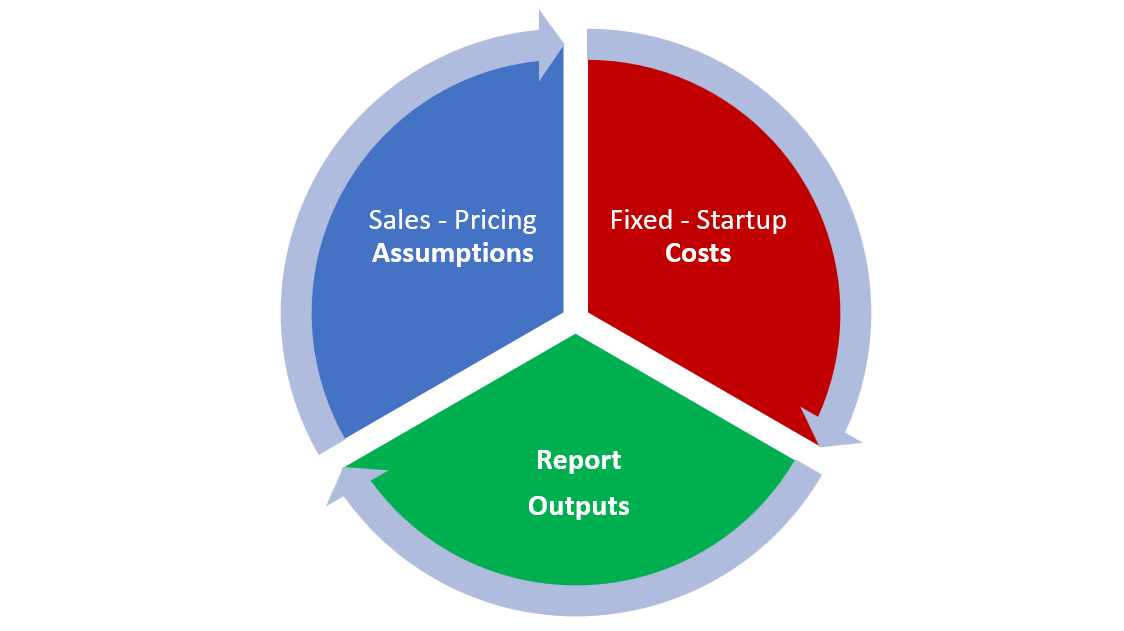 Below, we will explain these 3 sections in detail. But before that, let's start with reviewing the Dashboard section of the template.
FINANCIAL MODEL DASHBOARD
We have prepared a Dashboard section to manage this comprehensive financial model easily. The above section of the Dashboard is Navigation, while the below section is Settings.

Here is the Navigation section. Basically, you can put the predictions to the sections of the left which is blue or red. After that, output results will appear in the green sections on the right.
Also, the Dashboard has a Settings part like this:

Settings details in this restaurant financial model are as follows:
Menu Items – Group table: Here, we have put some dummy menu items. You can input your product which you plan to sell in your Restaurant/Café. (If you need much more space for it, you can expand the area easily by clicking + sign. This is valid throughout the financial model template)
Sales Channels: Sales channels are your delivery ways. We placed 3 channels as an example: Sit-Down, Take-Away, Online order. According to these sales channels, you can define different pricing strategies for a product. For example, when customers prefer Take-Away service delivery, you can sell it at a lower price. As a result, these options will provide flexibility to your restaurant. You can add/remove other sales channels.
Model Config: You can change these 4 options:
Projection Years: Projection years allow you to predict the monthly Café budget from 1 to 5 years. It depends on your requirements about the feasibility period. If you want to change it, the reports will be updated.
Start Date: Put here the possible start date of your restaurant. Report outputs will start with the selected date.
Currency: Put your currency here. It will not change the cell formatting but it will be shown on financial reports.
Instructions: You can hide/show instructions from the drop-down.
1. SALES AND PRICING ASSUMPTIONS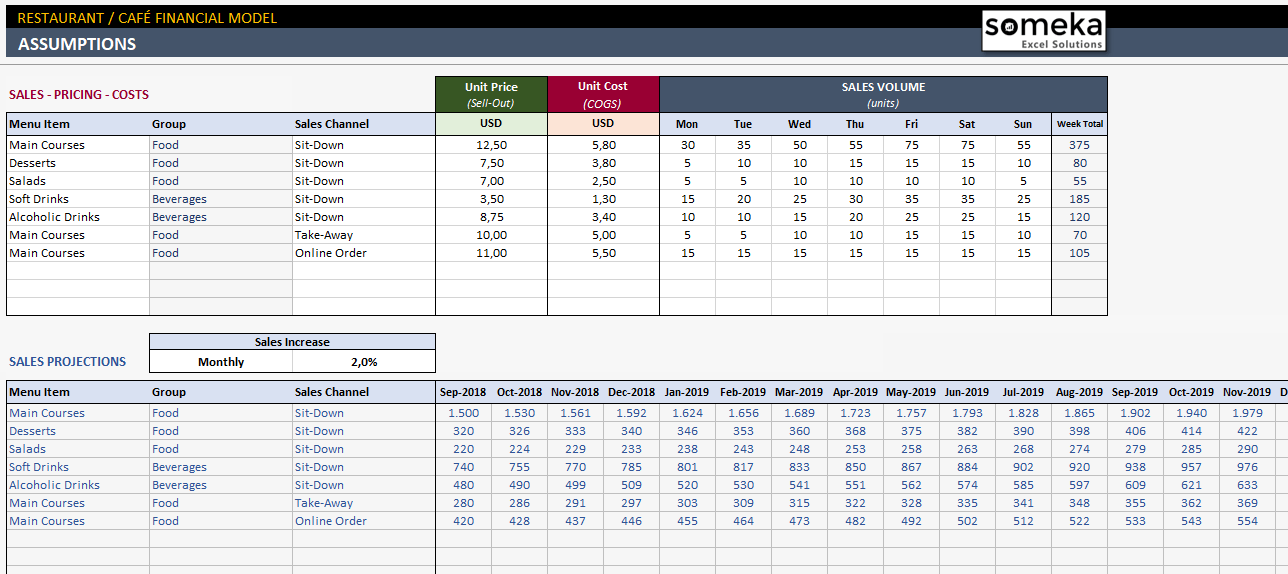 You will input all your assumptions related to your restaurant in this financial model tool:
Firstly, select your menu items and sales channels (group info will be displayed automatically)
Make your assumptions about Unit price (Sell-Out) and Unit cost (COGS)
Input your weekly sales volume in order to calculate revenue projections
Predict growth percentage of sales projections, price evaluation, and cost evaluation. You can do it on the basis of weekly, monthly, yearly or quarterly
The table will be calculated via simple multiplication of units and prices per month and it provides Sales Revenue and Total COGS results.
Remember: White areas are where you make your inputs or selections. Gray cells are calculations and should NOT be manually changed.
Now, we will input assumptions about fixed costs and startup costs.
2. FIXED AND STARTUP COSTS
Fixed and Startup costs are the core concern of your restaurant budget. Understanding these costs will prevent any financial risk at the beginning and help better overall management.
In this section, we input Salaries and Other Fixed Cost assumptions:
Salaries: Labor is one of the biggest expenses of your budget (You may choose to start paying some of your labor salaries later). Afterward, you can see the effects of the salaries on the Breakeven analysis.
Other Monthly Expenses: Input here your other monthly costs like Rent, Advertising, and Agency. During the start-up phase, it can be hard to accurately predict these costs. However, once you analyze the outputs, you will be able to make more accurate assumptions about your revenue.
While filling this section keep in mind that salaries and fixed costs may increase over time. So keep an eye on restaurant financial model Excel template output reports to help you decide on these increases.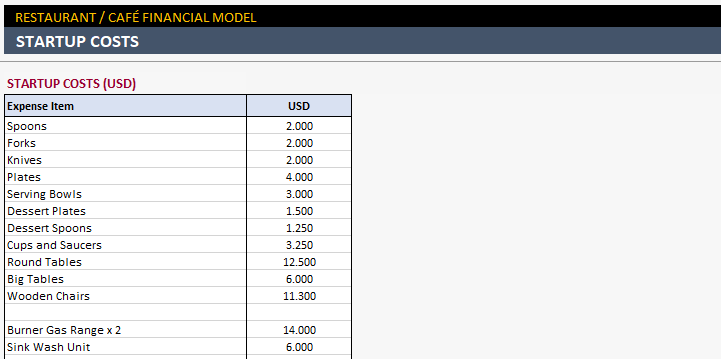 Start-up Costs: Start-up costs are more than furnishing, spoon, or plates. It requires careful planning and estimations and it is essential for the output results. Therefore, if you want to find an answer to "When my restaurant will start to gain profits?" calculate your start-up costs and input them here.  Later on, it will appear in the Breakeven Analysis.
For the sake of simplicity, we ignored amortization and depreciation in the Breakeven Analysis. So, if you have a significant amount of fixed assets and want to include depreciation, you can deduct them from monthly expenses.
3. REPORTING
FINANCIAL STATEMENTS
Organized financial models are built from top to bottom. The Restaurant Financial Plan Template provides monthly statements that flow into annual summaries easily.
Basically, 3 main statements will appear:
Income Statement (P&L)
Balance Sheet
Cash Flow Statement
Most of the variables come from the results of your assumptions. Every gray cell is automatically calculated by values. So the only place you should type manually is white cells.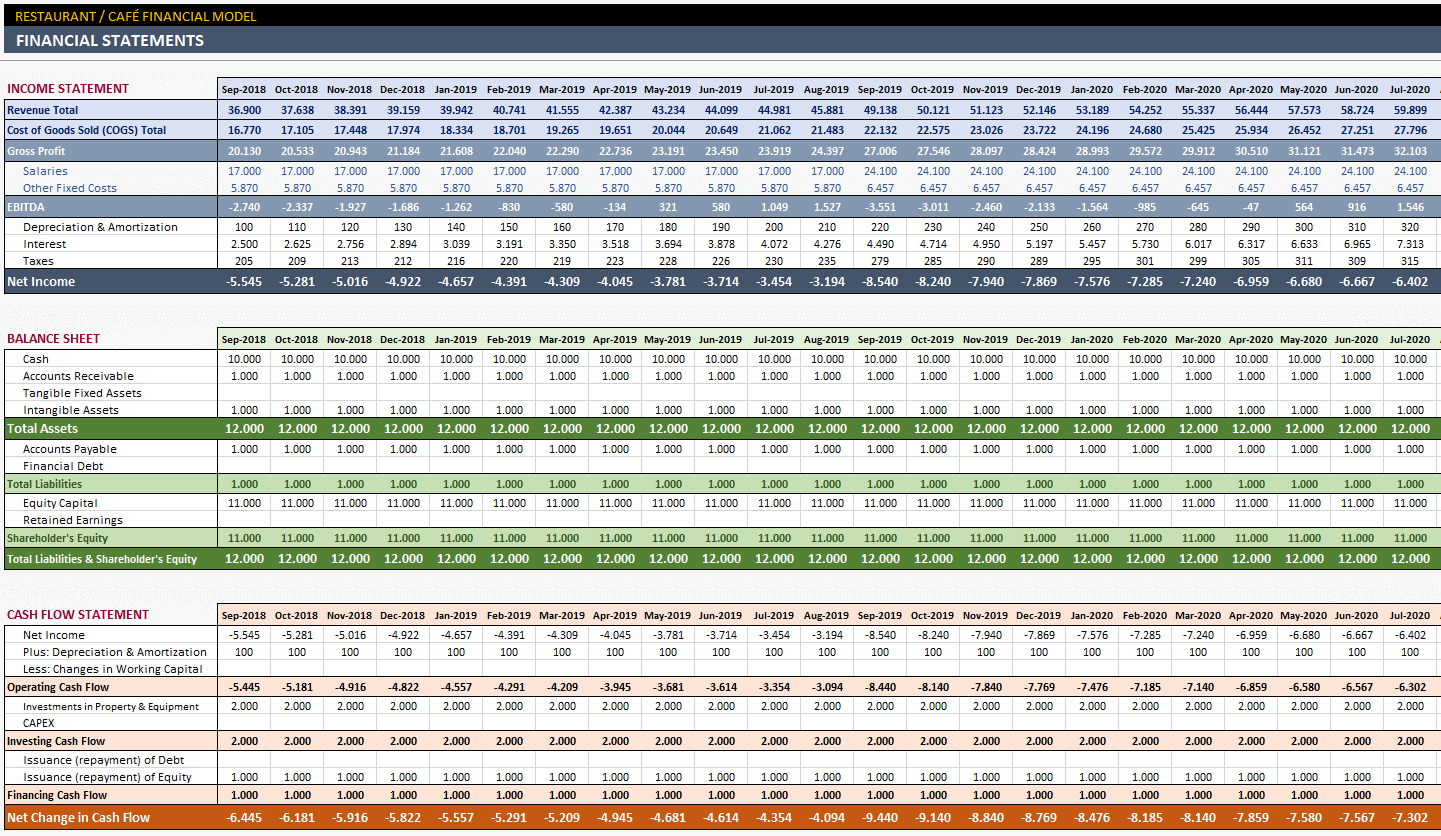 BREAK-EVEN ANALYSIS
Spending money does not necessarily create profits. You should use some tools for better understanding. Break-even analysis is an effective way to lower your budget/capital risk. However, the charts may be time-consuming to prepare. This Excel Restaurant Financial Plan Template does it for you automatically: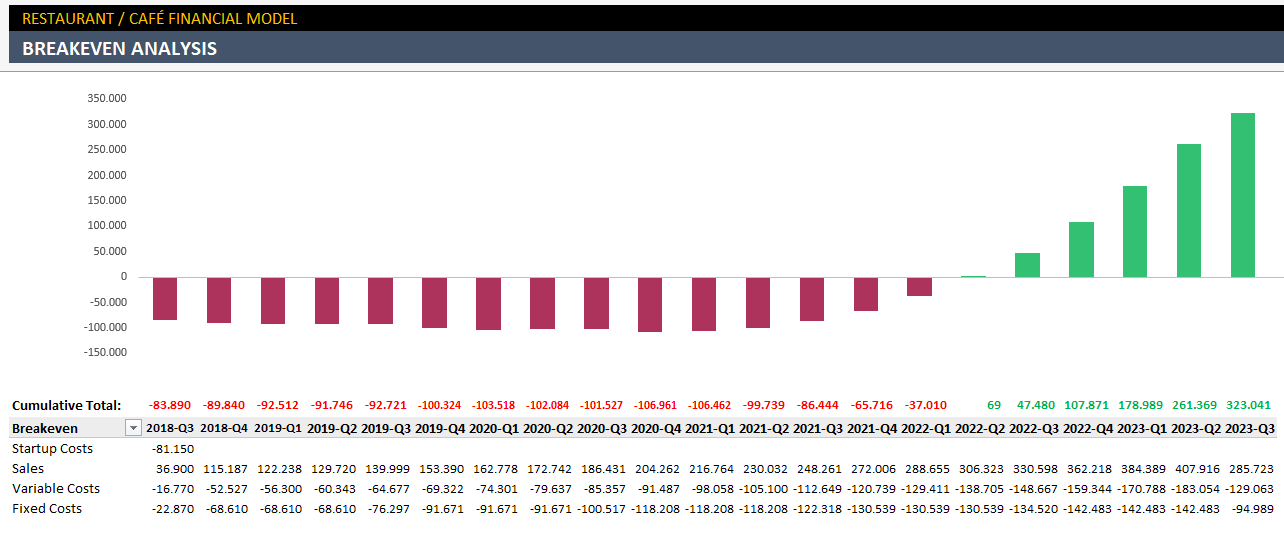 It helps you to make your analysis with various price and sales volume scenarios yearly, quarterly or monthly. After that, you can manage your budget assumptions in order to get to the positive side of break-even.
OTHER REPORTS
PROFITS (EBITDA) – TREND REPORT
SALES UNITS BREAKDOWN
REVENUE DETAILS
GROSS PROFITS
SALARIES REPORT
DATA SOURCE
Finally, the Data Source is the section that consolidates all data and inputs of your restaurant's financial plan. We do not recommend you make any manual changes in this section. However, if you are comfortable enough to modify the file structure, you can edit this section to create much more customized reports with your data.
RESTAURANT FINANCIAL MODEL EXCEL TEMPLATE – FEATURES SUMMARY
Unique Excel Template to perform financial feasibility studies
Works both on Mac and Windows
No installation needed, ready to use.
Professional design and suitable for presentations
Innovative reporting system
Financial Statements
On Sheet Instructions
White Label
Print-Ready
Compatible with Excel 2010 and later versions
FREQUENTLY ASKED QUESTIONS