Simple spreadsheet to create roadmap diagrams. Visualize your processes all product plans. Printable roadmap with optional colors. All in Excel.
TEMPLATE DESCRIPTION
You have a clear target and you know the steps to reach that, but you also want to see the clear path bringing you to the top. That's where this Roadmap Excel Template will help you to visualize your major goals and strategies. Now, you can plan and achieve your goals more effectively with this agile management tool.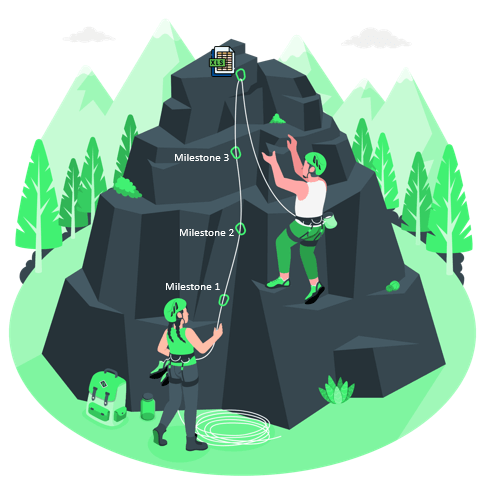 In some cases, roadmap excel templates are misunderstood as timelines for a project or product. While there are many similarities between the two, the most important difference is that we do not need any exact dates for roadmaps.
Roadmap Excel Template Main Features
Above all, there are two sections in the roadmap excel template:
Roadmap
Settings
So, let's look at these sections more deeply.
1. Roadmap Section
There are two parts in the roadmap section: a goal table and a roadmap diagram.
Here you can write down your goals, stages, and the responsible department. As you fill out the table or make changes, the roadmap diagram on the left will immediately reflect the changes.
To clarify, it is possible to add goals in this roadmap excel template, by writing them down on the table. Furthermore, the excel template allows you to specify the general length of your goal as well as whether it is an important one or not.
As soon as you mark  a goal or task as a milestone, a star will appear next to it and the description will appear in a bold font. So that, you can easily highlight your milestones.

Note: You can change the order of the cells in your own approach to suit your needs.
2. Settings Section:
You can customize your roadmap in the settings section of this Excel template. Generally, there are three options available in settings:
Phases
Splits
Time Ranges
Firstly, this roadmap template gives you the option of adding up to 10 phases (time periods). Moreover, you can use any splitting phases that you like, such as Now, Next, and Future. Or you could also break down the year into quarters like Q1, Q2, Q3, Q4, or even months and weeks.
Secondly, you can edit the metrics associated with your vertical split, also you can write your options next to your preferred color.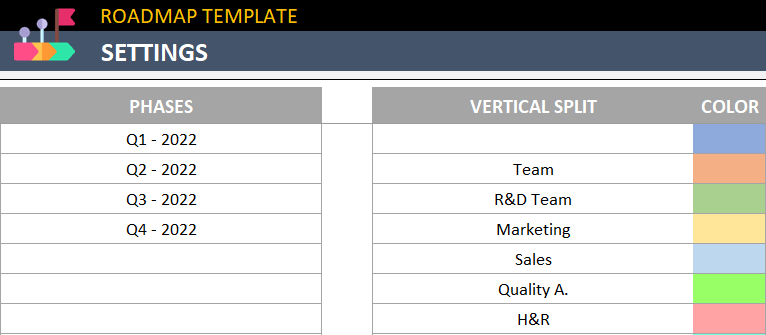 Note: Remember that you can leave empty cells here if you wish. Changing the color of each split manually isn't recommended, as this is all automated on the roadmap.
In addition, your roadmap can be organized by phases, each representing a different department and color. As well as vertical phases, there can be horizontal phases, such as Q1 Q2 Q3 Q4 and many others.
As a final step, you can set your time ranges and adjust the length of your tasks based on the estimated time to complete them.
Roadmap Excel Template Features Summary:
Automatic roadmap diagram maker
Fully printable
Customizable options
Informational notes included
No installation needed, ready-to-use
Works both on Mac and Windows
Compatible with Excel 2013 and later versions
Does not include any VBA code or macros
FREQUENTLY ASKED QUESTIONS