Business Model Canvas Excel Template
Excel spreadsheet to create visual business plans. Summarize your key business factors on a lean canvas within minutes! Detailed guidance included.
TEMPLATE DESCRIPTION
Having a clear picture of business components is very important to obtain a visual snapshot of an organization. In doing so, a Business Model Canvas Excel (BMC) template will assist you in summarizing, designing, and analyzing your company's strategic plan. Therefore we have prepared this Excel tool serving as a one-page lean canvas model.
The original model developed by Alexander Osterwalder, claims that each business may be explained in nine main blocks: Key Partners, Key Activities, Key Resources, Value Propositions, Customer Relations, Channels, Customer Segments, Cost Structure, Revenue Streams. With this lean canvas, you can use these nine blocks or create your own!

Business Model Canvas Excel Template Features
Designed to visualize your business components, our Business Model Canvas has two options:
Dynamic Canvas
Blank Canvas
Both sections will be further explained below.
1. Dynamic Canvas
The Dynamic Canvas of the Excel template contains two parts: a list for your notes and the canvas itself.
The section is where you take your notes and post them on the canvas. Firstly, you will write down your notes into the input table on the left side of the sheet. After that, just select the post-it color from the dropdown menu. Following these, the note is applied to the canvas in the chosen color.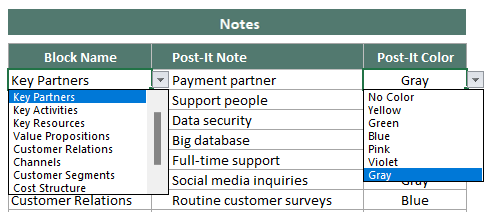 All the notes will automatically appear on the canvas. For instance, the only thing you will be doing is to select the block name for each note from the dropdown menu. It's that simple!
In addition, you can write your company name and date on the canvas, as well as any general notes. According to the principles of the Business Model Canvas (BMC), there are nine pre-defined block category names. However, you can rename these blocks by simply retyping them.

Note: If there is existing data in the list for that block, the template will display a pink warning.
2. Blank Canvas
Blank canvas is the drag&drop section of the Business Model Canvas Template. It allows you to flexibly design your note style. Firstly, you can choose any post-it from the palette on the right side of the sheet and drag it to your desired location on the canvas. After that, you can include any information by manually writing it down on the post-it.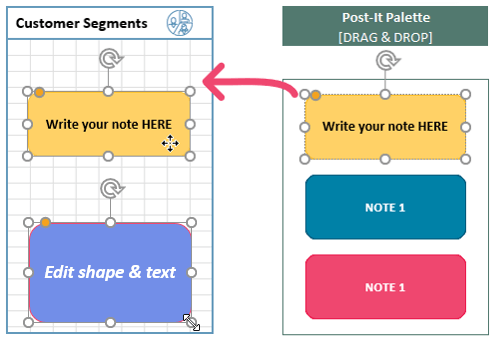 In addition, using the shape format tab, you may customize your notes with different colors, fonts, outlines, and other aspect options from the shape format tab. Furthermore, you may also re-size them according to your needs.
Business Model Canvas Main Categories
The nine categories in the business model canvas template are shortly explained below:
Key Partners: Include your most important complementary business alliances in terms of buyer-supplier relationships and/or other strategic alliances between competitors or non-competitors.
Key Activities: Decide the most important activities in your value proposition.
Key Resources: List the key resources necessary to create value for your customers. These may be human, financial, physical, or intellectual resources.
Value Propositions: Describe the products and services that you offer to meet the customers' needs. Your value propositions may be quantitative or qualitative.
Customer Relations: Specify the critical steps and elements for your customer relationship strategy.
Channels: Mention the distribution channels that you use to deliver your value propositions to the targeted customers. These may include your own channels, partner channels, or a combination of both.
Customer Segments: Explain the customer groups that you aim to serve. You can segment your customers into various sets based on their different needs and attributes.
Cost Structure: Define your cost structure with the most important monetary costs you have while operating.
Revenue Streams: List your way to make income from each customer segment.
Business Model Canvas Excel Template Features Summary:
Visualize your business model
Strategic management tool in Excel
Fully customizable and flexible blank canvas
Informational notes included
No installation needed, ready-to-use
Works both on Mac and Windows
Compatible with Excel 2010 and later versions
Does not include any VBA code or macros
FREQUENTLY ASKED QUESTIONS