Easy-to-use yet powerful CRM Template in Excel. Track your tasks, customers, meetings with a kanban dashboard and calendar. Works in Mac & Windows.
TEMPLATE DESCRIPTION
Customer Relationship Management is always a crucial part of your business to build long-lasting relationships with your customers since it helps to create and improve customer loyalty. It is one of the main factors of a company's revenue. Our CRM template in Excel will help you to grow your sales, increase customer retention, and plan your future moves.

Excel CRM Template Features:
Our CRM template will help you to track your tasks, schedule your work, and remember all your appointments and meetings using Excel as a CRM. The template contains four sections with data input and dashboard/statistics to analyze your data.
Settings
This section is where you define all your settings, set up your process steps, and input your sales agents. Additionally, to get a clear demonstration in the Process Pipeline section, you can give specific colors according to the level of task importance you entered. By determining the lead statuses, it will be easy to observe all current situations of the awaiting tasks in Excel CRM template.

Address Book:
This section is the database that involves your customer's or leads information. By filling the Status column, you can easily track your current and potential customers at the same time. Additionally, this address book helps you to keep contact information related to your leads, prospects, and customers.

Define Tasks (Tasks List):
After you fill the necessary parts in the previous sections in Excel CRM template, it will be easy to assign them to one of the customers from your address book. In the Define Task section, you can create a task and write short information about the goal of that task. You can set it as open when the task is active or close when you want to deactivate it.

Tasks and Process Records:
If you select an active option for the task in the Define tasks section, you can reach the task here. The tasks and Process Records section helps you to follow up on created tasks. You can take notes, plan meetings, and define the next steps by filling the Stage column.
Remember to add a date next to each action. Furthermore, at any time you can filter the list by the task ID or a responsible sales agent.

In Excel CRM Template, there are created a few helpful output tools based on all your previous inputs.
Process Pipeline:
In this section, you can see all waiting tasks in the form of Kanban cards. You can filter specific tasks by their attributes like importance, lead source, customer, or responsible salesperson.
CRM Template – Calendar:
You can also track similar information in the form of a calendar. That way it will be easy to follow your appointments and set your other plans by displaying the spare times you have. In addition, here you may use specific filters for month & year, stages, and salesman.
Furthermore, for ease of use, filters are positioned for a detailed view and time range of tasks to be included in the calendar.

The last two sections are in the form of a dashboard showing graphically all the actions and results. At the same time, these sections allow monitoring salesman performances and control process flow results.
Salesman Performance:
In this section, you can analyze consolidated data per each of your sales agents and compare their work occupancy.  All of the charts in Excel CRM template can be filtered by date and sales agent.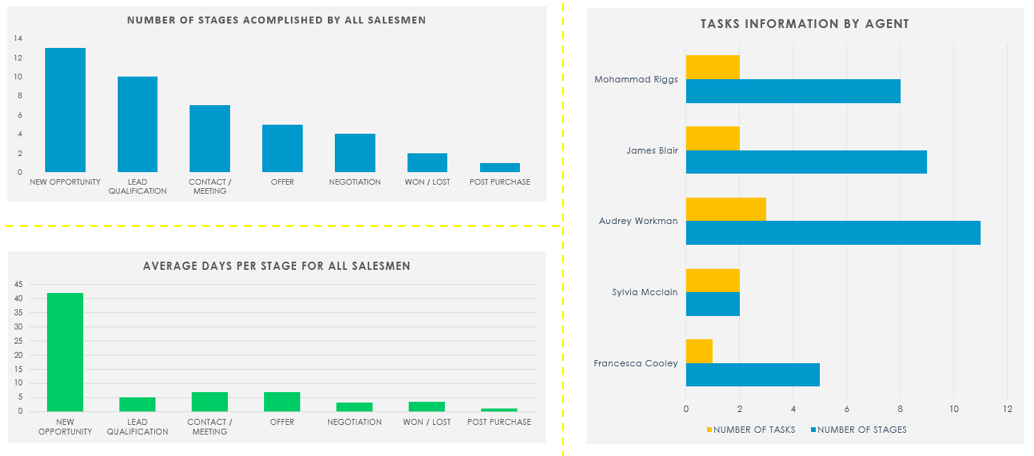 Task Conversion:
In this section, you can process all flow analyses. Additionally, the charts can be filtered by date, closed, or open tasks. You will be able to see where are you losing most of your leads/tasks and what is a source of most of your clients.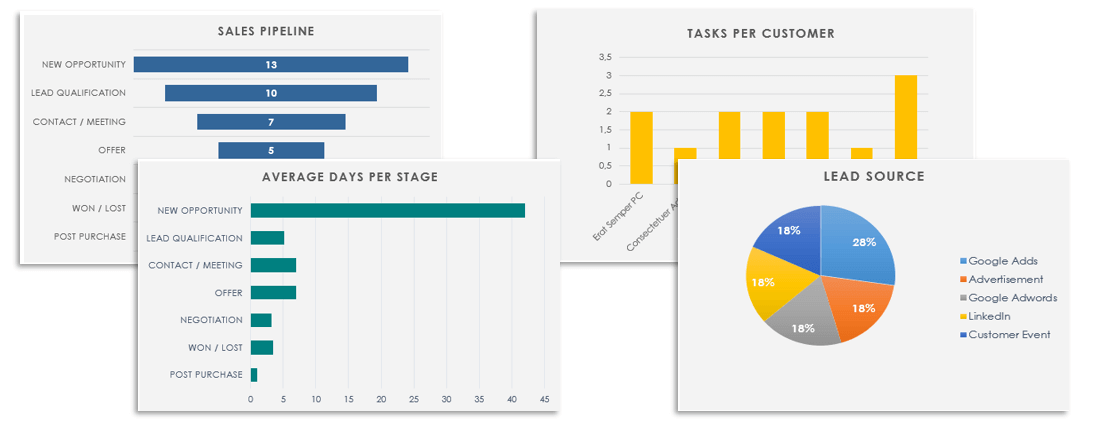 Excel CRM Template Features Summary:
Manage all your customer relations
CRM System in spreadsheet
Observe tasks in a Chart and in the form of Kanban boards
Informational notes included
No installation needed. Ready to use.
Works both on Mac and Windows
Compatible with Excel 2013 and later versions
Does not include any VBA macros
FREQUENTLY ASKED QUESTIONS