Competitor Price Comparison and Analysis Excel Template
Competitor Price Comparison Template will help you to analyse and calculate the correct price positioning for your products and services in Excel.
TEMPLATE DESCRIPTION
Market analysis is a must for any company hoping to increase revenue and stay ahead of the competition in any sector. Most of the buyers compare the offers of several brands in search of a greater deal. One of the most practical ways to make a competitive pricing analysis and see the market position of their products and services is using a tool like this Competitor Price Comparison Excel Template.
These are the reasons why price comparison  is crucial in order to have the right price position within the market you operate. Also, providing the right price for the right product or service will always keep you one step ahead.
If you have competitors in the same industry then you need to look at the positioning of your products according to competition. Hence, making price comparisons and competitor price analysis is an indispensable action for competition. Thanks to this Competitive Pricing Analysis Template, you will guarantee yourself that you are on the right track.
Price Comparison and Analysis Template
Basically the flow of the template:
Type product names, segments and market volumes in the variables table
Define competitor brands and type product prices
As a result, the template will provide you with a weighted price comparison index to see the big picture. Play with the categories, expand/collapse product groups and take necessary actions for areas that seem problematic to you.
Above all, our Competitive Pricing Analysis Template is constructed by three parts;
These are the parts where you will be inputting your data and getting your results in the end. All the parts and sections are briefly explained. So, all you need to do is to follow the steps below.
Variables
Start with this section. This is where you input your raw data by simply clicking on the "VARIABLES" button. In this part, you simply will write your product names, segment types and market volumes of each product. After that, list down the name of brands that sell the same product.
After completing this part, write down your rivalries which you want to see in the analysis in the brand column.
Prices
Click on the "PRICES" button on the dashboard. It is the data that shows the worth of each product brand by brand. Input prices for each product and brand which will be used in the competitor price comparison. You can leave the price blank if you don't have data. Once you put the prices of the products for each brand your data will be ready for the final analysis.

Note: The products and brands you put in the previous section is going to be shown automatically in this part.
Analytics
This section is fed by the values you input in the Variables and Prices section. You can also fix the price index of the selected brand to 100 from the right-hand side and other brand indexes will adapt automatically. All you have to do is refresh the report with the Refresh button.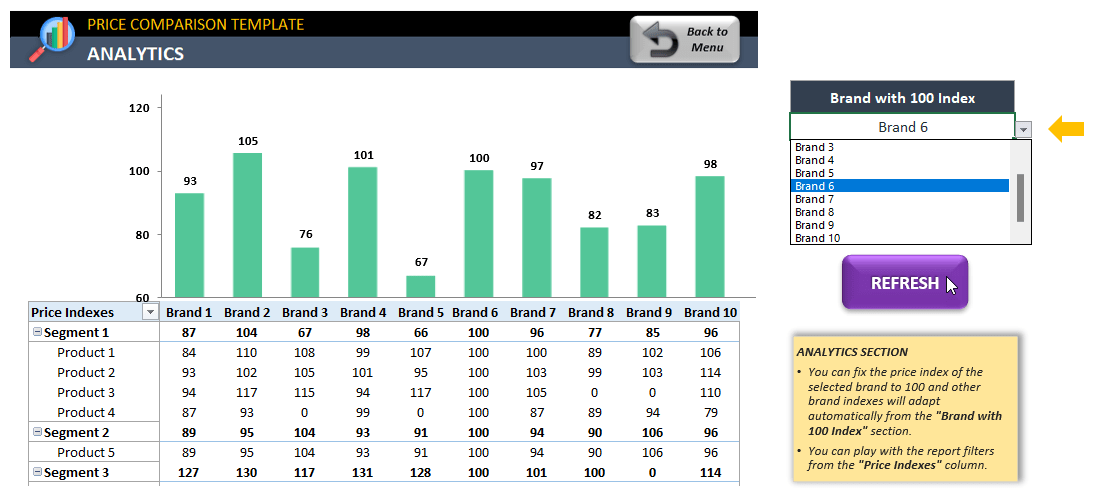 In short, it lets you make analyze your consolidated competitor price comparison records.
For Strategic Pricing Decisions, Ensure That You See The Big Picture
Comparing different products or services can be confusing when faced with numbers. Some of your products will be cheaper and some of them will be costly.
You should also consider how important and strategic a product is. For instance, if you are cheap at almost all products but way expensive on a few high-demand ones, you will probably lose market share and sales.
This is where mathematics comes into play. You should make some "Weighted Averages" by using market volumes. However, without automatization, this can be tedious work. That's why we have prepared this Price Analysis Tool to provide you with a quick competitive price analysis.
Competitor Price Comparison Excel Template Features Summary
Pricing Analysis in Excel Comparison Template
Weighted average calculation for average figures
Supported by pivot tables and charts
Full print ready, cool design
No installation needed, ready-to-use
Works both on Mac and Windows
Compatible with Excel 2010 and later versions
Includes VBA code and macros
FREQUENTLY ASKED QUESTIONS