Hotel Feasibility Study Excel Template
Hotel Financial Model Excel Template will allow investors or business owners to make financial projections and decide on their investment projects.
TEMPLATE DESCRIPTION
Entering the hotel business requires a quite amount of capital allocation. It is quite possible that you would need to borrow from the bank in order to buy a property and renovate it. Because you want to meet the expectations of your target audience. That is when Hotel Feasibility Study Excel Template comes in because your financial projections are one of the first things your creditors would like to see.
Hotel Financial Model Template Features:
Basically, this template consists of 3 main parts:

This is when our Hotel Financial Model would be of use. In general, you will be able to:
Create financial projections for up to 10 years and test them using a range of assumptions;
Account for various unit types, taking into account seasonal change and year-to-year fluctuations of prices and occupancy;
Analyze for different sources of income, such as accommodation, food, and beverages, retail, and use of amenities;
Manage different sales channels, such as direct reservations, booking engines, and travel agents.
Although being rather simple and user-friendly, this hotel feasibility study model offers a full range of the professional financial modeling tool's features. Let's dive into each section:
Dashboard
Firstly, start working from the Dashboard. Here you will find the links to all parts of the model, as well as a few settings and assumptions.

In summary, the Model Config section allows you to:
Set a length of the Projection Period (from 2 to 10 years) by picking from the drop-down list;
Enter the Start Date of the project;
Enter a code of the currency in which all monetary amounts will be displayed;
Show or hide instructions by using the drop-down list.

There are two tables here as well:
The sales Channels table contains a list of the applicable sales channels with their assumed revenue shares and commission percentages that each channel entails;
Occupancy by Year's table allows you to set maximum occupancy rates (not taking into account seasonal variations) which you reasonably expect to reach in each of the consequential years of operation.
Then, go to the Assumptions section which contains the most important projection, namely your expected sales.
Hotel Feasibility Study – Sales And Pricing Assumptions
In the first table Sales – Accommodation, enter the following information:
A list of accommodation units;
Regular nightly rates for each type of unit, before taking into account any discounts;
For each type of unit, number of units available;
For each type of unit, a number of persons per unit. These numbers will be used to calculate other incomes as specific amounts per guest;
For each month of the year, enter expected occupancy rates and average discounts. The ultimate occupancy rate for a month will be found as the product of the month-specific occupancy rate and year-specific maximum occupancy which you have entered in the Dashboard section.

In the second table Sales – Other Revenue, enter the following:
Names of facilities with a relevant group of income lines (Food & Beverages, Retail, Amenities, Miscellaneous);
Percentage of variable costs that entails the income line;
A method for estimating income amounts: specific amount per guest or fixed amount;
For each month of the year, enter expected income amounts (either average per guest, or a fixed sum, depending on the previous setting).

In the next two tables, the expected numbers of booked nights for each unit, and expected numbers of guests will be calculated accordingly.


Other Notes:
If you expect that prices will increase over time, enter the increase rate with its frequency into the Price Increase fields. After that, the price Evolution table will contain actual prices adjusted for both seasonal price changes and time-related price increases. Alike, other income amounts will be adjusted to accommodate an expected increase over time.
Ultimately, Sales Revenues from all lines of income will be calculated with sales channel commissions and variable costs (costs of goods and services sold). If you expect that costs will increase over time, enter the increase rate with its frequency into the Cost Increase fields. Variable cost amounts will be adjusted.

Your next step for your hotel financial model will be entering expected salaries and other fixed costs in the Fixed Costs section.
Hotel Feasibility Study – Fixed Cost
Start here from the Staff table. Enter names of employee positions with groups of income lines.
For example, maids and cleaners will be associated with accommodation, and cooks and waiters – with food and beverages income. For each position, provide the wage/salary level, as of the start date of the project. Furthermore, to account for seasonal variations in the workforce, enter the expected average number of employees for each month of the year.
Similarly, other Monthly Expenses table follows the same logic;
Enter names of expense items into the list, with the groups of income lines,
Enter expected monthly amounts of expenses for each month of the year.
As it is reasonable to expect that expenses will increase over time, enter expected increase rates and frequencies into Salary Increase and Expenses Increase fields.

Finally, the tool will calculate time-adjusted amounts of wages/salaries and other fixed expenses for each month of the projected period.
Start-up Cost
Last, but not least step will be entering your startup costs into this section. The usefulness of the model's outcomes will greatly depend on the degree of accuracy in estimating the costs you will need to start your hotel business.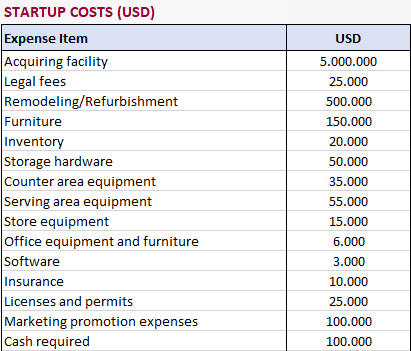 Now as you have entered all necessary data, go to the reports which are available from the Dashboard section.
Hotel Feasibility Study Template – Reports
Financial statements summarize your hotel accounting info in a way that's simple to understand.  Therefore, for most small hotel business owners, it can be either monthly or quarterly. And, this Hotel Financial Model provides monthly statements that flow into annual summaries easily including:
Income Statement
Balance Sheet
Cash Flow Statement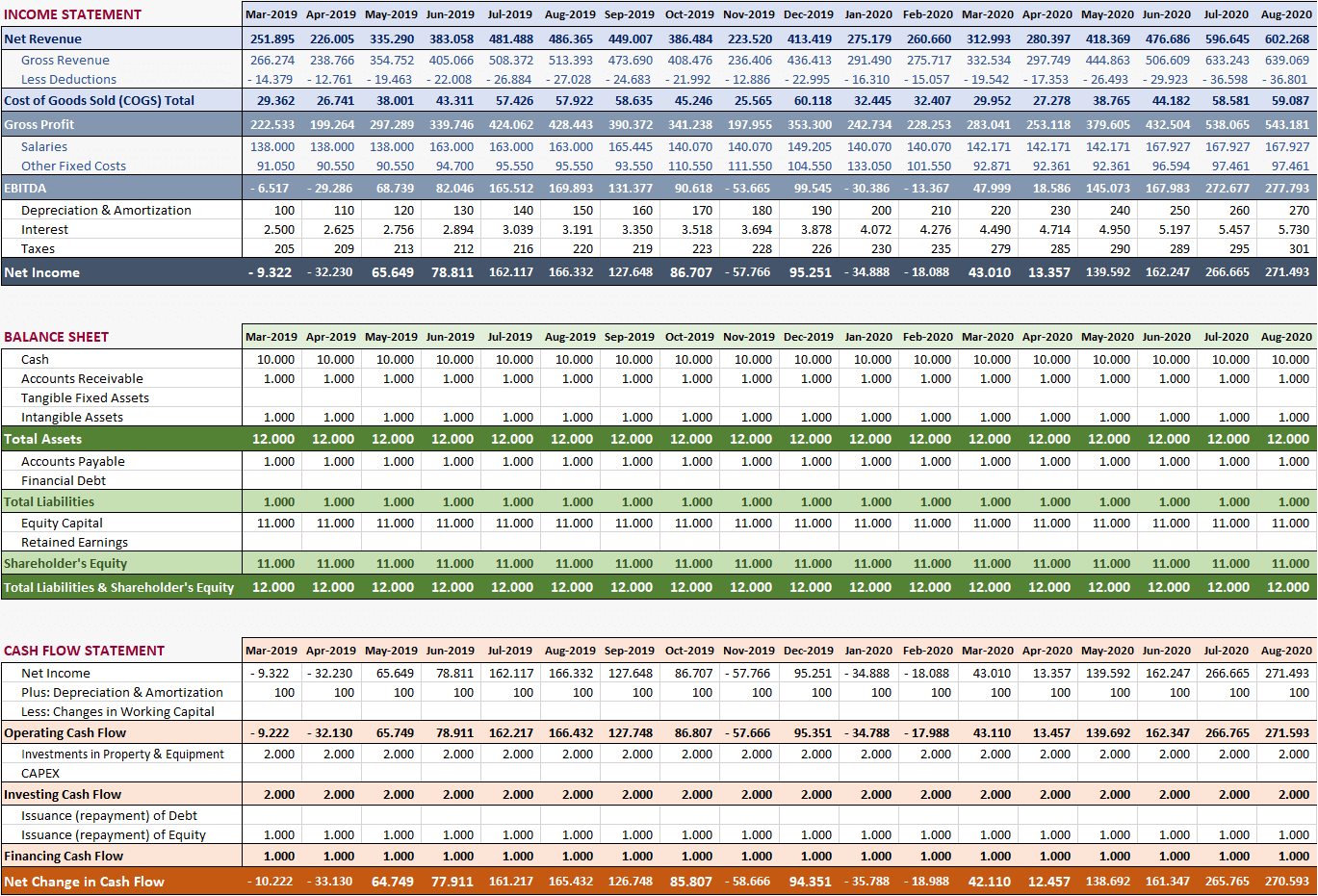 Profit (EBITDA) is assessing basic day-to-day operational profitability. The elimination of expenses like interest, taxes, depreciation, and amortization from the metric means that performance can be viewed away from accounting and financing. So you will easily present breakdowns of income and expenses by lines of income;

Basically, Break-even reports will give you an idea of when you are going to recover your initial investments;

Other Reports:
Yearly Financial Statements;
NPV & IRR Calculation;
Sales Report showing break-even of occupancy data;
Detailed Revenue report presenting income by unit types and facilities;
Gross Profit report for each income line, and overall;
Salary Breakdown report;
Marketplace Sales Breakdown, Revenue, and Profit reports.
Data Source
Finally, the Data Source will consolidate all data and inputs of your Hotel Financial Model. To emphasize, we do not recommend you make any manual changes in this section. However, if you are Excel-savvy to be able to modify the file structure, you can edit this section to create much more customized reports with your data.
Hotel Feasibility Study Excel Template Features Summary
Unique Excel Template to perform hotel financial feasibility study
Overview of hotel revenues and expenses at a glance
Works both on Mac and Windows
No installation needed, ready to use.
Professional design and suitable for presentations
Innovative reporting system
Financial Statements
On Sheet Instructions
White Label
Print-Ready
Compatible with Excel 2010 and later versions
FREQUENTLY ASKED QUESTIONS