Bakery Financial Model Excel Template
Financial planning spreadsheet for bakeries. Feasibility study & printable financial statements. Dashboard with charts. Ready for use. All in Excel.
TEMPLATE DESCRIPTION
Do you have plans to open a bakery business, whether retail or wholesale, or are you already in? Then our Bakery Financial Model Excel Template will assist you in making reliable operating and financial forecasts.
Notably, you can easily produce income, expense, cash flow, and capital projections for up to ten years.
It is intuitively understandable, so you do not have to be a financial expert to use it. Just make the best of your subject's knowledge, or even make educated guesses. However, if it is necessary to produce a business plan for a lender or a co-investor, the Bakery Financial Model template will be here.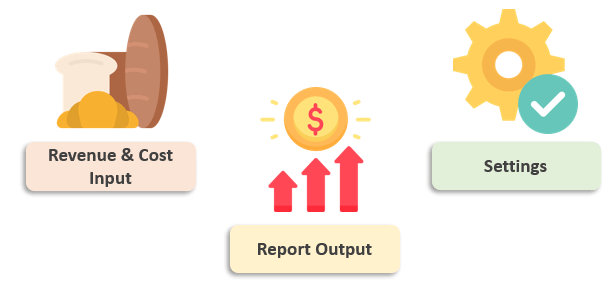 Our Bakery Financial Model Excel tool will allow you to:
Produce monthly and yearly operating and financial projections for up to 10 years, using different assumptions;
Also, calculate direct product costs using various combinations of ingredients;
Account for long-term sales and price trends, as well as seasonal fluctuations of sales;
Moreover, evaluate capital requirements and make capital rationing, combining debt and equity in different proportions;
Calculate various investment metrics, such as payback period, discounted payback period, Net Present Value (NPV), and Internal Return Rate (IRR);
Lastly, account for the taxation effect.
This Excel spreadsheet presents data in nicely formatted and professionally looking pro forma statements and charts.
Bakery Financial Model Excel Template Features:
In general, the Dashboard section consists of two parts. The upper one serves as a navigation pane, and the lower one contains general settings and assumptions. Here you can also show or hide built-in instructions.
SETTINGS
First of all, you should adjust the settings for your business.
In the Model Config Section:

Set a length of the Projection Period between 2 to 10 years;
Enter the Start Date of the project. It should be the 1st of the respective month;
Enter a code of the currency in which all monetary amounts will be displayed.
Discount Rate that will be applied to the calculation of Net Present Value (NPV) of the project.
And lastly, enter the Income Tax Rate that will affect net profit after taxation.
In the Products table: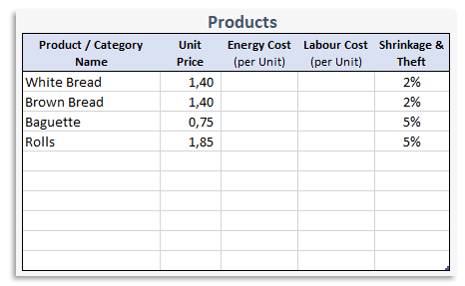 Enter a list of products, or product categories, that you are going to sell, along with related assumptions:
Unit Price is the selling price of the product or the average selling price of the product category;
Energy Cost per Unit shows how much, on average, energy (electricity, gas) will cost per unit of the finished product. Similarly, Labour Cost per Unit shows how much, on average, you are going to pay your manufacturing workers per unit of the finished product.
And finally, the Shrinkage & Theft percentage shows how much of your finished goods are going to be lost due to natural causes, stolen, or lose selling conditions.
In the Raw Materials table: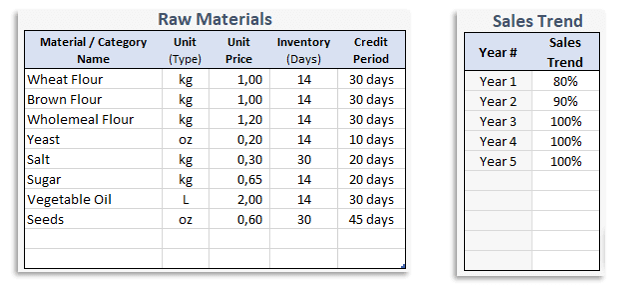 Add a list of ingredients, along with the following settings and assumptions:
Specify the unit of the measurement of the material.
Unit Price is the estimated purchasing price of the ingredient or average purchasing price of the material category;
Inventory Days is a number showing how many days of manufacturing your material inventory should cover;
Credit Period is the number of days showing how long it is going to take on average to pay for purchased materials;
In this Excel Bakery Financial Model, the Sales Trend table allows you to set a long-term trend in order to account for how improving customer awareness and loyalty will affect your overall sales over the years. If you do not expect your sales to change from year to year, you can leave this table blank.
REVENUE & COST MODEL INPUTS OF BAKERY FINANCIAL MODEL TEMPLATE
After you filled out the data in the Dashboard section of the Bakery Financial Model, go to the Ingredients section. For each product or product category, fill in a material composition
Ingredients

First, select a product from the drop-down list of products in the Product Category column. You have to enter it as many times, as many ingredients a recipe features. Entering an ingredient without specifying a product will cause an error;
For each product, fill in a list of ingredients selecting them from a drop-down list in the Ingredients column. You do have not to follow a certain order, and if you forgot to add any ingredient, you can do it later on, in any part of the table. It is allowable to leave blank rows between products to make the list more visually comprehensible;
In the Amount column, enter the quantity of an ingredient per unit of the product.
The financial model template for bakery shops will calculate Material Cost per unit of the product automatically based on the specified amount, and purchasing price you have entered in the Dashboard section.
Sales & Inventory
Select respective products, or product categories, in the Sales Forecast table. For each product, enter projected Average Daily Sales (units). According to the selling prices you have entered in the dashboard section, the template will calculate the average daily revenue automatically.
Sales Forecast
By all means, to account for seasonal changes, use the Seasonal Sales Trend table. It allows you to enter, for each product, and each month of a year, percentages of average sales (in physical units) that you expect in the respective month due to an effect of seasonal fluctuations of demand. If you do not expect changes in sales over a year, you can leave this blank.
If you expect selling prices to increase over time (for example, due to inflation), enter the respective increase rate along with its frequency into Price Increase fields. So, do not use this to account for changes in quantities of products sold; use Sales Trend (in the Dashboard section) instead.
Moreover, this Bakery Financial Model calculates the Projections of sales revenue and cost of sales automatically. So, if you expect inflation-driven changes in direct cost to happen over time, enter respective parameters into the Cost Increase fields.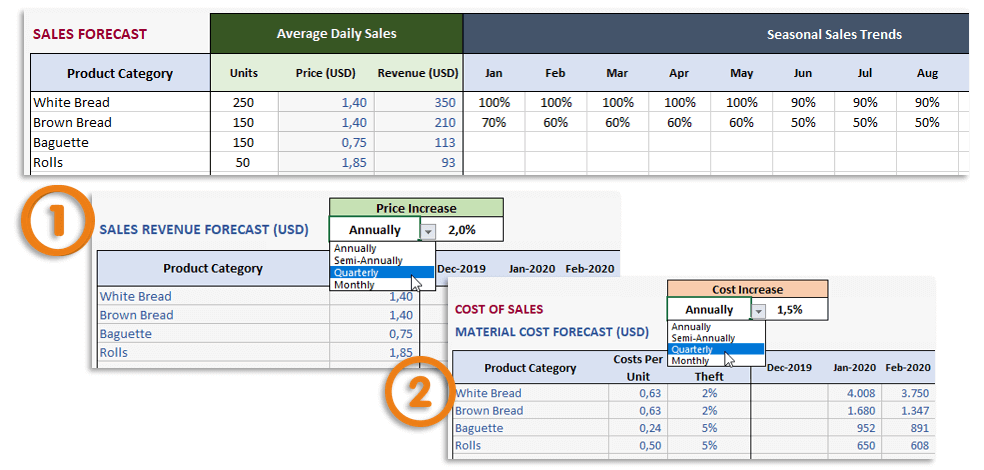 Sales projections (in units) will take into account:
Average daily sales (in units);
Number of days in a month;
Seasonal fluctuations of physical units sales (Seasonal Sales Trends), if any;
And also, the Long-term sales trend, if any.
Projections of sales revenue will take into account:
Projections of numbers of units sold;
Average selling prices;
Also, the inflation-driven increase in prices over time.
Cost of Sales
Unless you leave Energy Cost per Unit or Labour Cost per Unit blank, projections of the cost of sales will consist of three subsections: Material Cost, Energy Cost, and Direct Labour Cost.
Monthly material costs will be calculated as the ingredients' cost multiplied by the number of units sold. If you enter cost-adjusting parameters in the Cost Increase fields, monthly material costs will be subject to inflation-related adjustment. Monthly material costs are further broken down by ingredients in the Raw Materials Usage Forecast table.
Monthly energy costs and direct labor costs will be calculated by multiplying respective specific values (see the Products table in the Dashboard section) by the number of units sold. They too are subject to inflation-related adjustment.
It is assumed that no product inventory exists, in other words, all produced quantities are either sold or lost (accordingly to the set Shrinkage & Theft percentage).
Forecasts of material inventory at cost, at the end of each month, will be calculated by multiplying the average daily material cost in the next month by the number of Days of Inventory. The difference between the opening and closing material inventory, plus the cost of material usage, will give us the projected cost of purchased materials.
So, if you set your purchase credit period to a non-zero value, your cash payments to suppliers will lag after the purchase of materials by the respective number of days.
Fixed Costs

Firstly, in the Staff table, enter the names of employee positions, along with their respective salaries. For each projected month, enter the expected numbers of employees. If you expect that salaries will increase over time, enter expected increase rates and frequencies into the Salary Increase fields. Again, the tool will calculate the time-adjusted salaries for each month of the projected period.
In the Other Monthly Expenses table, enter the names of expense items into the list, and then enter expected bakery monthly expense amounts for each projected month.
If you already entered specific values of direct labor cost in the Products table of the Bakery Financial Model, do not enter the wages of manufacturing personnel in this section, otherwise, the tool will count respective personnel costs twice.
Similarly, if you already entered direct energy costs in the Products table; do not duplicate them in the Fixed Costs section. However, it is appropriate to enter indirect energy costs, such as lighting and heating, here.
Startup Costs in Bakery Financial Model Excel Template

Using the Account field of this bakery financial model template, you can indicate whether respective startup expenditures will create an asset (for example, property, equipment, software or patents). However, if you do not need to produce pro forma financial statements for a business plan, you can ignore this column altogether.
If what you need is simply to get a snapshot of projected revenues and costs, you can jump right to the reports. However, if you need a more comprehensive financial picture, go to the Miscellaneous section first. Here you can add figures related to financing and fixed assets.
Miscellaneous
In the Debt & Equity Financing table of this Bakery Financial Model Template, enter:
Equity contribution – money injected into the business by owners (co-investors);
Equity repayments – amounts of initial investments withdrawn by owners (co-investors) at par, as well as payouts to the owners (co-investors) expected to be made out of net profit;
Debt Issuance – amounts of loans received from a bank or other lender;
Debt Repayment – payments in order to repay the principal amount of the loan;
Interest Paid – payments for the use of the loan.
Fixed assets are those you expect to be in use for more than one year. They include tangible assets, also known as property, plant, and equipment, and intangible assets (software, patents, and trademarks).
So, enter the amounts you will spend for fixed assets, other than startup costs, into the Fixed Assets table. For the sake of simplicity, we do not calculate depreciation and amortization. However, you can add them manually in this table.
Then, you will instantly be able to see a snapshot of profit and cash flow in the tables below.
Likewise, pay attention to the End Cash Balance figures. If any are in red, it means your business is running out of cash in respective months. In this case, you will need to consider an additional equity contribution to be made, or a loan taken in order to balance cash flow. You also can play with the equity and debt figures above and immediately see an effect here.
REPORT OUTPUTS OF BAKERY FINANCIAL MODEL EXCEL TEMPLATE
So, you can go to the reports from the Dashboard section. In summary, the Bakery Financial Model template contains the following reports: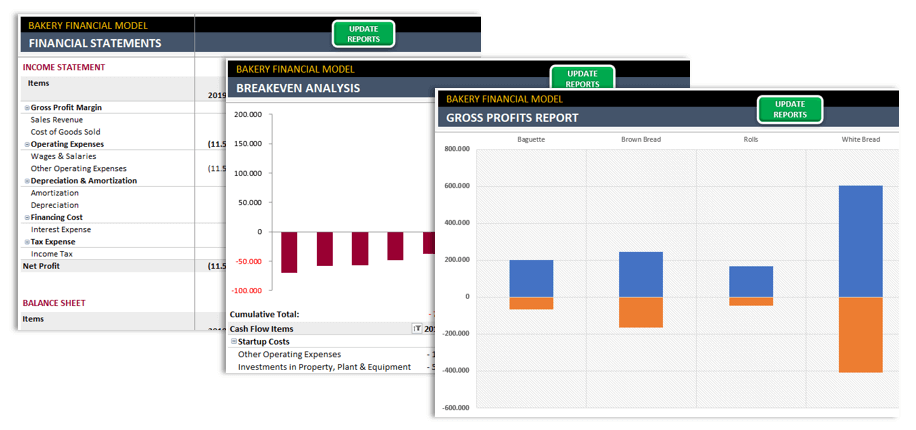 Monthly and yearly pro forma financial statements including Income statement, Balance sheet and Cash flow statement;
Also, a Profit (EBITDA) report presenting breakdowns of income and operating expenses by line items;
Additionally, a Breakeven Analysis report giving you an estimation of the payback period;
Gross Profit Breakdown report displaying details of income, direct costs and profit margins for each category of products;
Also, a Gross Profit Report displaying a summary of gross margins for each category of products for selected periods;
Revenue Details report displaying numbers of units sold, average prices, and sales revenues for each category of products;
Moreover, NPV and IRR calculations and a chart of cumulative discounted cash flow giving you an estimation of discounted payback period;
Account Payable report quantifying factors affecting accounts payable in each reporting quarter, broken down by categories of materials;
Inventory Balances report displaying the cost of material inventory in stock, at the end of each reporting quarter;
And lastly, Cost Details report, showing, for each product category, the composition of direct costs (material cost, energy and direct labor).
BAKERY FINANCIAL MODEL EXCEL TEMPLATE FEATURES SUMMARY:
Works both on Mac and Windows
No installation needed, ready to use.
Professional design and suitable for presentations
On Sheet Instructions
White Label
Print-Ready
Compatible with Excel 2010 and later versions
FREQUENTLY ASKED QUESTIONS