Retail Financial Model Excel Template
Easy-to-use Retail Financial Model in Excel. Feasibility study & budget for retail stores. Financial projections & cost breakdown. Fully printable.
TEMPLATE DESCRIPTION
Are you in retail business? Then, our Retail Financial Model Excel template will help you to make financial forecasts, compare different scenarios, and see financial risks.

Retail Financial Model Excel Template Features:
In summary, you can use this tool to:
Produce monthly and yearly financial projections for up to 10 years, using different assumptions;
Also combine all three retail business sub-models (sale of merchandise, providing services, and sale of manufactured goods) in a single financial model;
Account for both long-term trends and annual seasonal factors;
And lastly, evaluate capital requirements and make rationing of capital, combining debt and equity in different proportions.
Furthermore, you will be able to produce pro forma statements and charts for your bank. So, let us look at the sections in more detail.
DASHBOARD
First of all, from the Dashboard section, you can access any part of the tool.
Input your sales projections, seasonal trends and discounts, and associated direct costs to the blue sections.
Input your fixed and startup costs projections, along with financing and investment-related inputs into red sections
After completing the inputs, you will see the outcomes in the green reports sections.

It also contains general settings and assumptions.
SETTINGS
In general, the Model Config sub-section of the retail financial model template will allow you to set the length of the Projection Period (from 2 to 10 years), enter the Start Date of the project, and code the currency in which all monetary amounts will be displayed.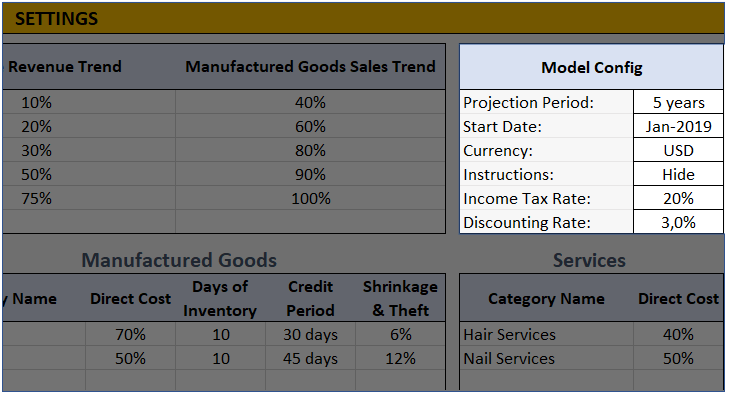 Firstly, enter the Discount Rate to be applied to operating cash flows in order to calculate the Net Present Value (NPV) of the project.
Secondly, enter Income Tax Rate that will affect net profit after taxation;
Lastly, show or hide instructions in the entire tool.
Other Tables in Settings
Moreover, a table of sales trends allows you to set long-term trends in order to account for how improving customer awareness and loyalty will affect your sales over the years, separately for merchandise, services, and manufactured goods. If you do not expect your sales to change from year to year, you can leave this table blank.

Use the Merchandise table to set assumptions related to sales of merchandise:

First, enter the Category Name of goods you are going to sell; set markup percentage;  set the Credit Period in days showing how long it is going to take on average to pay for merchandise purchased to stock.
Then, enter Days of Inventory to estimate how fast each category of goods can be sold, in other words, how many days of sales your inventory is going to cover; enter Shrinkage & Theft percentage to estimate how much of your inventory is going to be lost.
In the Manufactured Goods table, assumptions related to the sales of manufactured goods have the following meanings:
Direct Cost percentage shows, for each category of goods, how much of regular selling price direct costs comprise;
The number of Days of Inventory, Credit Period, Shrinkage & Theft percentage show how much materials and finished goods you are going to lose.
Finally, in the Services table, the Direct Cost percentage has the same meaning as for manufactured goods.
MODEL INPUTS OF RETAIL FINANCIAL MODEL TEMPLATE
In particular, depending on the type of your business, you may wish to use one, or several, of the following sections in order to make your sales forecasts:
1. Sale of Merchandise; Select respective merchandise categories in the Sales Forecast table; for each category, enter projected Average Daily Revenue. To account for seasonal changes, use the Seasonal Sales Trend and Seasonal Discounts tables.

Besides, the projections of sales revenue and cost of sales will be calculated automatically.
Similarly, the merchandise inventory forecasts at cost, at the end of each month, will be calculated by multiplying the average daily cost of sales in the next month by the number of Days of Inventory.
2. Providing Services; If you are going to provide services to customers, add service sale forecasts to the Providing Services section.

3. Manufactured Goods. If you are going to sell manufactured goods, use the Manufactured Goods section to make a forecast for the respective revenue and cost of goods.
COSTS
Next, enter expected fixed costs in the Fixed Costs section of the retail business financial model.
Fixed Costs
Enter the names of employee positions in the Staff table, along with their respective salaries. Enter the expected numbers of employees for each projected month.
If you expect that salaries will increase over time, enter expected increase rates and frequencies into the Salary Increase fields. So, the time-adjusted salaries will be calculated for each month of the projected period.
Other Monthly Expenses table follows the same logic: enter the names of expense items into the list, and then enter expected monthly expense amounts for each projected month.
The next step will be entering your startup costs into the respective section.
The usefulness of this financial model template's outcomes will greatly depend on the degree of accuracy in estimating costs that you will incur starting your retail business. If you do not need to produce pro forma financial statements for your business plan, you can take a simplified approach by entering all initial expenditures here, not distinguishing the cost of long-term assets such as property, equipment, software and patents, and skip the next two sections altogether. Otherwise, only enter short-term expense items here, and go to the Fixed Assets section to deal with long-term assets.

FIXED ASSETS
The fixed assets are those you expect to be in use for more than one year. In order to produce correct pro forma financial statements, you will need to account for depreciation and amortization of these assets, as it will affect both your projected balance sheet and income statement, and your projected income tax payments as well: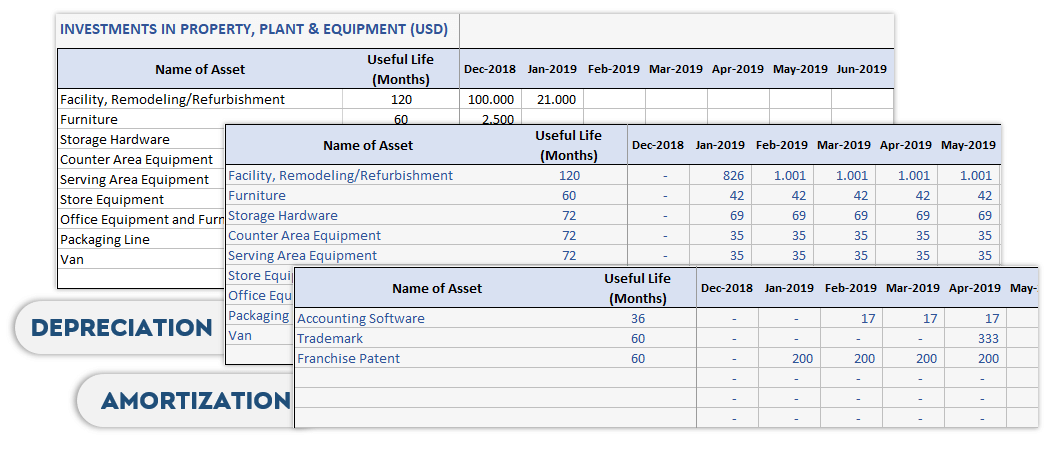 FINANCING & TAX IN RETAIL TEMPLATE
As a matter of fact, the Financing and Tax section allows you to enter financial data necessary for planning and rationing capital requirements; as well as balancing cash flows over projected periods; estimating interest and income tax expenses; calculating profitability metrics.
So, if you chose a manual repayment schedule for a loan, you will have to enter the respective amounts in the Loan Repayments Manual table.  Otherwise, the template will calculate the principal repayments automatically in the Loan Repayments Calculated table.
Likewise, the loan outstanding balances and interest payments will be calculated accordingly. Since you entered all revenues and expenses now, Net Profit Before Tax and Income tax will be calculated in the Profit table.
REPORTING
Finally, you can go to the reports from the Dashboard section. In general, the retail Business Financial Model template contains the following reports:
Monthly and yearly Pro-forma Financial Statements, including Income statement, Balance sheet, and Cash flow statement;
Moreover, a Profit (EBITDA) Report, presenting breakdowns of income and operating expenses by line items;
Operating Cash Flow Report, presenting the breakdowns of operating cash receipts and payments by line items;
Additionally, a Revenue Details Report, displaying revenues for each product and service category;
Gross Profit Breakdown Report, displaying the income, direct costs, and profit margins for each product and service category;
Also a Gross Profit Report for each business line, and overall;
Lastly, a Breakeven Analysis Report, Inventory Balances Report, Account Payable Report, and much more!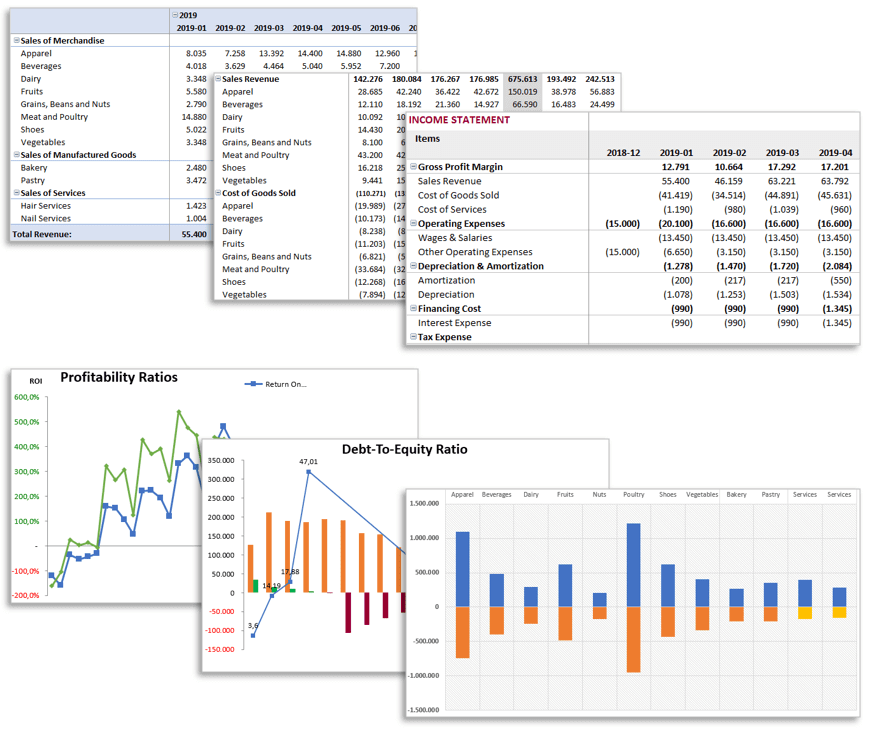 *Being calculated from the business's perspective, they take into account all operating cash flows and also compare the internal profitability of the business with its cost of capital.
*Again being calculated from the investor's perspective, they only take into account equity contribution and payouts made to investors, thus providing an assessment of whether it is worthwhile for an investor to put money into the business, considering available alternatives.
RETAIL BUSINESS FINANCIAL MODEL FEATURES:
Financial Feasibility Study for Retail Business in Excel
Innovative reporting system
Inputs to learn the cost of opening a retail store.
Financial Statements, Breakeven reports and more report outputs
Works both on Mac and Windows
No installation needed, ready to use.
Professional design and ready to present
On Sheet Instructions
White Label
Print-Ready
Compatible with Excel 2010 and later versions
FREQUENTLY ASKED QUESTIONS