Action Priority Matrix Excel Template
Excel spreadsheet to prioritize your actions. Printable effort and impact matrix with professional dashboard and dynamic charts. Ready to use.
TEMPLATE DESCRIPTION
Looking for a bright and easy tool to prioritize your actions? Finding great ideas and opportunities is one thing, execution is another story. Without proper prioritization of possible actions, anyone could be lost on the way. Action Priority Matrix Excel Template – also known as Prioritization Map – is here to help you!
An Action Priority Matrix is a brilliant tool used to prioritize actions categorically. In addition, this user-friendly tool can directly be used in Excel, to help you decide which actions to pursue.
Action Priority Matrix Excel Template Features
Basically, the template consists of two main parts: Dashboard and Charts.
Dashboard
Here you will include your list of actions to position on the Prioritization Grid. The data table also has three additional columns for your selections. These are Impact, Effort, and Status. So simply click on the cell and the dropdown menu button will appear. You may add up to 50 actions in this section.
Here you can choose the impact and effort levels as 'high' or 'low'. Also, you may define the status of your action as 'Not Started', 'In Progress' and 'Done'. If an action is specified as done, the template will grey out its raw.
In addition, after the template greys out the done tasks from the data table, you have the option to choose how to reflect them on the Action Priority Matrix (APM) itself. In addition, by using the 'finished tasks' option on the right side of your dashboard, you may remove or cross out done actions.
Charts
This section serves as an additional visualization of your data. You may find two different charts and a customizable list in this section. The charts will show you the distribution of tasks based on both the 'type' and the 'status'.  So you may select the status of each action from the Dashboard.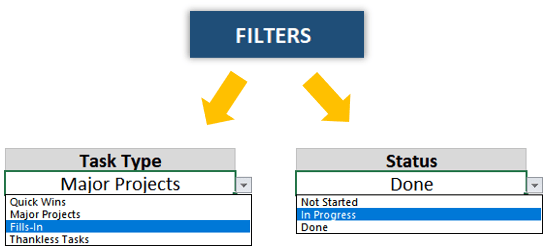 Besides, if you would like to use the filtering options per task type and status, the 'Actions' list on the right side of the charts section will be updated automatically.
Action Priority Matrix Features Summary:
Easy to fill data section
Prioritizes your actions
Full print ready
Informational notes included
No installation needed, ready to use
Works both on Mac and Windows
Compatible with Excel 2007 and later versions
Does not include any VBA code or macros
FREQUENTLY ASKED QUESTIONS