Action Priority Matrix Google Sheets Template
Effort & Impact Matrix in Google Sheets. Easily prioritize your actions. Printable dashboard and charts. No installation. Access from all devices.
TEMPLATE DESCRIPTION
This Action Priority Matrix Google Sheets Template (APM) facilitates decision-making by clearly defining which tasks must be completed on time and which tasks can be postponed or performed later.
We can make the most of our time and opportunities by selecting activities wisely. However, by making poor choices, we can overwhelm ourselves in time-consuming, limited projects that prevent us from moving ahead.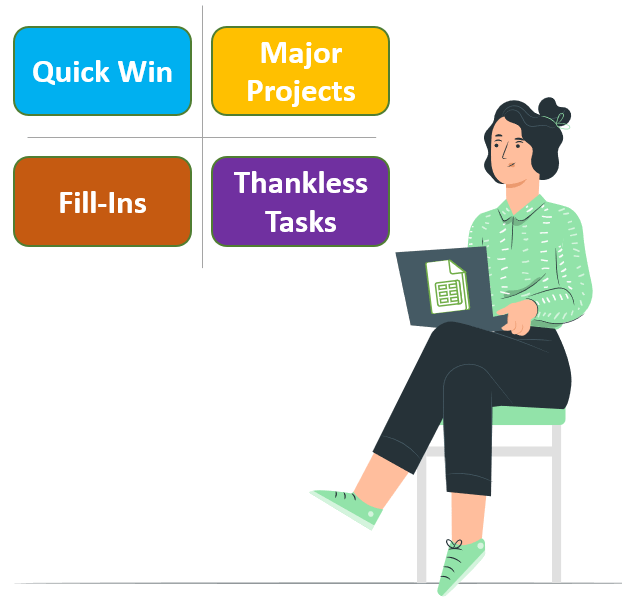 An Action Priority Matrix is certainly a simple diagramming technique that can assist you in identifying which activities to prioritize.
Features of the Action Priority Matrix Google Sheets Template
Above all, there are two main sections in the action priority matrix template: Dashboard and Charts.
Dashboard
Firstly, you should describe the actions you need to prioritize here on the Prioritization Grid. There are three additional columns in the data table for your selections. These are the following: Impact, Effort, and Status. Simply click on the cell to bring up the dropdown menu button.
Note: In this section, you can add up to 50 actions.
You can select 'high' or 'low' impact and effort levels here. It is also possible to specify whether your action is 'Not Started,' 'In Progress," or 'Done." When an action has been completed, the raw version of the template will be grayed out.
Furthermore, after the template greys out the completed tasks from the data table, you can choose how to reflect them on the Action Priority Matrix (APM).
Moreover, you can remove or cross out completed actions by using the 'finished tasks' option on the right side of your dashboard.
Charts of Action Priority Matrix Google Sheets Template
This section provides an additional visual display of your data. This section contains two different charts as well as a customizable list. According to their 'type' and 'status,' the charts will illustrate how tasks are classified. As a result, you can choose the status of each action from the Dashboard.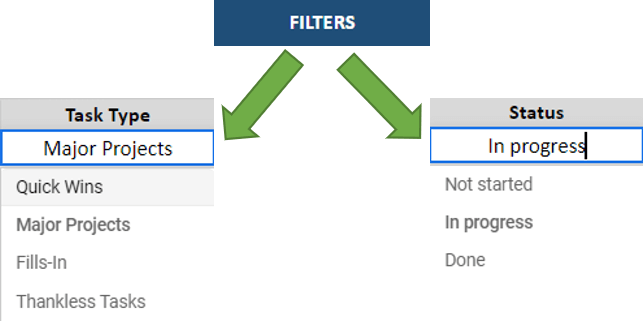 As well as that, using the task type and status filtering options will automatically update the 'Actions' list on the right side of the charts section.
Furthermore, Google Sheets templates allow you to access the files from any device, including mobile, tablet, or desktop, and with any operating system, including Windows, Mac, Android, or IOS.
Meanwhile, all you need is an internet connection and a Google account to get started. And everything will be in sync!
Action Priority Matrix Google Sheets Template Features Summary:
Easy to fill data section
Prioritizes your actions
Full print ready
Informational notes included
No installation needed, ready to use
Works on any operating system
Suitable for any device including mobile, tablet, desktop
FREQUENTLY ASKED QUESTIONS