Action Plan Google Sheets Template
Action plan tracker in Google Sheets. List your goals, plan your actions and achieve them one by one. Ready-to-use. Access from all devices.
TEMPLATE DESCRIPTION
Do you need an action planner for each of your goals? And do you want to track them from all your devices? Then, this Action Plan Google Sheets Template is for you to identify the tasks and resources required to reach a goal.
In other words, the visual countdown represents the progress towards completing a project or the tasks involved in achieving that goal.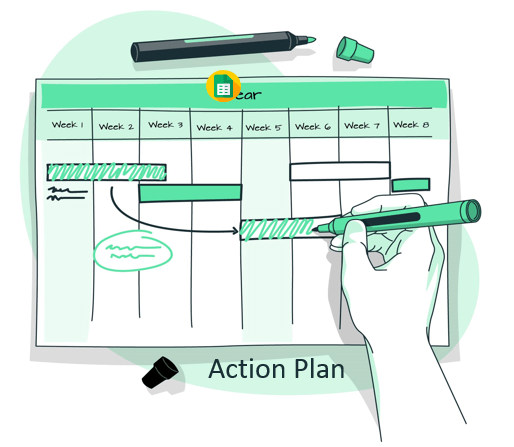 If you were wondering why action plans are different from to-do lists, the main difference is that action plans aim to accomplish specific goals. By contrast, to-do lists are ongoing and contain tasks for a variety of projects and goals.
Note:
If you want to use our To Do List excel template, please click
here.
Keeping track of employee goals and their progress can be easy. You can clearly understand the progress of your project with the Action Plan Google Sheets Template's dynamic and interactive summary charts.
Action Plan Google Sheets Template Features:
The template mostly consists of two parts. Let's quickly review the sections:
Dashboard
Firstly, the dashboard of the action plan google sheets template serves three purposes. The first step is to define your objectives. Besides, the data area has already been designed to accommodate 20 major goals.
Tip: Begin by listing your goals here, and then move on to the specifics of each goal!
Secondly, the navigation buttons on the Dashboard will help you to view and edit the details of each goal. Whenever a new goal is created, the 'Goal Section' navigation button is automatically created. In addition, to access the goal page, click the relevant 'Go to Goal' button.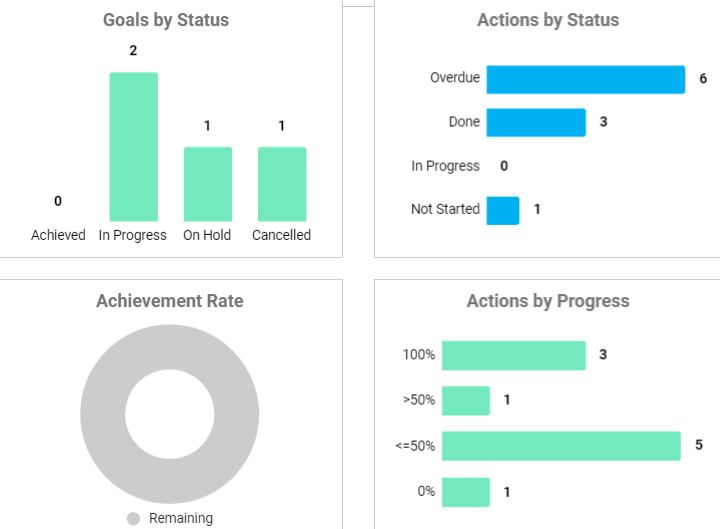 Lastly, you may find the analysis and reporting charts as a summary section in this action plan template. The following items are included in the action plan analysis:
Number of Goals: The total number of your current goals.
Number of Actions: Total number of actions required to complete all goals.
Action Process: The percentage of progress toward your goals.
Note:  Dynamic charts are available in addition to Goal Status, Action Status, Action Progress, and Achievement Rate charts.
Goal Sections
The Action Plan Google Sheets Template's goal sections are individual sheets for each goal. Each goal's details will be added here. This information includes risks and opportunities, as well as action-related information.
Tip: This action plan google sheets template allows you to include up to 30 goals.
You can also specify start and end dates. Furthermore, you will easily use the dropdown menu option to select:
To be accurate, the person in charge of each action, his own priority level, current progress level, and status.

As a result, the dashboard summary charts will be based on these details. Once you've added your goals and actions, the dashboard page will display a visual summary of them in the template.
Meanwhile, all you need is an internet connection and a Google account to get started. And everything will be in sync!
Action Plan Google Sheets Template Features Summary:
Action plan organizer and tracker
Dynamic summary report charts included
Informational notes included
Professional design for presentations
No installation needed, ready-to-use
Works on any operating system
Suitable for any device including mobile, tablet, desktop
Does not contain any scripts
FREQUENTLY ASKED QUESTIONS