Team To Do List Excel Template
Excel Team To Do List Template is designed for task management and tracking of employees. Summary dashboard with charts. Editable & printable.
TEMPLATE DESCRIPTION
Creating a to-do list for your business gives you an overview of the work that needs to be done. Your employees will have clarity on what they need to do with prioritization. Team To Do List Template is an Excel tool to help leaders and managers to keep track of their team's progress in certain jobs. The template includes options to expand or collapse the number of tasks.
Main Features of the Team To Do List Template
Basically, the flow of the template:
Create your team and assign tasks in the Team Data Sheet.
Switch between Months and update the status of tasks.
Dashboard shows the total number of tasks completed, in progress, or closed.
Now let's see these 3 sections in detail.
TEAM DATA SHEET
In order to make things as easy as possible for the users in team to do list template, there is a team data page, where you can create your team and assign tasks. This helps the users to just insert the jobs without wasting much time.

In the job assignment table, you need to insert an assignment date and a deadline, too. Because your job duties will appear on each month according to their deadline date. You can also increase the number of team members up to 100 and the number of tasks up to 2000. Remember to input only the white cells, as the grey cells are for calculations.
Note: Observe each task of team members by using the "Dropdown" menu in "Assigned To"
Now, then go back to the Dashboard and see the monthly jobs of your team members.
MONTHS (JANUARY, FEBRUARY,…)
Here, you can go to a certain month and see an overview as well as make changes to the status of certain tasks. In team to do list template, please note that you do not need to change anything else on this page because the data for the chosen month will be automatically shown.

**Gray columns contain automatic calculations and you should not overwrite them manually.
Basically, all you need to do is update the status of jobs that have not started, are in progress, or were finished. You can also see the status of each team member for the chosen month. Besides that, the team members will also update according to the names you create in the Team Data Sheet.

DASHBOARD
Finally, the dashboard of the Team To Do List Template helps you navigate between pages easily, and also gives you a visual statistic with the total jobs that have not started, are in progress, or have been completed.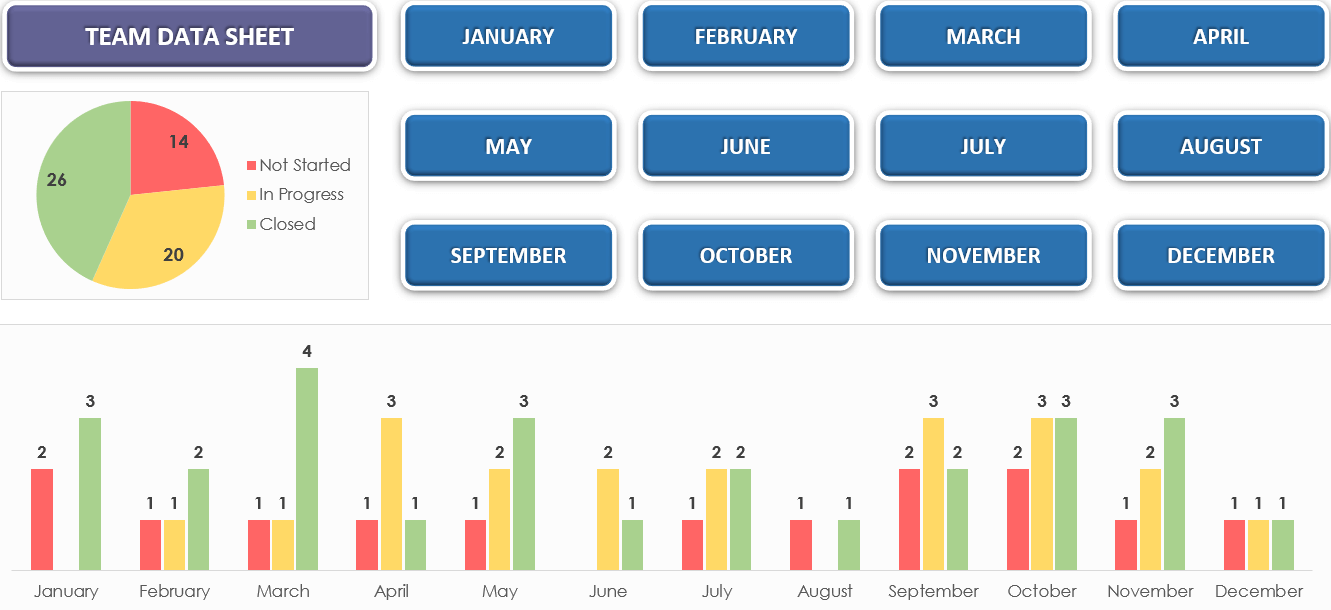 Team To Do List Template Features Summary:
Employee Task List Template on a monthly basis
Ready-to-use job assignments
Task status with visual progress charts
Compatible with Excel 2010 and later versions
No installation needed.
Easy-to-use and nice design
Works on both Mac and Windows
On-sheet instructions
FREQUENTLY ASKED QUESTIONS