Excel Etsy Seller Spreadsheet
Bookkeeping template in Excel for Etsy shop owners. Track your sales and expenses on a nice-looking dashboard. Import data feature with instructions.
TEMPLATE DESCRIPTION
Managing an Etsy Shop? All in Excel and designed by professional Etsy sellers, this Etsy Seller Spreadsheet is exactly what you need! Actually, we know that Etsy bookkeeping and managing all the data at hand might be challenging – if you do not have the right tools.
Therefore we are here to share our secret recipe with you.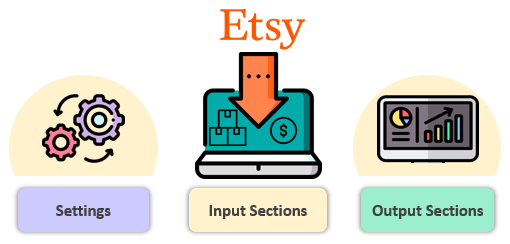 Additionally, our sales spreadsheet is already designed in a way to accommodate Etsy specific information. Just follow the steps to input your existing raw sales data and expenses. Then, your reports will be automatically and simultaneously generated.
Excel Etsy Seller Spreadsheet Features
The main target of this Etsy bookkeeping template is to produce meaningful reports from the CSV file. This file can be easily gathered from Etsy account. Afterward, the data is organized and manipulated for the user automatically, providing you with an opportunity to analyze sales numbers.
Basically, the template includes three main parts to be followed in order:
1.Settings
2.Input sections
Raw Sales Data: This will be fed from Etsy report. Detailed "Instructions" for users to import data from Etsy are included.
Other Income: This is where you will input your revenues in platforms other than Etsy.
Expense Records: In this area, you will be able to input your expenses using dropdown menus.
3. Output sections
In particular, the visual charts and reports include Etsy Sales Summary and Etsy Sales Dashboard.
Navigation Menu
The design of this sheet lets you easily navigate within the Etsy bookkeeping template. Just use the buttons to navigate between settings, input areas and output sections.
Besides, the yellow notes are included to help you get going on the Etsy Sales Spreadsheet right away!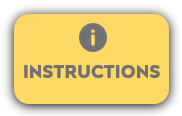 Note: Here you may also find detailed and step-by-step instructions to import data from your Etsy account.
Settings
Firstly, you may define your expense categories as well as monthly sales revenue targets. Your expense category settings will be on the selection options of Expense Records section.
Furthermore, here you may only define your desired currency as well as the date format.
Raw Sales Data
In fact, this is the main data input area of the Etsy Seller Spreadsheet. You may import your data from Etsy. Of course, Instructions will help you step by step. You can also check the product video tutorial showcasing this in action.

If you manually input data, fill in all the columns with an asterisk (*) sign. These are:
Sale Date, Item Name, Quantity, Price, Listing ID and Ship Country.
Other Income
If you have revenue sources other than Etsy, this is where you may input your other income info. You will write down your income with Year/Month/Category and Revenue Amount info, while the description column is optional.
Expense Records
The user will record his expenses with the Year/Month/Category and Amount info. The description is optional. While recording expenses, the user should use the same currency as the listings.

Etsy Sales Summary
This is where you will see your sales breakdown. All the data is coming from your raw sales data. In addition, you may use filters to examine your sales.
Lastly, you may filter the table by sales date, item, quantity, country, and total sales.
Note: Please do not input any data and do not try to manually edit the table.
Excel Etsy Seller Spreadsheet Dashboard
The interactive Sales Dashboard section will allow you to analyze results. Furthermore, while analyzing your results, you can use year and month filters to dynamically update the figures and charts. These filters are located on top of the Sales Dashboard section.

The ready-made reporting areas and charts include:
# of Items Sold, Total Sales, Total Expenses, Net Income
Expense breakdown per expense category, Top 5 Countries by Sales, Yearly Target Actualization, Monthly Targets and Actuals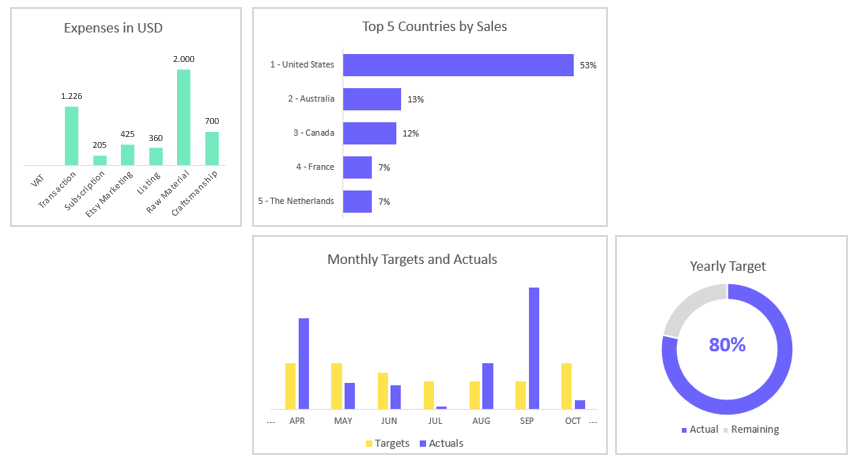 As well as Top three Items and Item-based Sales breakdown per month.
Moreover, for this analysis, you can use the specific filter located near the bottom of the Sales Dashboard section.
Instructions
Although most Etsy Sellers are familiar with importing data from their Etsy account, we have included a detailed explanation on how to perform this action in 3 simple steps:
Step 1 – Downloading CSV File from Etsy
Step 2 – Importing Data from CSV
Step 3 – Copy and Pasting the Data
So, the detailed instructions can be found within Etsy Bookkeeping Excel Template.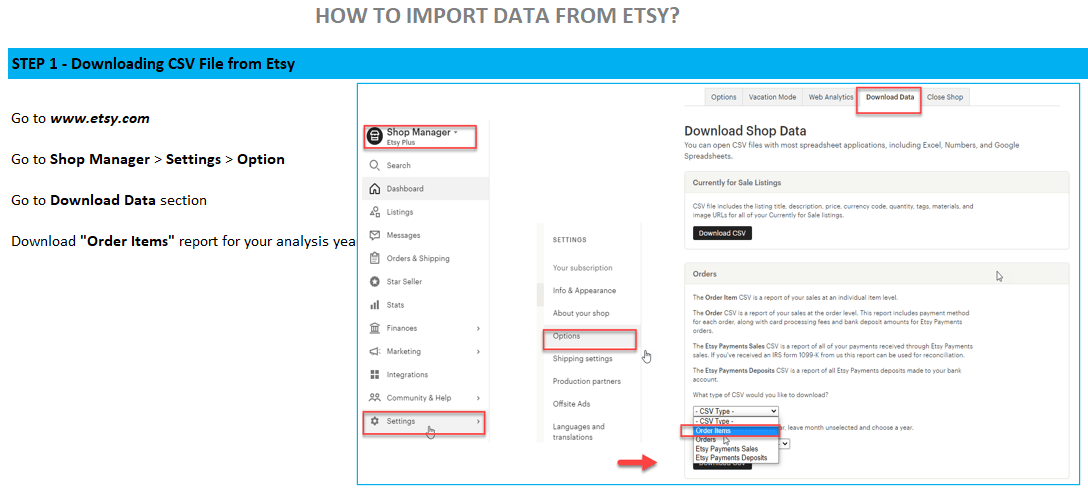 Excel Etsy Seller Spreadsheet Features Summary:
Etsy Bookkeeping Spreadsheet in Excel format
Direct import from Etsy account
Dynamic sales summary report and charts included
Informational notes included
No installation needed, ready-to-use
Works both on Mac and Windows
Compatible with Excel 2010 and later versions
Does not include any VBA code or macros
FREQUENTLY ASKED QUESTIONS