Risk analysis tool in Excel. Detect failure modes and plan preventive actions with FMEA model. Dynamic dashboard included. All print-ready.
TEMPLATE DESCRIPTION
FMEA (Failure Mode and Effect Analysis) is a systematic process for identifying potential failure modes, their causes, and the actions to be taken to reduce or correct failures. And our FMEA Excel Template is a risk analysis tool that identifies the points where a process may fail.
Once a high risk is identified, action must be taken. Also, FMEA Excel Template can be applied to both manufacturing and nonmanufacturing processes. Additionally, it can be performed at the part, assembly, or system level!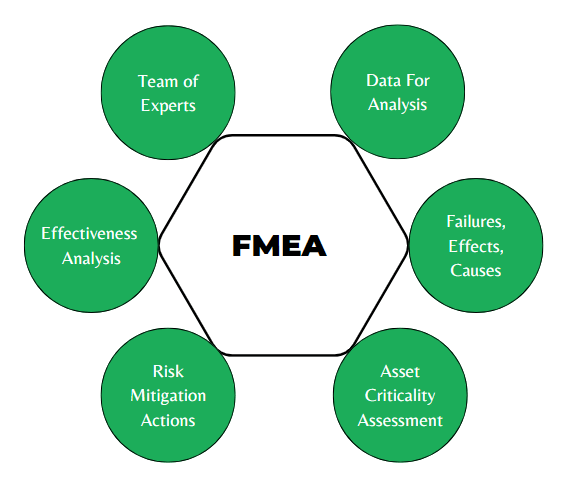 Benefits of using FMEA Excel Template:
Improvement in the dependability and quality of the product/process.
Boosting customer satisfaction.
Identification and elimination of potential product/process failure modes as early as possible.
Prioritization of product/process flaws.
FMEA Excel Template Features:
Basically, the template has 4 sections. Let's take a quick look at each one.

1. Settings:
Firstly, a total of 100 rows are available for you to enter Process Names and Action Owner Names. Also, you can change the interval between RPNs (Risk Priority Numbers) if necessary in this FMEA Excel Template.

Note: To determine risk intervals, use the RPN Settings.
2. FMEA
Secondly, after choosing the process, you need to fill in the remaining columns from left to right.

Those columns titled "Before" indicate the status before the action, while those titled "After" indicate the status after the action.

Moreover, you can see the number of columns assigned to this FMEA Excel Template in the Actions column after selecting Severity, Occurrence and Detect points.
3. Action List
Thirdly, once you've filled out Process, Mode, Effect and Cause, the drop-down menu adjusts itself based on the left side of the input. After that, you can write the action for the failure.

Furthermore, you can assign the Owner to the Action, and the Status will appear once you fill in Start, Due Date, and Finish. Based on the CML (Counter Measure Level) of the action, you can determine its power.
4. Dashboard
Finally, to review your FMEA's visual analysis, select the filters in the dashboard to change the charts.
FMEA Excel Template Features Summary:
Risk analysis tool in Excel
RPN calculation & action planner
Dashboard with pie charts and bars
Full print-ready
Informational notes included
Works both on Mac and Windows
Compatible with Excel 2010 and later versions
Does not include any VBA code or macros
FREQUENTLY ASKED QUESTIONS