Daily-Weekly-Monthly Task List Excel Template
Excel Task List Template on a daily, weekly, monthly basis. Save your headspace and keep track of your to-dos easily. Works in Mac & Windows.
TEMPLATE DESCRIPTION
In today's fast-paced life, it is often a problem that we focus on a few tasks or goals, and may skip many of the lesser things. To avoid this, we have created To Do List Excel Template that will help you keep track of the task list you have to do on a daily, weekly, or monthly basis. This will save you a lot of time and headspace.
TO DO LIST TEMPLATE FEATURES:
Template visuals will give you a hint on how you have been handling everything. You will get an immediate overview of how many tasks you have to do, how many are in progress, how many were completed, and how many were not started at all. So that you can decide what to focus on more.
With the navigation buttons, you can switch between daily-weekly-monthly task list modules with one simple click.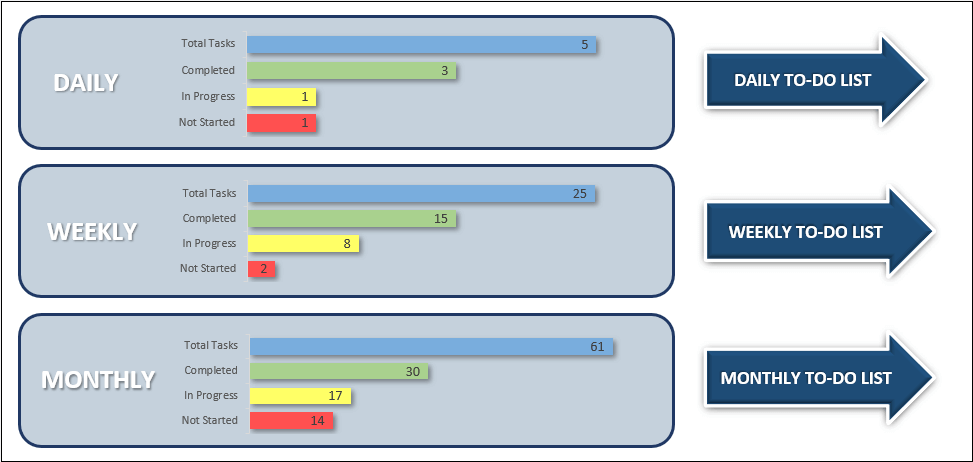 There are also visuals in the dashboard that show you an overall situation of three to-do lists.
For example, you can use the daily list for little details that need follow-up. Here, each task is provided with a status selector.

For a more important and longer plan, instead of the daily part, you can use a weekly task list or a monthly one for a well-thought plan in the template. After you write tasks for each week and each month, you will choose a status for them. As shown below, the infographics will be updated accordingly.
Furthermore, you can expand the number of possible tasks up to 100 in each module.
You can also see separate monthly stats by selecting the related month from the drop-down menu on the top right corner.

DAILY-WEEKLY-MONTHLY TASK LIST EXCEL TEMPLATE FEATURES SUMMARY:
Excel To Do List Template on a daily, weekly, or monthly basis
Task status with visual progress charts
Compatible with Excel 2007 and later versions
No installation needed.
Easy-to-use and nice design
Works on both Mac and Windows
On-sheet instructions
FREQUENTLY ASKED QUESTIONS