Eisenhower Matrix Google Sheets Template
Eisenhower Matrix in Google Sheets. Categorize & prioritize your tasks. Printable priority chart. Ready to use template. Access from all devices.
TEMPLATE DESCRIPTION
Do you need any simple tool to decide how to prioritize your agenda? This Eisenhower Matrix Google Sheets Template will help you categorize your tasks and then prioritize them.
To clarify, Eisenhower matrix was named after former US President Dwight D. Eisenhower. As a result of constantly having to make tough decisions, he developed the Eisenhower Matrix.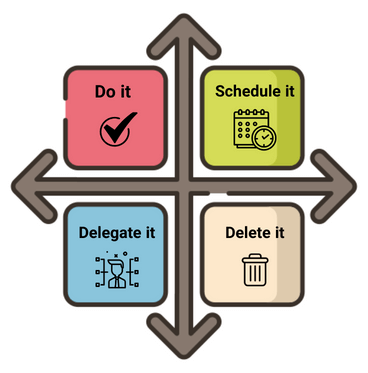 There are 4 boxes on the Eisenhower Matrix Google Sheets: the first box is what to do first, the second box is what to schedule, the third box is what to delegate, and the fourth box is what to delete.
Template Features:
Above all, in the Data section, you will simply list all the tasks you need to complete.

Then, select "Yes" or "No" for the importance and urgency level. Afterward, whether the tasks are to do, decide, delegate, or delete, they will immediately find their place in the Eisenhower matrix template.
After that, you can add a " ✓ " or " ✘" to the left side of the tasks to indicate whether you have completed that particular task.

Finally, while a long list of activities can seem stressful, Eisenhower matrix template wants to break them down into smaller pieces. You can schedule your tasks and do your most significant work once you can see your tasks in their categories.
Do you want to organize your to-do list in this way by categorizing your tasks? So, go ahead and explore the Eisenhower matrix template in Google Sheets!
Moreover, Google Sheets templates give you the possibility to use the files from any device, including mobile, tablet, or desktop, and with any operating system Windows, Mac, Android, or IOS. All you need is internet connection and a Google account. And all will be synchronized!
Eisenhower Matrix Google Sheets Template Features Summary:
Easy to fill Data Section
Keeps your to-dos organized
Informational notes included
No installation needed. Ready to use
Works on any operating system
Suitable for any device including mobile, tablet, desktops
FREQUENTLY ASKED QUESTIONS