Content Calendar Google Sheets Template
Social media content planner in Google Sheets. No more worries about deadlines or duplicates. Easy to use content calendar. Access from all devices.
TEMPLATE DESCRIPTION
If you regularly create content for social media, ads, blogs, and other advertising campaigns, a Content Calendar Google Sheets Template is a must-have. Our Content Calendar Google Sheets Template will then assist you in actively planning and managing your editorial content. Furthermore, you will track all social media channels in a single tool.
Someka Content Calendar Google Sheets Template will assist you in organizing and executing your content marketing development and activation strategy. With this Google Sheets, keep track of your content schedule across multiple platforms and channels in one place. You and/or your team will understand precisely what to do and when to do it.
Features of the Content Calendar Google Sheets Template
Above all, this Google Sheets is divided into two sections to track your content development and publishing strategy. These are inputs and outputs.
Inputs:
Settings:
To begin, you must define the content types, stages, and editors with whom you will be working. This section allows you to specify the Calendar Year. The content calendar Google Sheets template will then update the calendar sheet (days and months) based on your calendar year selection.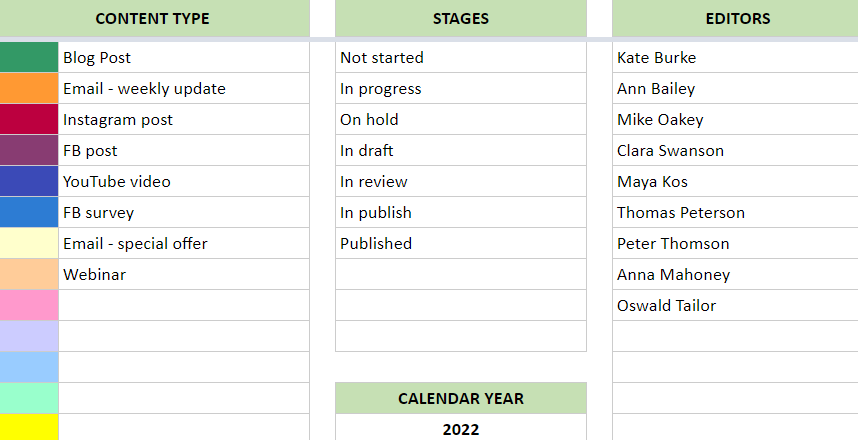 Schedule Standard Task:
This section will assist you in defining repeating tasks and assigning them to an editor. Also, the dropdown button allows you to select the content type and the responsible person (optional).
Besides that, in both cases, the available input will be determined by your previous selection in the settings sheet. The table allows you to specify whether each task should be repeated monthly or weekly.

Aside from that, set a custom duration for each task. Then, set the start and end dates for each task, as well as the total number of working days. Please manually enter the "X" sign to specify the days the editor will work on that specific task.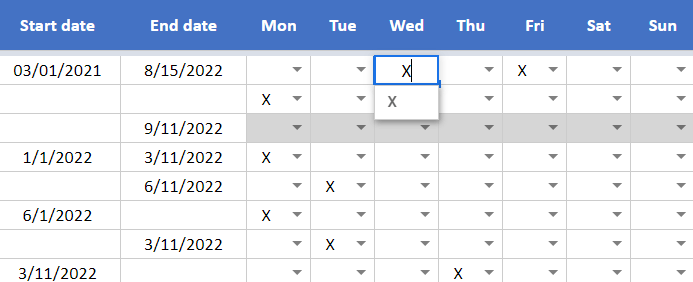 Note: If you want to create a schedule that spans several years, for example, from June 2020 to April 2021, you will only be able to see the schedule for the previously selected calendar year in the settings section.
Importantly, you can create up to 100 different schedules using the scheduler.
Add Custom Task:
In this section, set personal targets or tasks for each editor. Also, enter target keywords for the campaign and track the current stage of specific ongoing tasks. Clearly, using the current stage column, this section can also serve as a reminder.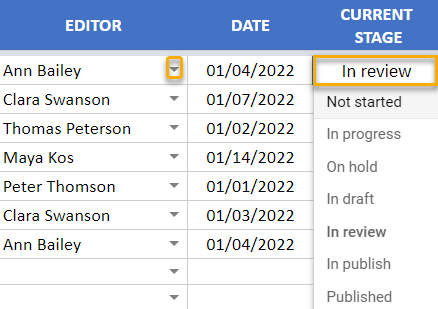 Outputs:
Once you have finished filling out the necessary information in the content calendar template's input areas, you will be able to proceed to the output sections to view and check all of the schedules, summary charts, task lists, and so on.
Calendar:
If you want to keep track of your overall monthly schedule, this calendar view will be the most useful. You will be able to see the responsible editor, task name, and work status in the calendar all at once.
Particularly, in the calendar view, see up to three tasks per day.

You can filter the calendar by month, editor name, and task source using the dropdown buttons at the top. In this case, the task source options would be the automatic Schedule, individual Tasks, or both.
Summary:
There are three charts available in this Content Calendar Google Sheets Template summary section: Monthly Tasks Number, Tasks by Channel, and Tasks by Editor. The charts can be filtered by month, editor, and task source.

View of the Tasks List in Content Calendar Google Sheets Template:
This list is intended to provide a high-level overview of all previously defined tasks (custom and schedule). You can also narrow it down by month. Furthermore, each column has its own sorting and filtering options. Please do not attempt to alter anything on this list. It's an informative summary list of previous tasks you've created.

Meanwhile, all you need is an internet connection and a Google account to get started. And everything will be in sync!
Content Calendar Google Sheets Template Features Summary:
Use Google Sheets to plan out your editorial content
Make a content strategy for your social media and blog posts
Informational notes included
No installation needed, ready to use
Works on any operating system
Suitable for any device including mobile, tablet, desktop
FREQUENTLY ASKED QUESTIONS