Employee Database Google Sheets Template
HR database template in Google Sheets. All-in-one tool with dynamic forms and dashboard. Ready for presentations and access from all devices.
TEMPLATE DESCRIPTION
Do you need an all-in-one tool to track your employee data for human resources purposes? Then, our Employee Database Google Sheets Template to help you to track and manage all your employee info in one place.
Firstly, with the Someka staff database template, you can store all types of employee data, from email addresses to hire dates.

Why to use this template?
So here are some reasons to use this template in your HR department:
You can analyze your staff data in many aspects 
Time-saving tool for a better data management
You can transform disparate data into a valuable resource
You will shine on presentations with professional dashboard
Dynamic and filterable lists are available for urgent needs
Employee Database Google Sheets Template Features:
Basically, the template is made up of four major parts:
Navigation Menu

Settings

Database

Output
To clarify, the output sections of this Employee Database Google Sheets Template also includes a Dynamic List, Employee Form, and the Dashboard.
1. Navigation Menu:
Above all, this sheet is designed to allow users to easily move between each section of the Employee Database Google Sheets Template. Then, you can access each sheet by clicking on the buttons. Instruction notes are also included to highlight the main functions of each sheet.
2. Settings:
You can begin by defining your Settings before using the Employee Database Google Sheets template. The Settings section is divided into two sections. First of all, there are dropdown menu options. Second of all, there are options for structural settings.
Info
: Dropdown menu options can be customized based on the user's preferences. You can also add more options to each heading.

As a user, you can choose the date format for the structural settings. In addition, you can select the currency for the template.
Moreover, you can also choose which heading to use on the Employee Form. Additionally, you can specify whether or not the filters should appear in the print view of the dynamic list.
Info
: Please specify the name of any new date format columns you add to the database, such as "Promotion Date," in the Data Input Headings setting.
3. Database:
This is the main part of the Employee Database Google Sheets Template. Use the dropdown options to include information that you have specified in the settings section. Besides, it is possible to manually enter data for the remaining columns.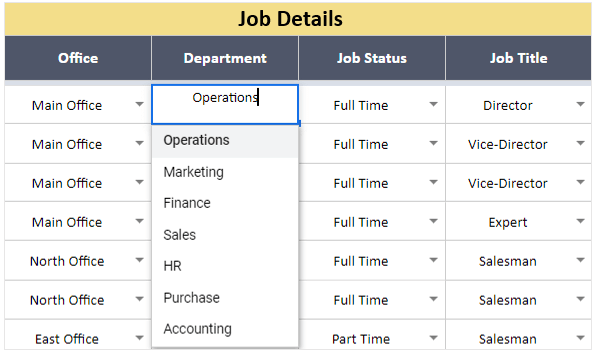 Importantly, under 'other' (Headings 1 to 5), there are 5 empty columns. You can rename these columns to suit your company's needs. Then you can add up to 8 new columns to the table. You may still include these columns for informational purposes, but dropdown menu options will not include them.
4. Output Sections of Employee Database Google Sheets Template:
The Employee Database Template, as previously stated, has 3 distinct output sections: Dynamic List, Employee Form, and Dashboard.
4.a. Dynamic List:
This is the sheet where you can populate the previously created Database with a list of properties. There are 10 available columns, which you can choose based on your needs.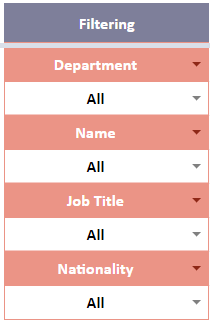 These columns are all dynamic and optional. Using the dynamic list, we will collect data based on four filters. Then select table heading options after first selecting these four specific filters. Please keep in mind that the filter and property options are all derived from the database column names.

4.b. Employee Database Form Template:
This is the section where you can design individual employee forms for each team member based on the headings and details you want to display. This list is completely dynamic, which means you can change all of the information columns to suit your needs.

Simply enter the Employee ID, Name, or both to filter the details. This option is available in the Settings section. Then, use the dropdown lists to select the fields you want to see in the form. This way, you can create a completely customized and one-of-a-kind employee form! You can also change the height and width of the columns if the defaults are too narrow or too wide.
4.c. Database Dashboard of Google Sheets
Lastly, the analysis Dashboard is the final output section. You will be able to track and analyze human resource data in this section. Because of the various visualization techniques and summary charts, you can also use this for HR reporting.

Also, you can filter options to see specific results while analyzing your results. These filters are located at the template's top. Executive summary information such as headcount, average age, total salaries, average salary, and HR Status charts are available on the Dashboard.
The template includes recruitment information such as hiring and termination details, in addition to human resources data and employee statistics charts. Last but not least, the dashboard includes statistics on turnover. Simply choose the appropriate year from the dropdown menu to see the results!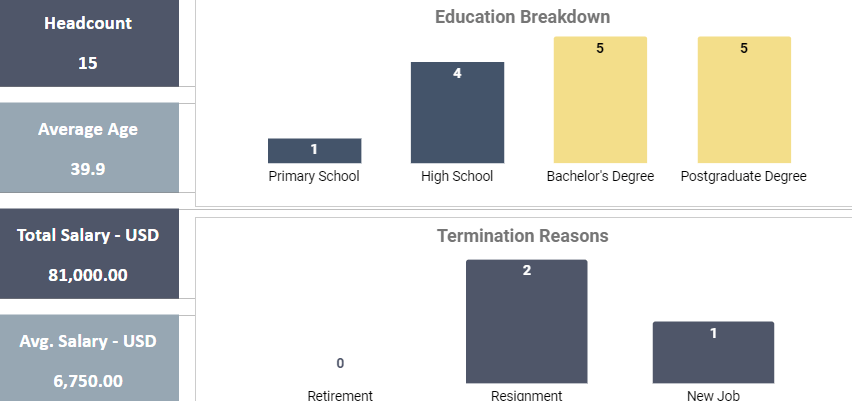 Meanwhile, all you need is an internet connection and a Google account to get started. And everything will be in sync!
Employee Database Google Sheets Template Features Summary:
Google Sheets template for Human Resources Management

Editable input data table

HR reporting & visualization

Separate database section to keep things tidy
Professional dashboard

Informational notes included

No installation is needed, ready to use

Works on any operating system

Suitable for any device including mobile, tablet, desktop
FREQUENTLY ASKED QUESTIONS