Ready-to-use CV formats in Excel. Create professional resumes in seconds. Flexible and printable CV samples with 5 different style options.
TEMPLATE DESCRIPTION
If you're looking for up-to-date, well-organized, and visual resume formats to introduce yourself to human resources, this Resume Excel Template will help you with 5 different style options. Minimize your time thinking about how to make it and what model to use so that you can focus on the content and not the design or looks of your resume!
Main Features of the Template
Firstly, the design of each model meets the purpose of it, the professional level of the user, or the chosen occupation. Because every company has its own brand tone and personality, the format that you structured for them should be relevant and suitable.
Basically, this resume template excel spreadsheet has 5 different resume styles:
Traditional Model
Executive Model
Achievement Model
Visual Model
Artistic Model
Traditional Model follows simple standards for job applications, you don't need visual formats to impress a company that is known for a more formal work environment.
Executive Model is for professionals with a senior or executive position at a company. You don't need to be fancy when you are writing your work experiences.
Achievement Model focuses on personal accomplishments, especially your positive impact on your previous experiences. That's why you need to highlight your successes clearly not your duties!
Visual Model works best for job seekers in a creative industry or profession with minimum text.
Artistic Model emphasizes your skills and qualifications according to your professional occupation.
Furthermore, the models of this Excel Resume Template are based on thorough research on recruitment best practices that are recognized by employers worldwide. To emphasize, these models are ready to use by default. But if you would like to add some extra information on them, simply click (+) buttons!
Finally, you can add your own picture as shown below: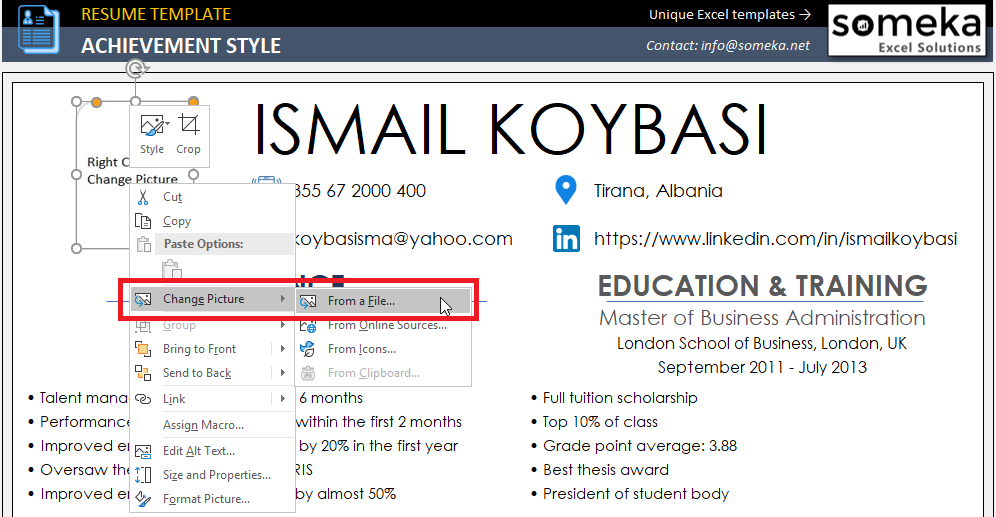 Moreover, you can also change the size of the picture!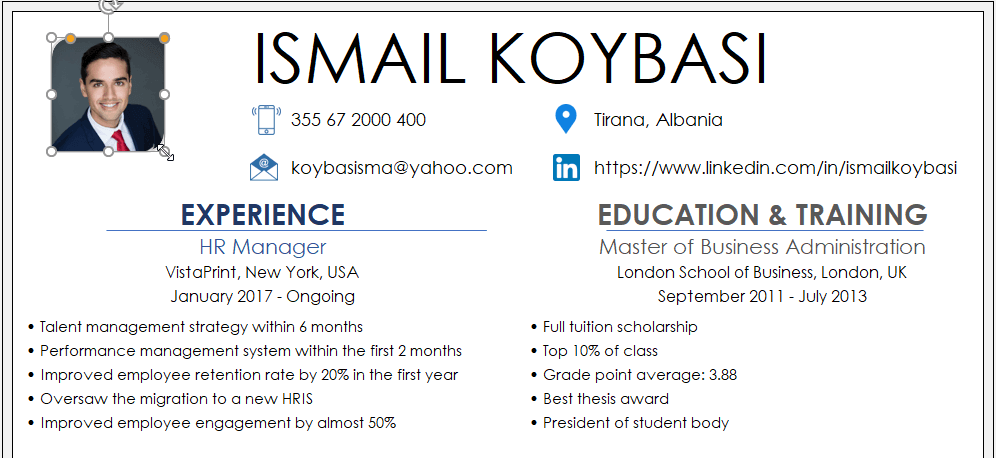 Lastly, if you haven't chosen the career which suits you best, you can start your job search on Jooble.org. Here is an example of open positions for Accountants jobs!
Excel Resume Template Features Summary:
Included 5 unique Resume Formats in Excel for users
User-friendly and flexible resume
Compatible with Excel 2010 and later versions
Full Print Ready
No installation needed. Ready to use.
On Sheet Instructions
FREQUENTLY ASKED QUESTIONS