Issue Tracker Google Sheets Template
Google Sheets template to track your issues. Printable dashboard to manage projects based on priority and status. Access from all devices.
TEMPLATE DESCRIPTION
Keep track of project issues with this Issue Tracker Google Sheets Template. Define the priority of each issue and assign it to key team members. Then, you can check the box after you've completed the issue.
In other words, with this issue tracking template for Google Sheets, you can resolve issues quickly and easily.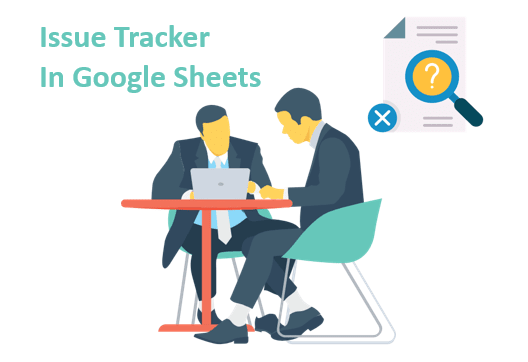 Next, let's look at the template's specifics:
Main Features of Template:
Firstly, you can use this Google Sheets template to specify the problem's name, the project that oversees it, the state of each issue, the issue's initiator, its priority, the dates, etc.
Besides, the template displayed a statistical summary of all these actions and factors immediately after entering all the relevant information.

To clarify, this issue tracker's priority and status columns do not require any typing. Also, you can choose the priority level of a job by clicking on the cell and choosing from the drop-down menu that appears. So, If you click on the cell, you can choose to close, start, or continue the job.

Furthermore, you can change the options for Priority and/or Status by changing the name of the cell in the table above if you believe they do not fit you or your business.
Meanwhile, all you need is an internet connection and a Google account to get started. And everything will be in sync!
Issue Tracker Google Sheets Template Features Summary:
Professional looking Project Issue Tracker
Define priority, initiator, status, dates, department, and so on
Includes a separate summary report for the actions taken
Clear on-sheet instructions
Print-Ready
No installation is needed, ready-to-use
Works on any operating system
Suitable for any device including mobile, tablet, desktop
Does not contain any scripts
FREQUENTLY ASKED QUESTIONS