Issue Tracker Excel Template
Issue tracker spreadsheet. Print-ready dashboard to track project issues with priority and status. One-sheet Excel template with no installation needed.
TEMPLATE DESCRIPTION
Most of us are dealing with several projects in our daily business lives. And, they are always prone to errors and problems from small ones to big ones. However, there are several efficient methods and trackers to decrease the number of problems and issues in projects. We have prepared an Issue Tracker Excel template to help you manage your projects.
Basically, you can track issues and assign a responsible person for this process with this tool. Then, let's see the details of the template:
Main Features of the Template
This tool allows you to name the issue, select the project responsible, status for each issue, initiator, priority, dates, and so on. Once you input all the details of the issue, you could see the statistical report of all these actions and parameters right on top.
You don't need to type in the priority and status column of this issue tracker in Excel. Just click on the cell, press the drop-down button and you can easily choose whether it is High, Medium, Low priority, or if the status is closed, in progress, or not started.

If you think the options for Priority and/or Status do not suit you or your work you can change these options by changing the name of the cell which is located in the table above.
In addition, the auto filter option helps you to find the department, initiator, etc easily from the dashboard. You do not have to manually check each row to find the information you are looking for.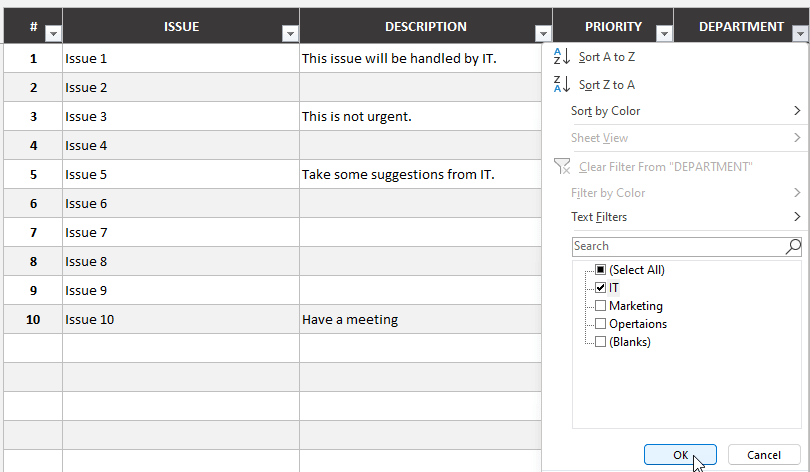 Finally, once you are done with reporting, if you would like to get a clean printout, all the sheets of Issue Tracker are already set to print only the necessary area.
Excel Issue Tracker Features Summary:
Professional looking Project Issue Tracker
Let's the user define priority, initiator, status, dates, department, and so on
Includes a separate summary report for the actions taken
Clear on sheet instructions
Print-Ready
No installation needed, ready-to-use
Works both on Mac and Windows
Compatible with Excel 2007 and later versions
Does not include any VBA code or macros
FREQUENTLY ASKED QUESTIONS