Content Calendar Excel Template
Social media content planner in Excel. Manage your editorial calendar. No more worries about deadlines. No installation needed. Ready to use.
TEMPLATE DESCRIPTION
Are you trying to get organized with all those social media posts? Do you feel the pressure of missing the deadlines? Then, our Content Calendar Excel Template will help you to actively plan and manage your editorial contents. Additionally, you'll track the entire social medial channels in all-in-one tool. 

Our Content Calendar Excel Template will help you keep your content marketing development and activation plan organized and efficient. With this spreadsheet, you will have your content schedule across various platforms and channels in one place altogether. You and/or your team will know exactly what to do and when to do so.
Content Calendar Excel Template Main Features
Basically, our spreadsheet has two pillars to track your content development and publishing plan. These are inputs and outputs.
Inputs:
Settings:
Firstly, you need to define the content types, stages, and editors that you are working with. You can specify the Calendar Year from this section. After that, the template will update the calendar sheet ( days and months ) according to your calendar year selection.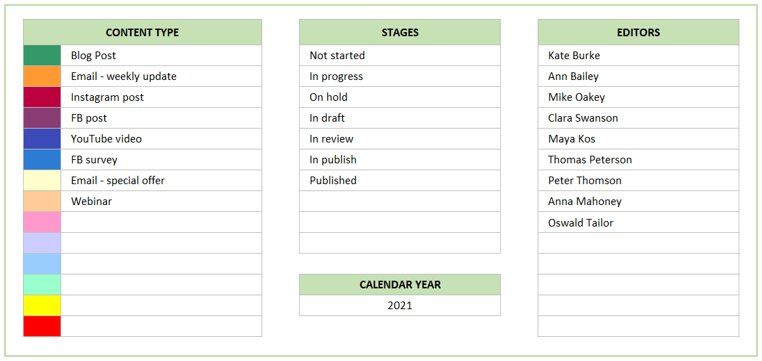 Schedule Standard Task:
This section will help you define repeating tasks and assign them to a specific editor. You can select the content type and the responsible person (optional) from the dropdown button. The available input for both cases will be based on your previous selection in the settings sheet. The table will allow you to set the repetition frequency of each task whether monthly or weekly.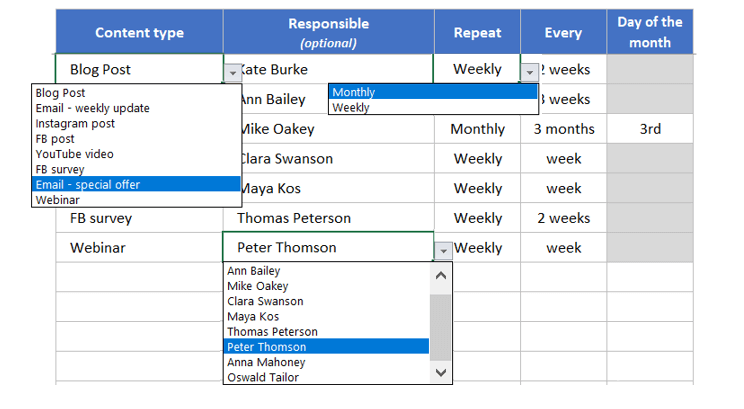 Besides that, you can also set a custom duration per task. In that way, you can determine the start and end date of each task and set the expected total working days. Please enter the "X" sign manually to set the days the editor will work on that specific task.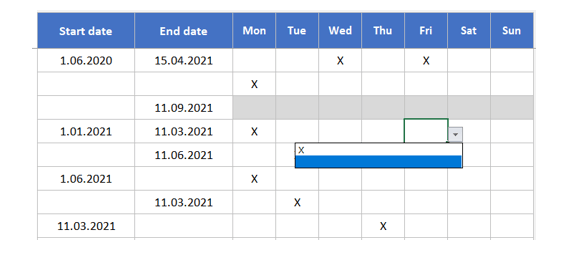 Note! If you would like to create a schedule that spreads across several years, for example from June 2020 to April 2021, you will be able to view only the schedule for the previously chosen calendar year in the setting section.
The scheduler allows you to create up to 100 different schedules.
Add Custom Task:
You can set personal targets or tasks for each editor in this section. In addition, you can input target keywords to be used in the campaign and track the current stage of the specific ongoing tasks.
This section can be used as a reminder as well via using the current stage column actively.

Outputs:
Once you finished filling in the necessary information in the input areas of the content calendar template, you will be able to move forward with the output sections to see and check all the schedules, summary charts, task lists, etc.
Calendar:
This calendar view will be the most useful one if you would like to track your overall monthly schedule. You will be able to simultaneously view the responsible editor, task name, and the status of the work in the calendar.
Note that, you can view up to 3 tasks per day in the calendar view.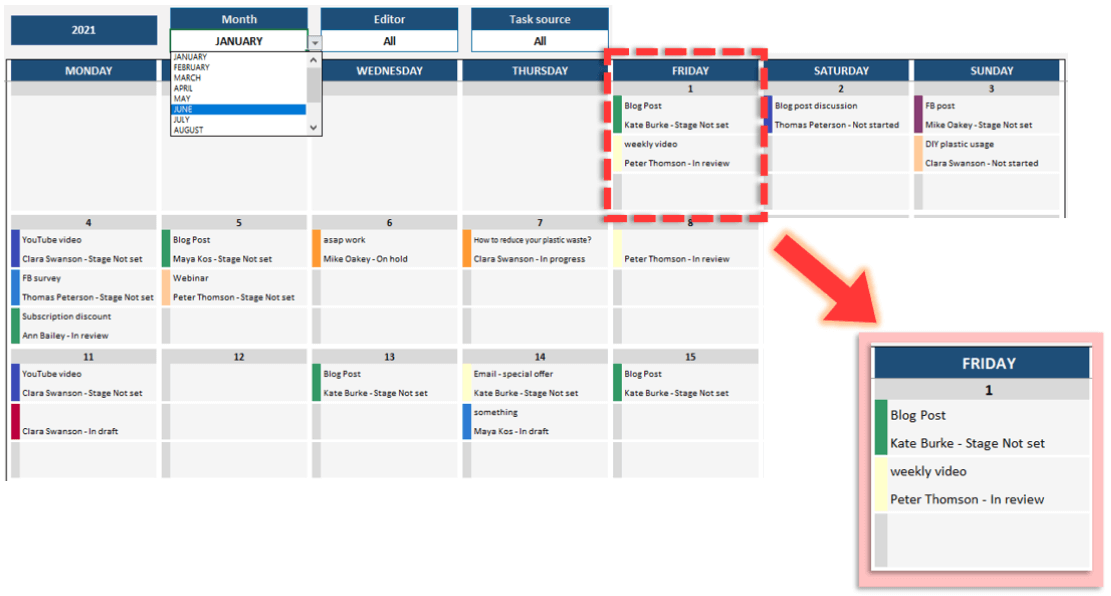 You can filter the calendar according to month, editor name, and task source separately by using dropdown buttons on the top. Task source options, in this case, would be the automatic Schedule and the individual Tasks or both.
Summary:
In this Content Calendar Template summary section, there are three available charts which are Monthly Tasks Number, Tasks by Channel, and Tasks by Editor. You can filter the charts based on the month, editor, and task source.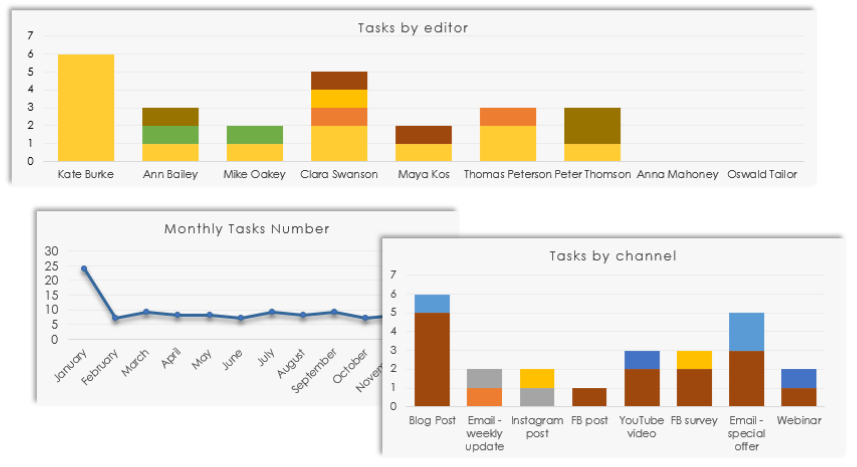 Tasks List View:
This list is for getting a broad picture of all previously defined tasks ( custom and schedule ). You can also filter it by month selection. Besides, each column has its own sorting and filter options as well. Please do not try to change anything on this list. It's an informative summary list showing the tasks you have created before.
Content Calendar Excel Template Features Summary:
Schedule your editorial content in Excel
Prepare a content planner for your social media and blog posts
Informational notes included
No installation needed. Ready to use
Works both on Mac and Windows
Compatible with Excel 2010 and later versions
Does not include any VBA code or macros
FREQUENTLY ASKED QUESTIONS