ERP spreadsheet template as a mini ERP application in Excel. Simple yet powerful. Manage your processes, see projections and calculate financials.
TEMPLATE DESCRIPTION
ERP (Enterprise Resource Planning) system is a critical component for businesses to manage their accounts, financials, products, sales, and inventory.  Excel ERP Template will take the necessary steps for your company, instead of using separate databases and spreadsheets that have to generate reports!
Small enterprises also use the Excel ERP system to easily identify efficiency improvements in their performance. On the other hand, it reduces repetitive work and helps their businesses to integrate their important processes.
SMALL BUSINESS ERP EXCEL TEMPLATE FEATURES:
The template consists of 3 main sections:
1. Planning and Feasibility
2. Data Input and Records
3. Reports
Basically, the flow of the template is: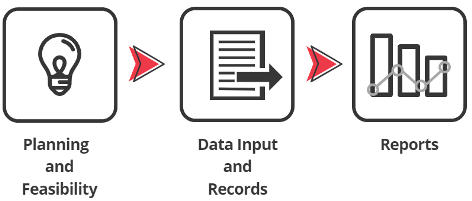 Below, we will explain these 3 sections in detail. But before that, let's start with reviewing the Dashboard section of the ERP template.
EXCEL ERP TEMPLATE – DASHBOARD
This is the navigation dashboard of the tool. You can reach relevant sections by clicking on the buttons.
In the Dashboard, you will see the gray "Settings" button on the bottom. This is where you define your categories, sales reps, and so on. Before making your inputs, make sure you fill these tables below so that you can use this data in the relevant sections.

On the right side of this section, you will see a few more micro-settings explained below:
Start Month: Define when you want to start inputting your data. The template will update all reports according to this.
Currency: All values in the Excel ERP Template are formatted as a number. Use this setting to update your report titles.
Payment Term Margin: This setting is important for "Payment Collection Tracking". If a customer pays its balance after this number, you will see a warning in the Payment Terms report.
Now, we can dive into the 3 main sections of this template.
1. EXCEL ERP TEMPLATE – PLANNING AND FEASIBILITY
Products
At the most basic level, you will define the products which you purchase, stock, and sell.
Product Name and Product Code columns are free text. If you don't use codes for your products, we strongly recommend using unique codes for your products. Because that's the best practice for business management purposes.
Product Category: As you will notice, this column includes drop-downs because you will define your categories in the "Settings" section as mentioned before.
Unit: This is how you sell your products (in packages, in kilograms, inches, pieces, etc.).
Critical Stock Level (days): For tracking stock levels, you can see Critical Stock Level's effect in the "Stock Records" section. For example, if a product has a lower number of stock than its critical value, you will see the red warning on Stock Records.
Brand: This is free text and is used for reporting (filtering, grouping).
Customers
Similar to the Product section, you will define your customers and their information this time. This section is a kind of CRM database of your small business ERP.
Customer Code – Name – Address – Tel – Mail info columns are all free text and you can fill them as you wish. If you don't use codes for your customers, again we strongly recommend using unique codes for each.
Sales Rep will have a selector in here because you will fill this info in the "Settings" section before starting.
The last two columns are unique features of this Excel ERP Template and are used for payment tracking of your customers. Even more if used right, this can be a very powerful way to manage your business!
Payment Term Limit: This data is important for "Payment Collection Tracking". If your customer did not pay its balance after this many days, you will see the warning in the "Payment Terms" in the Reports section.
Balance Risk Limit: ERP Template has a safety limit for your customer balances. If their balance exceeds this limit and still did not pay even after the Payment Terms Limit, you will see the warning in the "Payment Terms" report.
Warning!: How to Insert/Delete Rows?
You should not! Changing the table structure is not recommended. For this purpose, notice that there are "Product Sort" and "Customer Sort" buttons on the headers. So you can simply delete your product or customer info without deleting it's all its values on the entire workbook, just the data in these tables.
ERP Template – Sales Targets
The sales target is for measuring and comparing your current sales in order to achieve your goal. Here, you simply input your monthly sales targets amount for each product.
Actual Sales
After defining your targets, you can input monthly actual sales of your products. Together with Sales Targets, you can analyze your sales in the "Sales Realization" report section and it will show the efficiency of your sales team.
Product Costs
In this section, you simply input your unit costs per month. This data is being used in Profitability Reports of Small ERP Template. So, if you can estimate the costs for the upcoming months, this will help with better financial planning for your company.
Sales Prices
You will define the sales price of your products or service in this section. Together with the "Unit Costs", you can see the result of this data at Profitability Reports.
Fixed Costs
Fixed costs will remain stable throughout all processes of small business ERP. When you are calculating your business profitability, you can see when the business will reach the break-even point or future profit margins. For the upcoming reports, simply input your fixed costs per month.
**As a general rule, always fill in the white cells. Gray columns contain automatic calculations and would not be overwritten manually. Don't change the gray columns on the leftmost columns.
2. EXCEL ERP TEMPLATE – DATA INPUT AND RECORDS
Sales Invoice Records
For all companies, it is important to keep a record of sales invoices in order to prove an agreement between customers. So, in this ERP Template, you will input your invoices and create sales records here. This is a very important section that includes lots of data that will be used throughout the tool.

Invoice Date: This is for tracking issuing date of the invoice.
Due Date: When will this invoice be paid? This data is important for tracking customer balances.
Invoice No: Important for tracking and grouping same invoice items.
Product Code – Name: As you will notice, this is a drop-down menu and you will select your product which you define in the "Products" section.
Unit will be retrieved automatically from the Products section. Please make your changes in the relevant section and do not change gray cells.
Party No: This field is used for the "Stock Records" section together with "Purchase Records" for better tracking of separate invoices which are purchased together. You can use this field in order to manage the "first in – first out" methodology.
Customer Code – Name: As you will notice, this is a drop-down menu and you will select your product which you define in the "Customers" section.
Qty: Number of items in the invoice.
Pricing & VAT: This will be filled according to the info in the invoice.
ERP Template – Purchase Records
This section is not crucial for the rest of the calculations but you can use this table to record your purchase info.
Here are the explanations for other columns different from Sales Invoice Records:
HS Code: HS code is an international standardized system of names and numbers for the classification of commodities and you can use it for information purposes only.
Expiry Date: Some commodities, especially FMCG goods, may have an expiry date. You can input them here in order to track them later on. (This field is optional according to your business.)
Warehouse Location: For information purposes only. Let's you easily track the placement of newly purchased goods.
Stock Records
Stock Records keeps your stock situation for each product you have purchased. After you choose Products and Party No, all other info (gray columns) will be retrieved automatically from other tables.
Daily Consumption Rate is calculated according to the number of days difference between the First Sales Data on Today's date.
Estimated Stock Days uses Consumption Rate in order to calculate how many days of stock we have for this product. So if this is lower than the critical stock days, then you will see a red warning here.
Payment Collection Tracking
Once you have received the payment, you have to record it for ongoing evaluation of customers. Here, the Excel ERP Template will record the actual payments you have received from customers.
Date is when you receive the actual payment.
Customer Code can be selected from the drop-down.
Payment No is a reference field for you to be able to track the payment numbers. (Using a payment reference number is a good practice when communicating with third parties.)
Payment method select it from the drop-down menu. You can manage these items in the Settings section.
Amount is directly the payment amount you have received. You can change the currency here from the Settings section.
Expected Cash-In Date: Some kinds of payments are not directly deposited into your bank account and can have some delay. Customers can make the payment but it can be deposited after X weeks. For this reason, this is important information for cash flow and accounting.
Bank name and Notes fields are totally optional.
3. EXCEL ERP TEMPLATE – REPORTS
Financial Summary Report
Small Business ERP Template consolidates all your inputs such as sales pricing, fixed costs, COGS, and reports here. Basically, these 3 results will appear:
Revenue
Gross Margin
Net Margin
The further you make your inputs the longer this report will show.
Sales Invoice Records Analysis
This report is merely based on your sales invoice records. If you know a little bit about how to use a pivot table, you will really enjoy this report and can create further views for your specific needs.
You can click on the "+" / "-" buttons to expand or hide details.
Sales Target Reach Report
Sales Target Realization gives you a clear result in a visual dashboard view to see if you reach your sales targets or not.
In addition, you can select multiple products or categories with the selector on the right.
Checking Account Analysis
This report is quite important. It simply shows after making the sales how much money a customer owes you and how much they paid so far.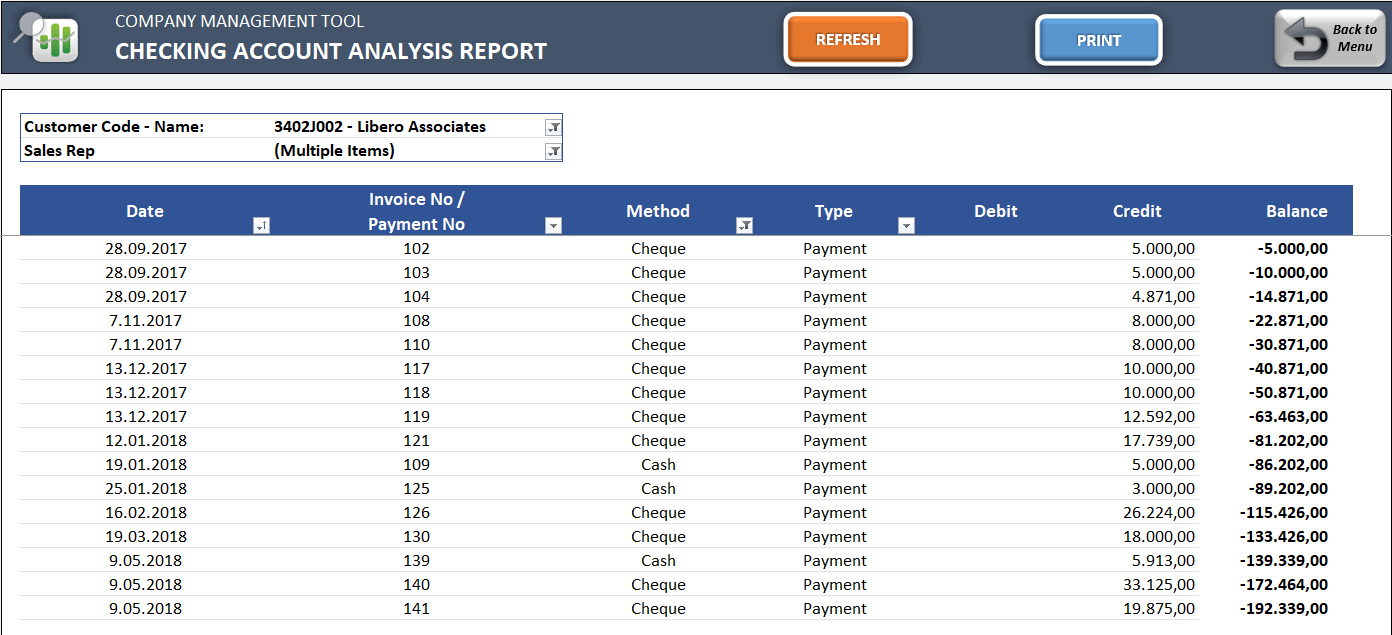 Moreover, you can filter out specific customers or select multiple of them at the top of the report and select specific Sales Reps to see how much open balance every sales team member is carrying. Because this is an important indication of payment collection performance.
Product Profitability Report
Product profitability report gives you a detailed analysis after accounting for all costs and expenses of your product. Some categories may be more profitable than others. Or maybe your company all depends on one product and all others are making you lose money. That's why product-based analysis is quite important for this Excel ERP Template.
Again here, you can click on the "+" / "-" buttons to expand or hide details.
Payment Terms Report
You may remember, we have defined a risk limit for all our partners in the "Customers" section so this report is totally for customer payments.

The calculations in the background consider quite a lot of factors:
"How often does this customer pay?"
"When was the first/last payment?"
"What is our risk limit for this customer?"
"What is our Payment Term Margin?"
Finally, after making these calculations, the report warns you to push some of your customers or give them some more time.
EXCEL ERP TEMPLATE FEATURES SUMMARY:
Unique ERP Template for SMB
Works both on Mac and Windows
No installation needed, ready to use.
Professional design and suitable for presentations
Innovative Excel ERP System
Comprehensive Reports
On Sheet Instructions
Print-Ready
Compatible with Excel 2010 and later versions.
FREQUENTLY ASKED QUESTIONS