WBS Gantt Chart Excel Template
Excel Gantt Chart Template lets you create your Gantt chart with just a button click! Works on Windows and Mac.
TEMPLATE DESCRIPTION
Is this product for me?
Above all, WBS Gantt chart Excel template is a great spreadsheet to understand how much time each part of your project will take. It actually helps you to visualize yours and also, all your team workflow.
Instead of using complicated software Excel is quite useful when dealing with tight deadlines since we all know how to use it. As Someka we've received lots of requests regarding project management and created this ultimate Excel Gantt Chart Maker which is used 10,000+ SMEs in US every day.
If you are;
General Manager who wants to see the big picture and realize what you need to do faster,
Team leader in your company and want to automate your process.
Responsible for operations to plan and schedule tasks across multiple projects
Then alright, you're at the right place.
Can I use this WBS Gantt Chart Maker?
It is very simple for anyone to use. It works both on Windows and Mac OS with MS Excel and doesn't need any extra installation. If you have familiar with MS Excel there is no big deal, just click on the generator and it is ready to work.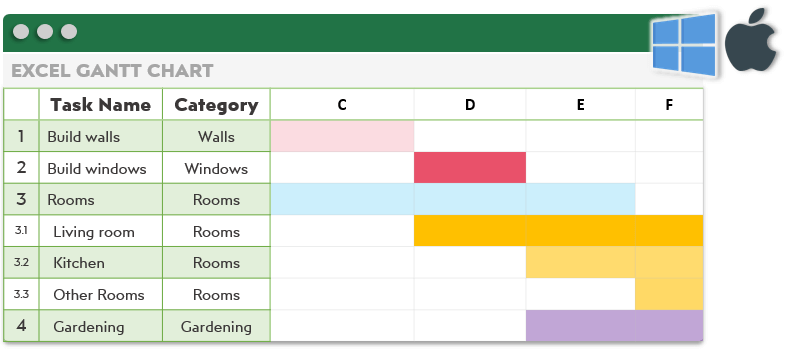 If you wonder how to customize holidays, scheduling etc. please don't worry. When you purchase this WBS Gantt Chart Maker, you'll also get a help section that explains to you how to create an easy workflow for your company.
Also, don't forget that you can always get in touch with us for your questions.
Benefits
Professional approach to visualizing projects: With this wbs gantt chart Excel template you will easily know what's going on in your projects. It also brings timelines, milestones and other crucial project details in one place so that you don't forget anything.
Powerful features in the background: Subtasks, Task Categories, Coloring, Holidays and Off-Days! Instead of browsing through several documents, just record all of them to this template.
Save time creating workflow: If you have ever used other similar Gantt chart software, you will know how tedious these tools are. So don't waste your time to get used to the interface and features. In addition, you can create your projects workflows in a single Excel template in 30 seconds!
Can I trust you?
Someka solves business problems since 2015 not only with this wbs gantt chart maker but also other ready-to-use Excel templates (in Finance, Strategy, Marketing, HR and more). Finally, 70+ countries, 250,000+ organizations are using Someka Excel solutions to work in a better way.

We are approved member of Microsoft Partner Network (MPN).
People from Tesla, MIT, Deloitte, Adobe and many more uses Someka solutions every day.
Your payments are secured by PayPal and Paddle.
Moreover, do you want to know more? Please contact us here or live chat support.
WBS GANTT CHART EXCEL TEMPLATE FEATURES:
Unique Automated Gantt Chart in Excel with WBS support
Works both on Mac and Windows
No installation needed, ready to use.
Export to PDF feature
Full Print Ready
White Label
Automatic Category Coloring
Task progress bars
Daily / Weekly / Monthly Views
Show / Hide Holidays
On Sheet Instructions and Help Section
Compatible with Excel 2007 and later versions
Includes VBA code and macros
FREQUENTLY ASKED QUESTIONS