Marketing KPI Dashboard Template includes key performance metrics of Marketing department. Trend charts and target realisation analysis are also involved.
(One-time Payment | Instant Download)
Payments are processed by our partner company Paddle.com.
You will receive a download link immediately after purchase.
TEMPLATE DETAILS
Works on: Windows / Mac
Requirements: Min. Excel 2007
Bonus: Free Lifetime Updates with your purchase.
Marketing KPI Dashboard is a crucial tool which allows you to prove your success or figure out your improvement areas about your marketing strategy. According to KPI dashboard logic, you set set the right goals to measure within the dashboard and it gives you a quick overview of your company's performance.
However, the most important thing here is to define the right key performance metrics which will differ from department to department. Thus, you can't evaluate the performance of marketing department with HR performance indicators.
So, What's The Best KPI Dashboard for Marketing People?
Of course, you can build your own KPI dashboard with the appropriate marketing performance indicators you want to track. But if, there's a hassle-free way? Instead of creating a Marketing KPI Dashboard from scratch, we offer you a Ready-To-Use Excel Template which consists of;
Major Key Marketing Performance Indicators
Trend Charts
Previous Year and Target Comparisons
Monthly and Cumulative Analysis
 Check the VIDEO below to see how Marketing KPI Dashboard Template works: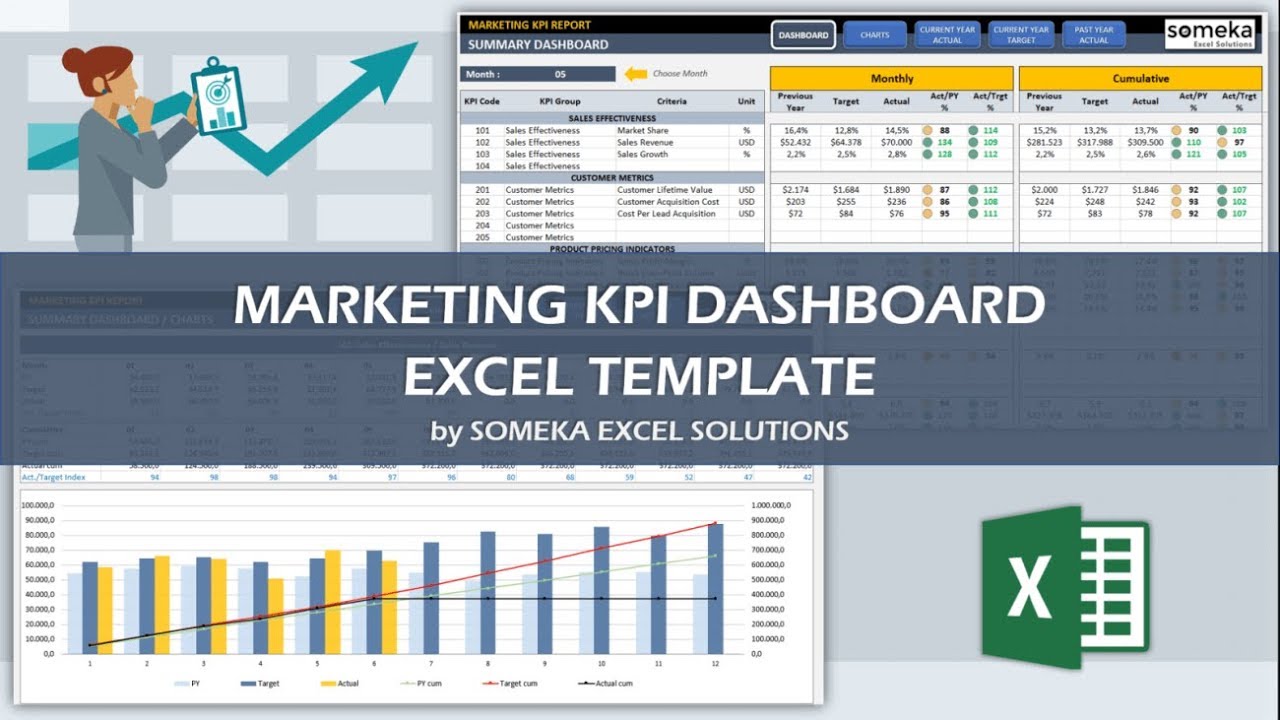 What Are The Right Marketing Key Performance Indicators to Follow?
In this dashboard template, we've collected most common used marketing KPIs under 7 main categories:
Brand Metrics: Brand Equity/Brand Value | Brand Value Growth Rate
Sales Effectiveness: Market Share | Sales Revenue
Customer Metrics: Customer Lifetime Value | Cost Associated Per Lead Acquisitions
Product Pricing Indicators: Gross Profit Margin | Break Even Point | Price Elasticity of Demand | Contribution Margin (Cont to Sales Ratio) | Margin of Safety
Promotion Efficiency: Conversion Rate
Digital Marketing Metrics: Bounce Rate | Avg. Session Duration | Landing Page Conversion Rate | Click Through Rate (CTR) | Cost Per Click (CPC) | Cost Per Acquisition
Budget Metrics: Marketing Budget Ratio (MER: Marketing Expenses/Total Revenues) | Staying In Budget
If you want to add more KPIs, you are free to do this. After this step, you input relevant values and analyze the results in a nicely designed dashboard supported with charts. It shows monthly and cumulative results separately. You can also see the comparison with past year figures and company targets.
This is a great way to follow your critical metrics, make comparisons and stay on track! Don't waste your valuable time with confusing tools. Start using Marketing KPI Dashboard Template and keep your focus on your daily business.
Marketing KPI Dashboard Template Features:
Monthly and Cumulative analysis
Comparison with Past Year and Target values
Summary dashboard supported with interactive charts
Easy to use and nice design to be used in presentations
Clear on-sheet instructions
Compatible with Excel 2007 and later versions
Works both on Windows and Mac
No installation needed. Ready to use.
Full Print ready
White Label
Does not include any VBA macros
---
If you liked this template, you may want to check our collection of Small Business Templates:
Someka Small Business Templates