Supply Chain KPI Dashboard Excel Template
Logistics KPI Tracker in Excel. Key metrics report for supply chain business with yearly and target-based comparisons. Printable dashboard with charts.
TEMPLATE DESCRIPTION
If you're responsible for Logistics and Supply Chains in your business, you have to consider lots of metrics to track a successful operation. However, our Supply Chain KPI Dashboard Excel Template will help you maintain an overall measure and give you a view of which activities need your attention.
In addition, this primed and ready-for-use Microsoft Excel template will assist in monitoring past, present, and future numbers in an expert manner.
The Top Supply Chain KPIs Recommended for You to Follow
Firstly, undertaking a search and then deciding which are the best metrics that relate to your unique business practices is paramount. However, to make things easier for you, we have accumulated the most frequently used 27 KPIs in the Supply Chain department and grouped them into the following categories:
Operational Efficiency
Inventory Management
Warehouse
Transportation
Moreover, we have provided space inside the Template for you to add your own Supply Chain KPIs list.
Creating Your Own Supply Chain KPI Dashboard in Excel
Once you have your own measures in place, you can go about setting targets for your team(s). So, you can make comparisons with year-to-year values and your future target values. Furthermore, the Template will allow you to see trends forming with the available charts, giving you a clear visual representation of your team's activity. In summary, this KPI template offers:
Supply Chain Performance Indicators and Descriptions
Charting Trends
Comparisons between targets and actual output
Monthly & Collective Analysis

Menu:
Firstly, by clicking on each button, you can navigate between other sheets of Supply Chain KPI Dashboard Excel Template.
KPI Metrics Spreadsheet
Secondly, you can easily find some sample data in this sheet, and then you can enter your own data in the cells. Simply select the "Lower Better" and "Cumulative Calculation Method" options from the dropdown menus.

In addition, this section allows you to explain your KPIs in the KPI Description column.
Monthly Dashboard
Thirdly, this section allows you to monitor monthly and cumulative performance for each KPI. You can see the results of comparing in three colors for better understanding and analysis: green, red, and yellow.

Trends and Charts of Supply Chain KPI Dashboard Excel Template
You can select which KPI you want to see the results for by using the dropdown menu. The Overall Analysis and Actual/Target Performance are then displayed in charts.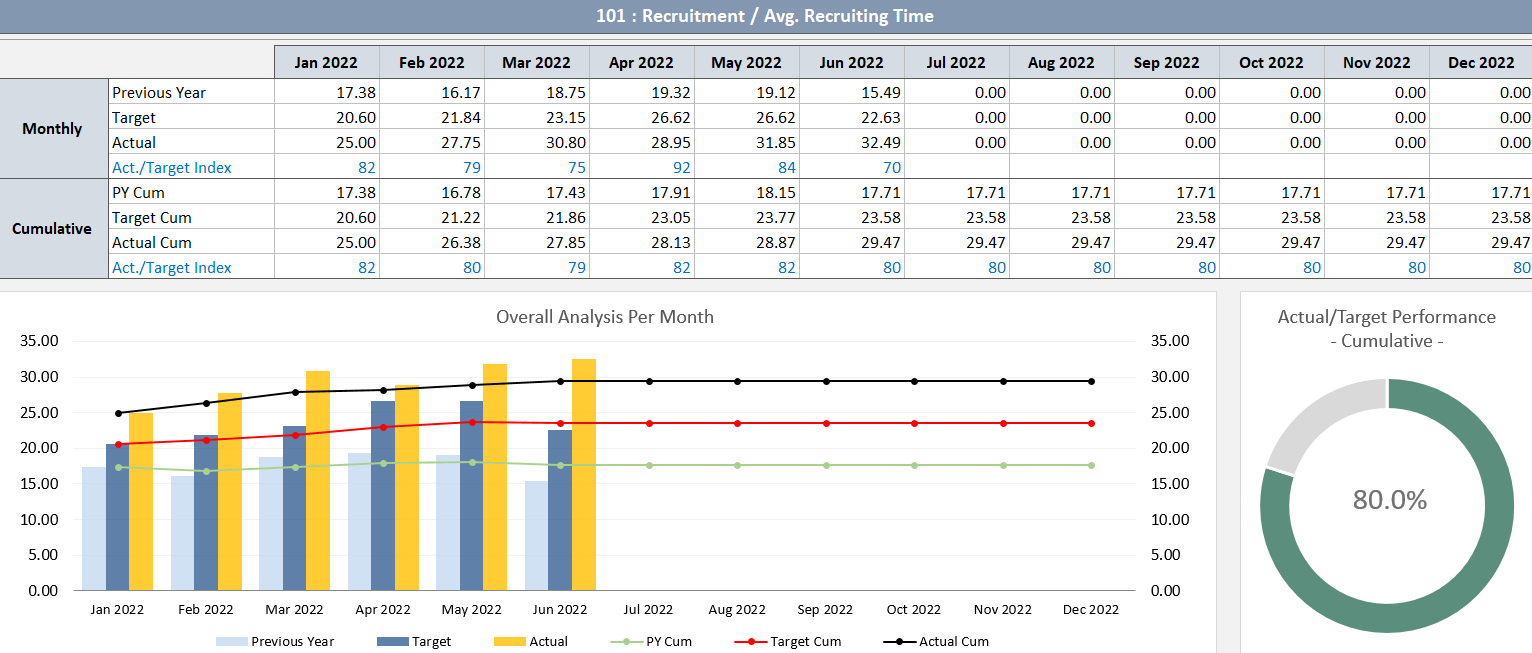 Supply Chain KPI Dashboard Excel Template Features Summary:
30-day and Collective Analysis
Comparison with both Past Year and Target Values
Interactive Supply Chain KPI Dashboard Chart Summary
User-Friendly Design and Presentation Output
Clear Instructions in each Template
Works both on Windows and Mac
Works with Excel 2007 and newer versions
Installation not necessary
Print-Friendly
White Label
VBA Macros Free
FREQUENTLY ASKED QUESTIONS