The HR KPI Dashboard Excel Template contains the frequently used performance measures found in the top Human Resources departments, including PY comparisons, trending charts and more.
(One-time Payment | Instant Download)
Payments are processed by our partner company Paddle.com.
You will receive a download link immediately after purchase.
TEMPLATE DETAILS
Works on: Windows / Mac
Requirements: Min. Excel 2007
Bonus: Free Lifetime Updates with your purchase.
The HR KPI Dashboard offers the perfect analytic tool in identifying areas within your business where performance is being met and where improvements can be made. All this can be viewed, at a glance and in-depth inside this Excel Template. Recorded workplace operation and the organization's objective can be entered into the Dashboard to help you measure the set goals and results from your team's activity.
The accurate presentation of key performance indicators via the HR Dashboard is important to your company's success. Finding and entering the correct data is essential to getting a clear picture of workability of your human resources department.
How Can You Create The Best HR KPI Dashboard?
You could build templates to form your own dashboard design. Alternatively, you can purchase a purpose-built Excel-based programme which is primed and ready to use. Our HR KPI Dashboard is all you need. The Template comes pre-made with:
The Main Key HR Performance Indicators Used Worldwide
Charts Showing Trends Within Your Department
Differences Associated with Past and Present Objectives
30 Day Records and Cumulative Analysis
 Check the VIDEO below to see how HR KPI Dashboard Template works: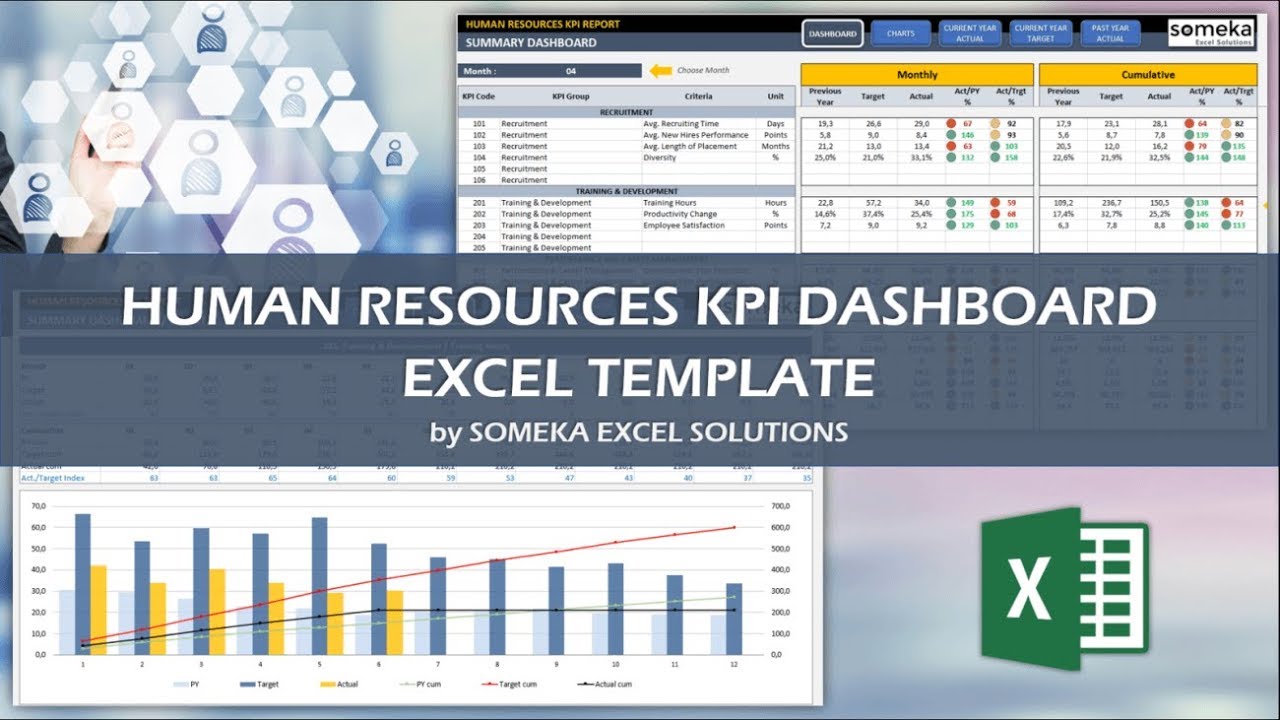 Not Sure Which Key Performance Indicators To Use In Your HR Department?
As part of the development of the HR Dashboard we collated the most frequently used KPI measures and categorized them under the following five headings:
Recruitment: Average Lead Time to Recruit New Employees | Performance Score of New Employees within 6M | Average length of placement in months for the manager | Diversity (Female to Male Ratio)
Training & Development: Training Hours per Employee / Year | % Change of Productivity Before/After the Training | Employee satisfaction points with training
Performance & Career Management: % of employees that fully execute their Individual Development Plan | % of employees that participate Career coaching plan | Average time employees are in same function
Employee Retention & Productivity: % of employees who leave the company in a given time period | Profit per Employee | Average headcount of employees each human resources (HR) employee caring for | Average number of vacation days per employee | Total overtime hours as a percentage of all work hours | Average salary | Average retirement age | Total overtime hours as a percentage of all work hours
Budget Metrics: Actual vs Budgeted Hire | Percentage of HR budget spent on training | Average training costs per employee
The Dashboard also allows you to create and add your own metrics if desired. Once completed, you can monitor the information alongside the standard kpis which will help you analyze the results of the data. Monthly and cumulative figures can be viewed separately as well as the comparison of past and proposed company goals and targets.
The HR KPI Template offers you a one-stop, easy-to-use Dashboard which runs seamlessly on Microsoft Excel and provides you with valuable data at a click of a mouse. Waste no more time with multiple spreadsheets which confuse more than they inform, and get working with our purpose-built all-in-one model.
HR KPI Dashboard Excel Template Features:
Monthly and Cumulative analysis
Comparison with Past Year and Target values
Summary dashboard supported with interactive charts
Design With Presentation Output in mind
Straightforward Instructions Available On-sheet
Compatible with Excel 2007 and later versions
Runs on both Windows and Mac
No installation needed. Ready to use
Full Print ready
White Label
Does not include any VBA macros
---
If you liked this template, you may want to check our collection of Small Business Templates:
Someka Small Business Templates