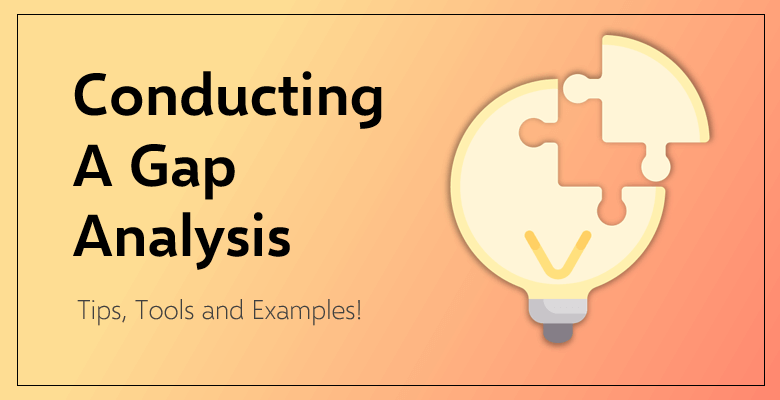 How to Conduct a GAP Analysis: Tips, Tools, and Examples!
Updated on August 18, 2022
Conducting GAP analysis will give you a clear view of the missing parts in your business. So, let's look deeper into what gap analysis is and how to conduct it.
Contents
If you are experiencing some difficulties while improving your business, it means there is a "gap" between where you are and where you want to be.
Therefore, this gap needs to be closed to move forward and achieve your goals. You can handle that by doing gap analysis with the right tools. In this article, you will learn gap analysis and how to conduct it properly using suitable tools.
What is GAP analysis?
Firstly, the GAP analysis is a process of comparing the current state with the desired state for an organization and creating solutions to meet their goal.
When gap refers to how far you are behind your target point; GAP analysis takes you to that point.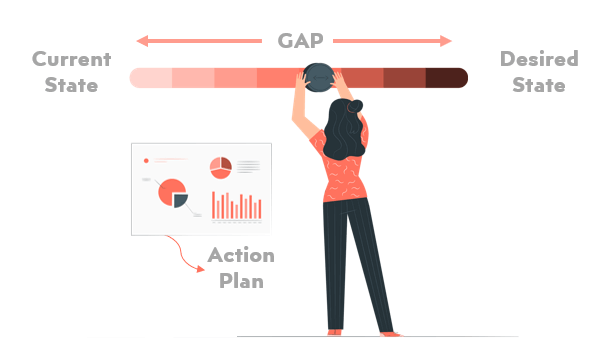 It is a method that examines all strategies and possible opportunities to provide optimization. Plus, you can use it for a single process or the entire business; and apply in various areas such as sales, financial performance, employee satisfaction or productivity.
Moreover, it could also be considered as strategic or operational approaches which are both concrete. Thus, operational approach focuses on daily work, while strategic one focuses on planning and future strategies.
Access Now: Gap Analysis Excel Template
How to Conduct GAP Analysis?
You can follow the essential steps for conducting your analysis and discover what needs to be done to reach your goal. Here are 8 steps: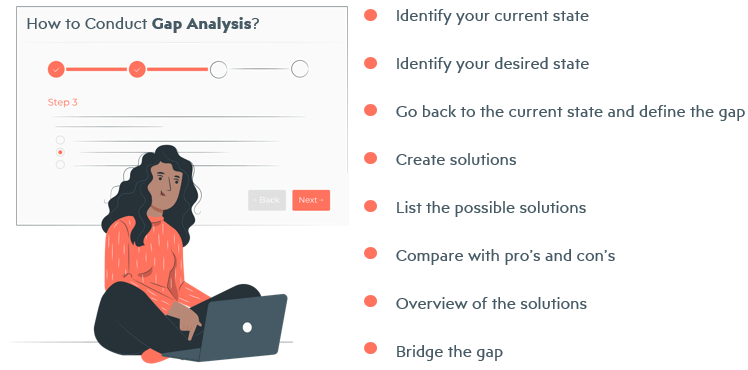 1) Identify your current state
Before heading towards the goal, first, you need to be aware of your existing situation and your main focus.
You should direct your focus on whichever processes or features you want to improve.
For example, imagine you run a clothing company. You produce 1000 shirts per day but you want to increase your daily production. Your focus is your productivity. Your current state is 1000 shirts.
In a different scenario, let's say you are working for a social media company aiming to create a brand image. Your current state, in this case, will be much different and measured with qualitative criteria.
So the situations may differ; but regardless of your department or work area, what you need to do in this phase is finding the root of the issue you are currently facing.
2) Identify your desired state
With a conscious of what your organization is doing, you can set your target point.
Having goals and pursuing them make you idealistic, yet knowing your strengths and weaknesses help you to be realistic at the same time. To determine reasonable goals, you must know what your organization is and isn't capable of doing.

Be aware of your strong and weak sides then set your goals according to SMART methodology: specific, measurable, achievable, relevant, and time bound.
Because goals should be realistic.
3) Go back to the current state and define the gap
Now you know where you stand as an organization and where you want to be.
It's time to handle the gap in between.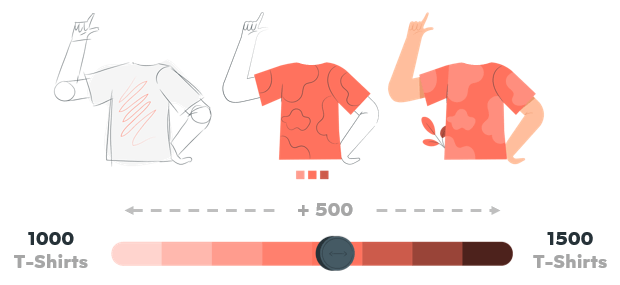 Let's go back to the clothing company example:
You are producing 1000 shirts per day and want to improve. Considering your capacity, possible opportunities or upgrades; you set your target as 1500 per day.

Now your desired state is 1500 shirts while your current state is 1000 shirts, and there is a 500-shirt gap to analyze. After determining the gap, you need to examine the reasons behind it.
You should find what caused this gap; how it came out and which factors or deficiencies played a role.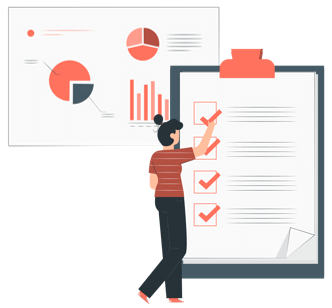 4) Create solutions
If you discovered why the gap occurs, you can take action to fix it.
Start with evaluating possible solutions and deciding which ones are applicable to the problem.
5) List the possible solutions
Which way is the best to close the gap? Consider all the suitable options and how you can benefit from them.
6) Compare with pro's and con's
You might need to reconsider your options with their pros and cons. Bringing a new solution for an existing issue may cause a potential problem or it may cost too much and cause loss.
Therefore, approaching problems from different angles helps you to eliminate unprofitable opinions.
7) Overview of the solutions
After comparing them, choose the most suitable solutions. Review them and make a plan about how you will implement it. Therefore, the solutions are maybe the most important steps of how to conduct gap analysis.
8) Bridge the gap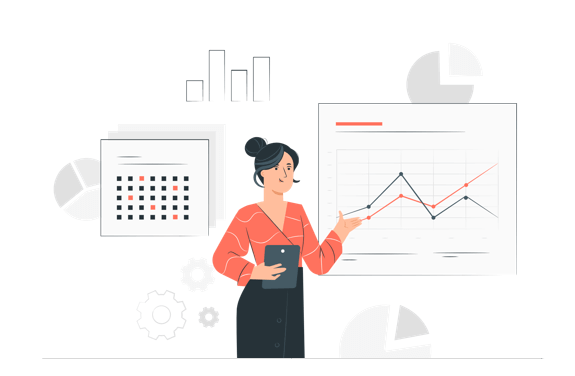 In this stage, you need to share your plan with your organization and present it to others. In order to implement the changes you plan to make, approval of these people may be necessary. So you should be prepared to convince them. You can have your action plan that leads you.
Benefits of GAP Analysis
Gives an overview of the company performance: By performing analysis, you can discover where you stand as an organization and how you currently operate.
Helps to detect what needs to be improved: Overviewing your situation helps you to understand the parts of your work that need to be changed.
Helps to solve the problems: Doing your analysis leads you to create solutions and improvements for your current state.
Turns potential into performance: It makes you closer to your ideal performance by eliminating the obstacles that hold you back

.

Gives insight about better usage of capability: After discovering how you can do better work, you figure out the more efficient ways to perform. You can use them for the future.
Highlights the changes: It puts forward all the changes you have done and the changes you are likely to do for other situations.
Market vs. Strategic Analysis:
With the market gap analysis, you find out what is going on in the market; what your competitor can or can't do. Then you perform a strategic gap analysis and see what capabilities you have; what you can do or what you need to improve.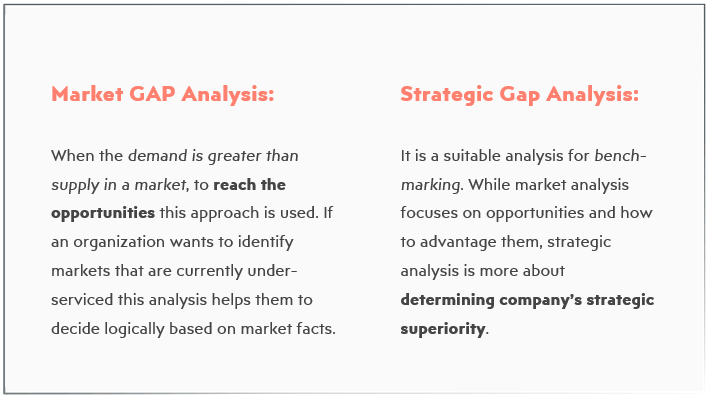 Gap Analysis Examples
Firstly, we mentioned that gap analysis could be used in many different areas. Here are some examples:
Product launch: Gap analysis can be used by a company to determine why sales of a new launched product didn't meet the expectations.
Process optimization: A telecom company can perform a gap analysis while trying to fix why some orders have been delivered to customers. It helps them to identify the causes in the current process and produce an optimized target.
Customer satisfaction: If an airline company is aiming to meet customer satisfaction; a gap analysis can be performed to detect the current dissatisfaction and find ways to serve them better.
Strategy planning: An e-commerce company trying to gain a place in the market needs a strategic plan, so they can perform a gap analysis. They can identify their strategic objectives and current deficiencies, then create their action plan.
Individual Assessment: A team leader can perform a gap analysis on evaluating and improving employees performance. Results can be used to draw out the best practices that everyone can adopt, and improve the overall performance.
Frameworks to conduct GAP analysis:
To emphasize, there are some main frameworks that you can use while defining problems and creating solutions. Thus, you can visualize steps and document your report easily with these frameworks.
SWOT Analysis
SWOT refers to Strengths, Weaknesses, Opportunities and Threats. Plus, it is very commonly used framework.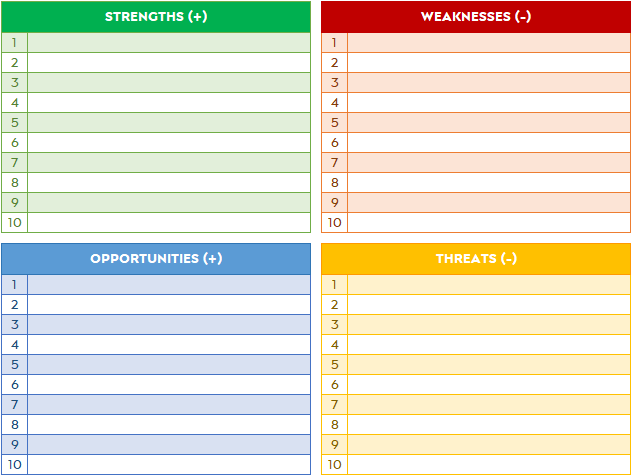 You can scan the environment by inspecting both internal and external factors. In addition, you can create strategies according to your SWOT table and make a plan.
McKinsey 7Ss Framework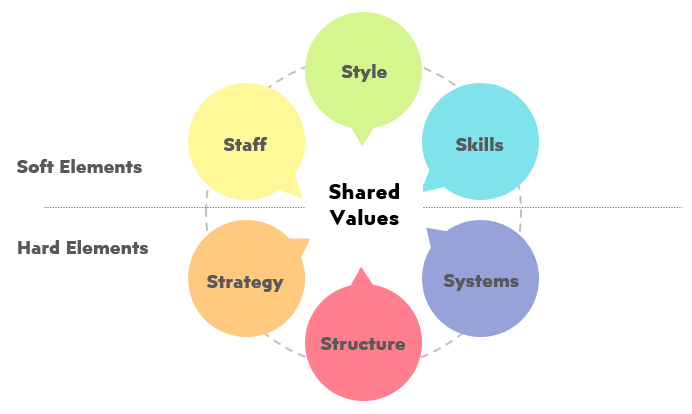 Firstly, this framework has seven categories: strategy, structure, systems which are considered "hard" and shared values, skills, style, and staff which are considered "soft."  
Hard elements are easier to identify, while soft ones are relatively harder and less tangible. You can work through shared values and 7S's of your organization to start closing the gap.
Nadler-Tushman Model
This dynamic model is based on four elements: work, people, structure, and culture. The aim is to figure out how if they are congruent and how works in each element affect others. It consists of 3 parts: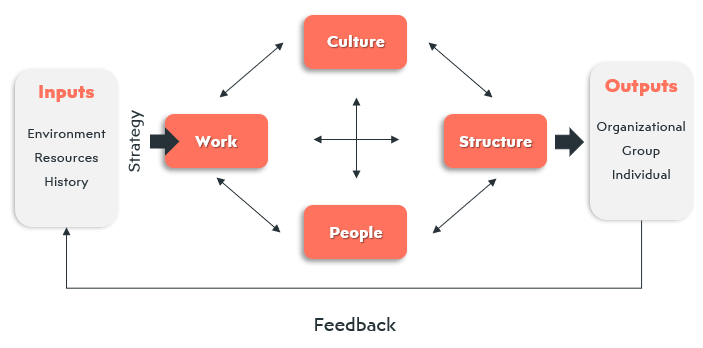 Input: Company culture, workforce, resources
Transformation process: Systems, teams, processes
Output: Final product or service
Fishbone Diagram
This is a cause-and-effect diagram and is especially used for identifying your current situation. It divides the problem into categories such as environment, machines, materials, measurements, methods and people.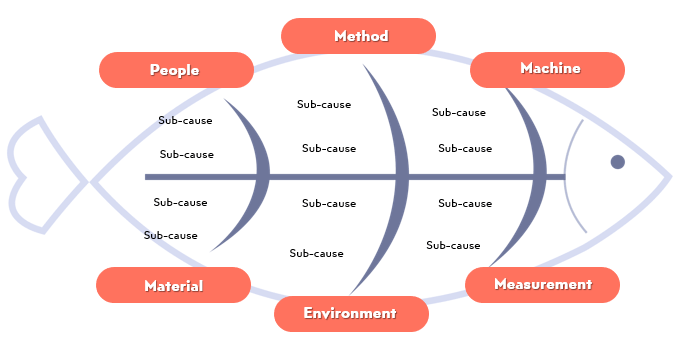 You can use it for concepts like the marketing mix or the 4S's of service.
PEST/PESTLE Analysis
Firstly, PEST analysis helps you to analyze threats through four factors: political, economic, social and technological. In addition, it is a clear framework to detect current problems.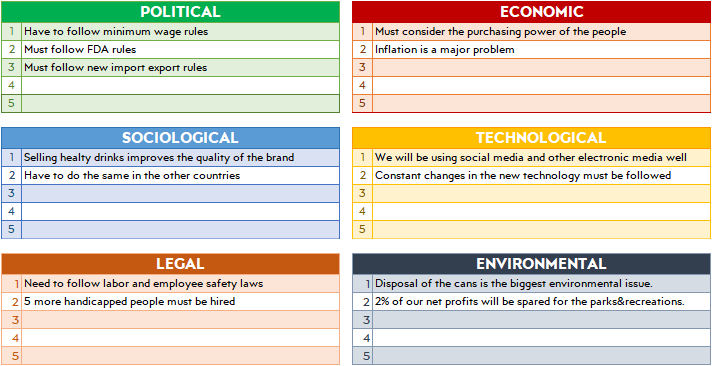 There is a more in-depth version of PEST. PESTLE Analysis is an acronym like PEST, stands for political, economic, social, technological, legal, and environmental.
Tools for GAP Analysis
Firstly, for performing a gap analysis, some useful tools exist. Therefore, you can visualize steps and document your analysis easily with these tools.
So you can either prefer online platforms or use ready templates.
upBOARD: This is an online gap identification tool which offers web templates and input forms. It includes progress dashboards, data integration, designs, and full access on desktop or mobile.
Cacoo: This online tool comes with cloud-based sharing options and editable templates. You can get your input and collaborate with others easily. Each team member can share and edit diagrams at the same time, also share their feedbacks.
SWOT: This is an online SWOT analysis tool that helps you to create your SWOT table with different layout options. You can customize your template and build your own. It has features as inviting team members to vote and narrowing your focus to fit to one page.
iAuditor: This is a cloud-based template builder that streamlines your workflow. You can create a dashboard and see employee commitments, you can define a workflow that sends auto-generated gap analysis reports or schedule your analysis

.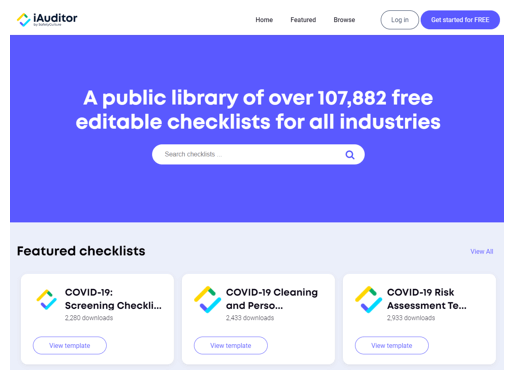 Excel: You can use ready templates and perform your gap analysis on Excel. All you need to do is download such templates on, then you can start working on your analysis with your preferred customizations. You can update your data and use your template over again for different purposes.
How to conduct a GAP Analysis in Excel?
By using provided templates; you can input your data, visualize your information with editable features and reach your improvement plan.
Gap Analysis Excel Template is designed as a dashboard with relevant columns to fill, including sections for visual charts, evaluation notes. This template allows you to: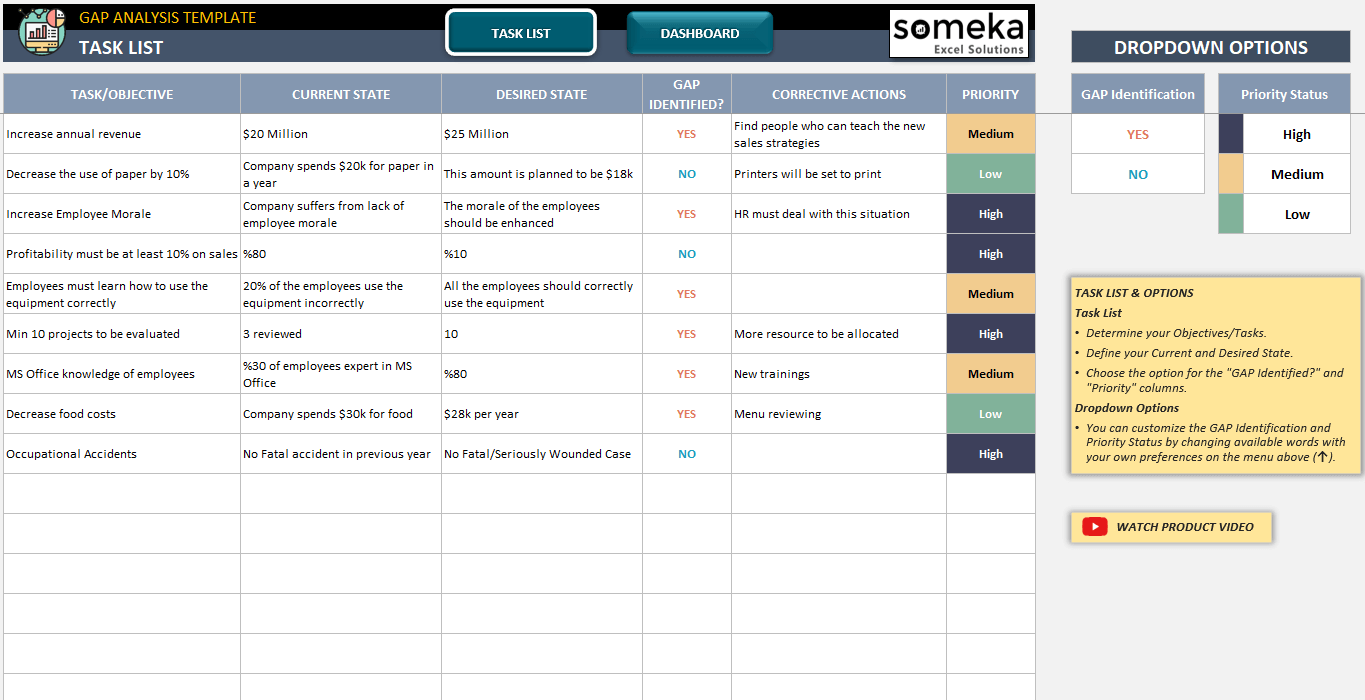 Type your objectives, current state and desired state.
Select gap identification (as yes or no).
Type gap description depending on the issue you want to improve.
Type corrective actions about improvements.
Choose priority (such as low, medium or high).
Customize gap identification and priority status.
Once you input your data, charts automatically displays below. So, you can close them if you want.

Another thing you can do with this template is to write your opinions into the notes part.
In addition, we have also a Google Sheets version for this template. Those who prefer using an online spreadsheet may visit our GAP Analysis Google Sheets Template page.

FINAL WORDS:
Finally, Gap analysis is a crucial process for development. Plus, the Excel templates provide you a smooth experience in gap analysis; it doesn't require installation and it works both on Mac and Windows.  Moreover, you can customize and re-use them.
Document your process with right tools and steps; your performance will be enhanced.