Gap Analysis Google Sheets Template
Professional gap priority dashboard. Measure time, money, and labor to reach your goals. No installation needed. Access from all devices.
TEMPLATE DESCRIPTION
Do you want to track the obstacles on your way to success? Then, with the help of this Gap Analysis Google Sheets Template, you can decide which strategy is most effective for achieving your goals.
Your team might have different opinions about how to meet objectives, and specifically, you might have plenty of guesses about what's happening. The goal of a gap analysis google sheets is to identify where your organization stands and where it wants to be so you can make informed decisions based on facts rather than assumptions.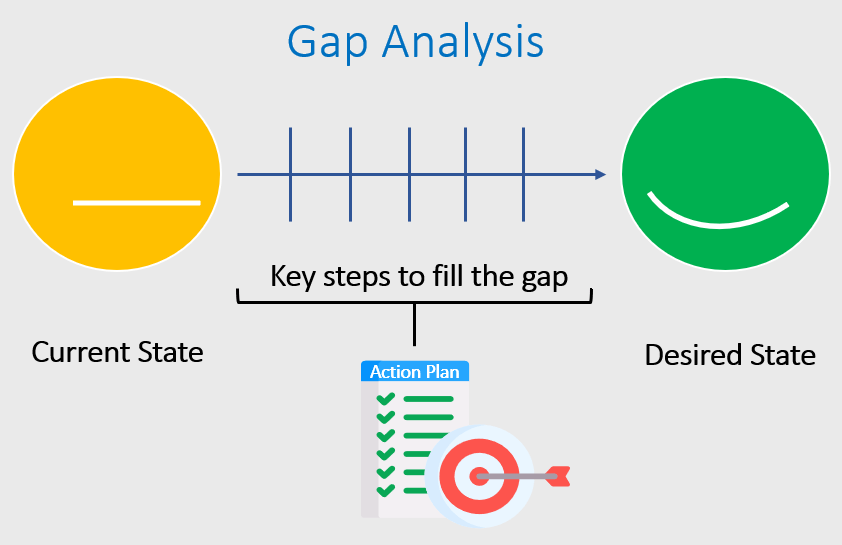 This process requires you to ask these 3 important questions:
What is our current situation?
What would be our ideal place?
What is the best course of action to close the gap between the current state and the desired state?
Main Features of the Template
In the Gap Analysis Template, you will be able to describe your objective, current state, desired state, gap description, priority, and also, corrective actions you need to take to achieve it. In the meantime, it is a summary of a strategy that could help the company achieve its objectives.
In other words, it is a review of your current performance to determine the gap between your desired and current states. You can use this Gap Analysis in Google Sheets to identify your current state and desired state to close the performance gap.
Furthermore, the visual illustrations of Priority and Gap identification make determining the importance of issues easier, in addition to whether they are identified or not.

Priority Status Breakdown and Priority VS Gap graphs are automatically set after you input their Priority Status and Gap Identification. Moreover, you can track the Gap identification and Total Task Number categories.
Tip: According to your preferences, you can customize the Priority and Gap identification options.
Also, you can write your professional opinion at the bottom of the Analysis Summary & Evaluation Notes template. In addition to the template itself, there are some side notes that may provide you with some additional information.
Meanwhile, all you need is an internet connection and a Google account to get started. And everything will be in sync!
Gap Analysis Google Sheets Template Features Summary:
Easy to understand gap analysis
Identification of gaps using visual charts
Professional design for presentations
Informational notes included, print-ready
No installation needed. Ready to use.
Works on any operating system
Suitable for any device including mobile, tablet, desktop
Does not contain any scripts
FREQUENTLY ASKED QUESTIONS