Gap Analysis Excel Template
Gap Analysis Excel Template with sleek design. Professional gap priority report with dashboard. Flexible, print-ready and easy-to-use spreadsheet.
TEMPLATE DESCRIPTION
Before the development of operational processes, every business should set its goals according to its condition, power, and situation. Gap identification leads to productivity while you are setting your goals or objectives for your potential growth. This GAP Analysis Excel Template will help you identify your gaps and take actions.
You should ask these 3 important questions in this process:
Where are we now?
Where/What would we like to be?
What is the best decision to close the gap between the current state and desired state?
Main Features of the Template
Gap Analysis Excel Template will describe your objective, current state, desired state, gap description, priority, and corrective actions. Meanwhile, it is a brief summary of a plan which could make the company reach its goals.
In other words, it is an examination of your current performance to clarify the gap between your desired state and your current state.
You can use this Gap Analysis format in Excel to identify your current state and desired state to be able to close the gap between those two performances.
It involves a systematic plan of series to be able to achieve what you desire. Because it is prepared for you to complete the analysis according to your situation.
In addition to this, the visual illustrations of Priority and Gap identification make it easier to determine the importance of issues. As well as whether or not they're identified.
The graphs of Priority Status Breakdown and Priority VS Gap automatically sets themselves, right after you input their Priority Status and Gap Identification. Just like the Total Task Numbers and Gap identification categories.

You may write your professional opinion at the bottom of the template to the Analysis Summary & Evaluation Notes part as an additional note.
The template itself also includes some side notes which may help you to enhance your analysis. Also, you can customize the Priority and Gap identification options according to your preferences.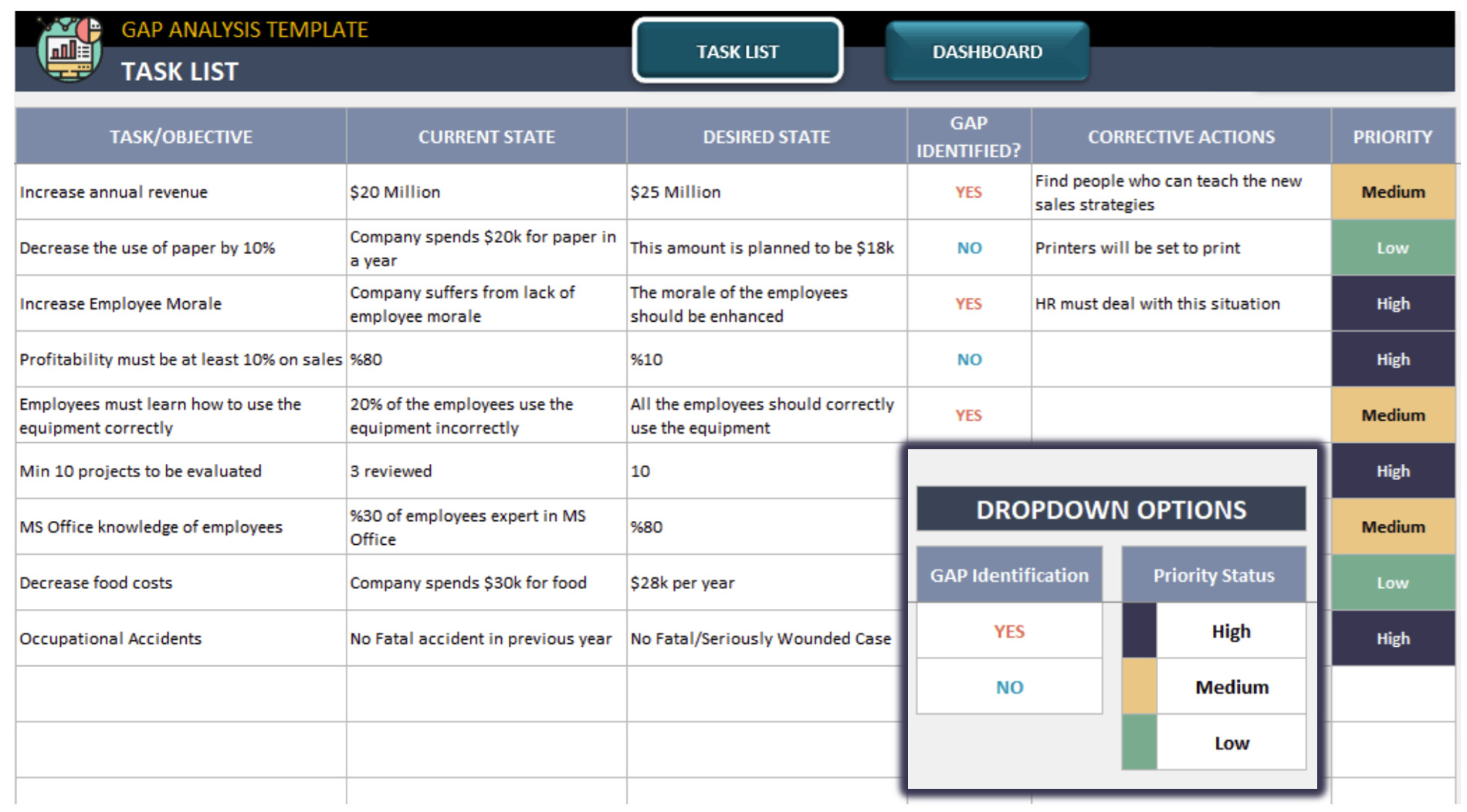 Gap Analysis Template Features Summary:
Simple Gap Analysis template
Gap identification with visual charts
Professional design for presentations
Informational notes included, print-ready
No installation needed, ready-to-use
Works both on Mac and Windows
Compatible with Excel 2007 and later versions
Does not include any VBA code or macros
FREQUENTLY ASKED QUESTIONS