Internal Audit Excel Template
Internal Audit Template is an Excel spreadsheet to create a custom audit plan for your company processes and policies with a summary dashboard.
TEMPLATE DESCRIPTION
The purpose of this Internal Audit Excel Template is to cover all the necessities of a Risk Control Matrix which can be used in any field to report and manage. The content could be tailored according to your standards. Also, you can input the standard parameters in your field and select them in the template.
This will be the most beneficial feature for users to ;
Identify the problems and input their properties avoiding any discrepancy.
Reveal and get an easy printout of a specific reference number.
Illustrate and statistically analyze each chosen metric.
The template consists of 5 different sections which will let you display and analyze the results you are looking for once you input the required information:
Template Features:
Metrics Info:
The Internal Audit Template lets you input the metrics you needed. A description part has been formed to be able to define the metrics you input.

If you have standard answers or options for metrics you may set those options by inputting under the metric you will choose from the dropdown lists.
Settings:
The metrics you input in the METRIC INFO section will be displayed on the dropdown list in Headers. You may add options that you would like to display on the database by inputting them under the Metric that you chose from the dropdown list.

If you would like to input more metrics press the "+" sign on the top to add additional columns.
Internal Audit Template – Database:
On the Database section while inputting the Risk Reference Number and other properties of each issue, you will be able to use the options you input in the Settings. You can select the option or if you don't have any you can manually write.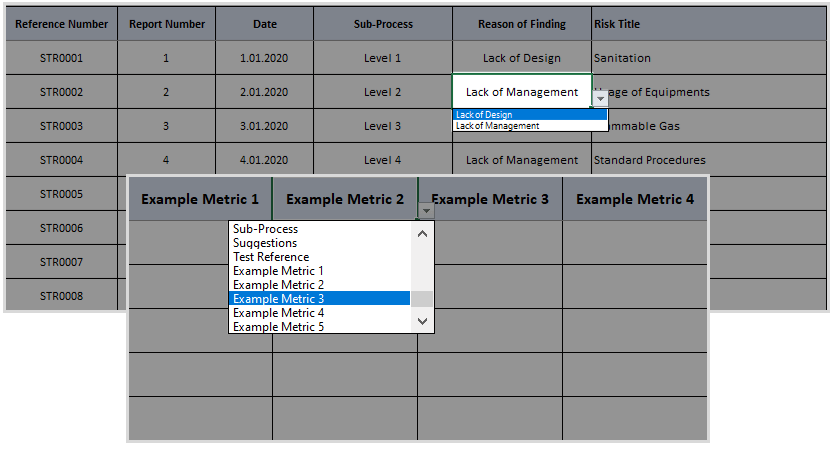 The template will also allow you to add more metrics with more options.
Report:
You may display the properties of each Reference Number on the Report Section. The metrics you input in the settings part will show up here and it will import the relevant information.
That will help you to observe easily and get an easy printout.
Internal Audit Template – Dashboard:
On the Dashboard Section, there are 4 types of charts and you can change the content by choosing the metric above each chart. (To mention not all the metrics could show you a logical chart option).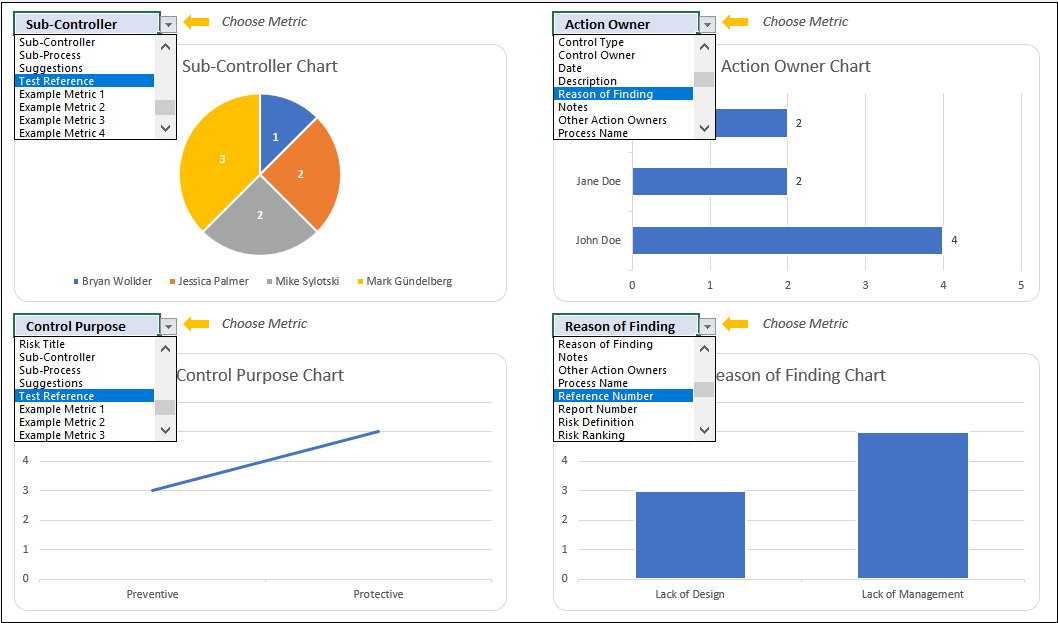 Internal Audit Excel Template Features Summary:
Easy audit reporting template in Excel
Contains all steps to complete your internal audit process
Display metrics in a visual dashboard
Editable metrics, risk ranking, and more!
Informational notes included
No installation needed. Ready to use.
Works both on Mac and Windows
Compatible with Excel 2010 and later versions
Does not include any VBA macros
FREQUENTLY ASKED QUESTIONS