Ecommerce Financial Model
SaaS & Ecommerce Startup Financial Model performs financial projection in Excel. With a range of assumptions measuring your online performance!
TEMPLATE DESCRIPTION
Electronic commerce, or simply ecommerce business, has been the most rapidly growing industry since the internet technologies became ubiquitous. If you are thinking about starting your own business, you're considering e-commerce as an option.
Choosing the right business model for your online business needs assessing a lot of factors. You need to consider who will be your customers (B2B or B2C business models), source of products and how marginal the sales will be, how many you can afford to spend on the development and promotion of your digital brand.
This is why using our E-commerce Financial Model will be beneficial. With it you will be able to:
Create financial projections for up to 10 years and test them using a range of assumptions;
Test various business models: using marketplaces, or developing your own digital store, or combine both approaches;
Account for conventional sale of goods and services, as well as for the sale of digital products using the subscription model;
Take into account seasonal changes and year-to-year fluctuations of demand;
Calculate and compare the projected performance of different lines of business, as well as marketplaces with different fee schemes.
Simple and user-friendly, yet powerful, E-commerce Startup Financial Model offers a full range of the professional financial modeling tool's features.
Ecommerce & SaaS Financial Model Features:
Basically, the template consists of three main sections:
Dashboard
Start working from the Dashboard. Here you will find the links to all parts of the model, as well as settings and assumptions section.
Model Config section allows you to:
Set a length of the Projection Period (from 2 to 10 years) by picking a relevant value from the dropdown list;
Enter the Start Date of the project;
Enter a code of the currency which all monetary amounts will be displayed in;
Show or hide instructions by selecting the respective value from the dropdown list.
There are several tables here as well:
Sales Channels table where you can put a list of the sales channels by different marketplaces, as well as by your own website. In Ecommerce business each sale channel requires specific percentage fee per sale, fixed fee per sale, fee per listing and fixed fee per month. Needless to say, your own website will have no associated fees;
A list of Business Lines that serves to categorize sales of goods and services;
Sales Trend table allows you to make assumptions about how sales will grow over the years as your digital brand gets customer recognition and loyalty.

Two tables at the bottom of the Dashboard enable you to create lists of products:
Subscription table will contain a list of digital product using a subscription model. It allows you to designate base monthly prices, retention rates and variable cost to the products;
Goods and Services table will contain a list of physical goods and services using the conventional selling model.
There are two sections allowing you to make sales projections:
Sales Projections section will make sales projections for the conventional sale of goods and services, and
Subscription Projections sections to make projections of sales that use a subscription model. You can select SaaS as a business line here.
Sales Projections
If you're going to sell goods or services using conventional selling model, in Sales Projections section, fill in Sales table with the following information:

– Names of products; E-commerce business models are suitable for a wide range of products and services including:
Physical products: clothing, shoes, home goods, etc.
Digital products: software as a service, e-courses, e-books, etc.
Services: consulting services, home cleaning, etc.
– Marketplaces (either third-parties or your own website): Not all marketplaces are equal though. Some charge higher percentage of sales as a commission. While others rely mostly on fixed monthly fees or on fee per listings, and yet others combine several fee schemes.
– For each month of the year, expected average number of products sold.
Sales Projections will be calculated automatically. Numbers of the product you sold in each month will be found as product of the month-specific expected average number and year-specific percentage trend value which you have entered in the Dashboard section of Ecommerce Financial Model.

If you expect that product prices will increase over time, enter a respective increase rate along with its frequency into Price Increase fields. Price Evolution table will contain actual prices adjusted for a time-related price increase.

Sales revenues from all products will be calculated along with respective marketplace commissions and variable costs (costs of goods and services sold).

Subscription Projections of an Ecommerce Financial Model
If you intend to receive subscription revenue from digital products, in Subscription Projections sections fill in Acquired Subscriptions table. For each combination of the product and marketplace, you will input a number of subscriptions that you expect to obtain in respective months.

Projections of lost and retained subscriptions will be calculated automatically according to the assumptions that you have entered in the Dashboard.
You can adjust prices and cost of digital subscription products if you expect they will increase over time. Marketplaces normally charge commissions each time the sale occurs for products and services. However when it comes to digital subscription products in ecommerce business, only their initial subscription will involve marketplace commission per sale.

Subsequent recurring sales can occur outside of the marketplace, thus avoiding commission expense. However, a marketplace can charge a fee per listing payable irrespective of whether sales take place, or not, as long as digital products are listed on the platform.

In the next step, you will enter the expected salaries and other fixed costs in the Fixed Costs section.
Fixed Costs
Start here from the Staff table. Enter names of employee positions along with respective business lines that the employees will be working for. For employees whose jobs cannot be directly attributed to either business line, leave this field blank, or enter 'Non-Specified' item (to the same effect). It will allow you to calculate profit margins separately for each business line.

Other Monthly Expenses table follows the same logic: enter the names of expense items into the list, along with respective groups of income lines, and then enter expected monthly amounts of expenses for each projected month.

It is reasonable to expect that expenses will increase over time. Here you can enter the expected increase rates and frequencies into Salary Increase and Expenses Increase fields. Time-adjusted amounts of wages/salaries and other fixed expenses will be calculated for each month of the projected period.
Startup Costs
Last, but not least step will be entering your startup costs into the respective section. The usefulness of the model's outcomes will greatly depend on the degree of accurateness in estimating the costs you will need to start your e-commerce business.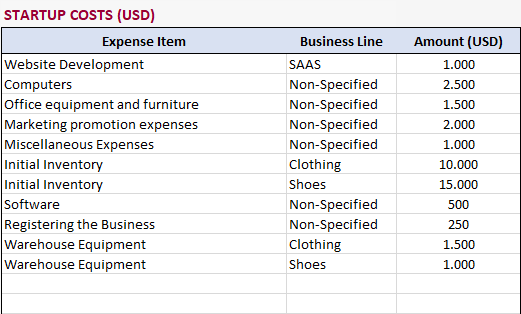 Report Outputs
Finally, as you have entered all necessary data, go to the reports which are available from the Dashboard section. The Ecommerce Financial Model contains the following reports:
Financial statements (Monthly & Yearly) including Income statement, Balance sheet and Cash flow statement;
Profit (EBITDA) report presenting breakdowns of income and expenses by lines of income;
Breakeven reports giving you an idea of when you are going to recover your initial investments;
NPV&IRR Calculation, presenting estimations of important investment metrics;
Net revenue report displaying revenues, after deducting marketplace commissions, for each product and business line;
Net revenue report by marketplaces displaying revenues, after deducting marketplace commissions, for each product and marketplace;
Sales breakdown report displaying, for each business line, expected numbers of products sold along with prices and gross revenue amounts;
Sales breakdown report by marketplaces displaying, for each marketplace, expected numbers of products sold along with prices and gross revenue amounts;
Gross profit report for each income line, and overall;
Gross profit breakdown report displaying, for each business line, profit margin after deducting the variable cost and fixed cost associated with the respective business line;
By marketplaces displaying, for each marketplace, profit margin after deducting variable cost;
Subscription breakdown reports showing numbers of acquired, lost and retained subscriptions.
Ecommerce Financial Model Features Summary:
Perform financial feasibility study for Ecommerce and SaaS businesses
Works both on Mac and Windows
No installation needed, ready to use.
Professional design and suitable for presentations
Innovative reporting system
Financial Statements
On Sheet Instructions
White Label
Print-Ready
Compatible with Excel 2010 and later versions
FREQUENTLY ASKED QUESTIONS