5S Audit Scorecard Excel Template
Process management tool in Excel. Assess your workplaces in the 5S Audit framework. Auto radar chart generator & professional dashboard included.
TEMPLATE DESCRIPTION
A 5S Audit Scorecard Excel Template allows a company, project, or specific work area to assess its 5S efforts and outcomes, identifying areas for improvement in the process.
The 5S framework provides manufacturing and other industrial companies with extremely strong organizational and quality principles that are typically followed by quality outcomes and quality products.
Notably, you can easily use the Someka 5S audit scorecard Excel template to calculate the improvement rate and score share numbers without being a pro in Excel or maths.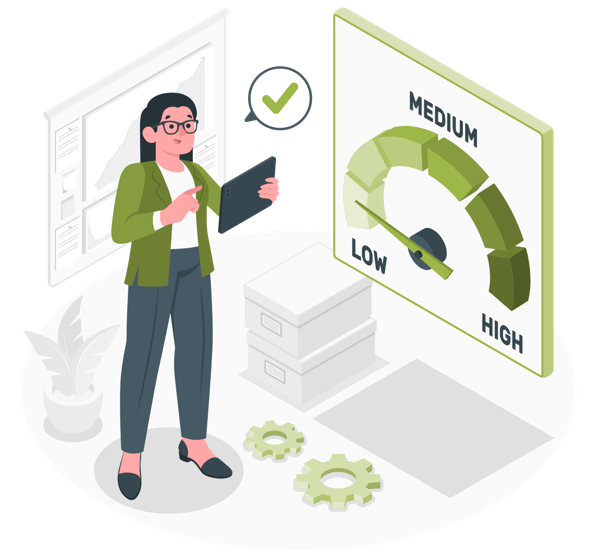 What are the advantages of using a 5S audit scorecard?
A well-structured business
Disciplined organization
Increased efficiency and systematic operation
5S Audit Scorecard Excel Template Features:
In general, the template consists of 3 parts:
Dashboard
Settings
Navigation
Let's look at the exact details of each section.
Dashboard:
Firstly, use the "Navigation" section on the left side. This section contains 12 structured forms that are ready for a 5S audit. Simply click on each "Go to" link to access the specific form for that "Audit" in the 5S Audit Scorecard Excel Template.

If you perform the audit monthly, 12 forms will perfectly suit your needs. Perhaps the audit is conducted every quarter, but only in a few working stations. This will also be very beneficial. The dashboard's visible results can be filtered using the filter dropdown list.

Secondly, in the "5S Area Audit," there are some predefined questions that you can fully use or update, depending on your specific area or workstation.
Moreover, each audit form has its small summary on top, along with the results and charts. Each category can have up to 25 rows of questions. To reveal all possible input, click the "+" sign on the left side..

There are numerous buttons like this in the Area Audit Form:
Month: You can also change the time of the 5S audit scorecard excel template, to "Month" or "Quarter" by using the dropdown menu.
5S Auditor: Use the dropdown menu to select which "Auditor" you want to filter.
Score share: This part will be calculated based on the answers you provided in the results questions and the scores you recorded.
Total Score and Final Results: This form also calculates and displays the final and total results of your audit.
Additionally, you can make copies of the file in order to keep each audit area in its own file. To clarify, the comparison of audits will be clearer this way.
Settings:
Update your settings, such as "Auditor Names" and "Audit Areas", in this section, and it will be reflected in all forms of the 5S audit scorecard excel template. Above all, to change the "Point Values" for evaluation, simply go to settings to change all of that information.
Info: It is critical to remember the evaluation scale. We will treat any evaluations that do not have scores as not applicable. Even if the name indicates otherwise. So, adding a score makes the result more evaluable.
Attachments:
Following each audit, you may want to attach some additional documentation. So, the attachment sheet is here to help you. This part is simply a collection of photo documentation.
Also, you can upload photos and leave additional comments there. This will also allow you to compare situations between earlier and later audits.
5S Audit Scorecard Excel Template Features Summary:
All-in-one Excel file for 5S Audit
Sepearate 5S area for each audit
Automatic bar and chart in the dashboard
Attachment sheet for uploading photos and comments
Print-ready
Informational notes included
No installation needed
Works both on Mac and Windows
Compatible with Excel 2007 and later versions
Does not include any VBA code or macros
FREQUENTLY ASKED QUESTIONS