McKinsey 7S Model Excel Template
Excel spreadsheet to use McKinsey 7S Framework. Clearly analyze relationships between key business elements. Fully printable and ready to use.
TEMPLATE DESCRIPTION
Developed in the late 70s by McKinsey consultants, McKinsey 7S framework is an analysis and management tool aligning the seven key elements of an organization. And this McKinsey 7S Model Excel Template will help you to clearly analyze your business factors and dive deep into the relationships among them.
The developers of the McKinsey 7S Model have identified well-established organizational elements. These elements are categorized as Hard Elements (Strategy, Structure, Systems) & Soft Elements (Style, Staff, Skills, Shared Values).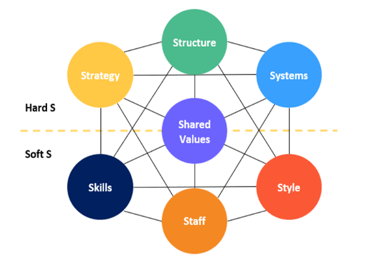 McKinsey 7-S Framework is a widely used and accepted diagram model designed for better management of internal elements. In other words, the McKinsey 7S management model is a helpful Excel template to define inconsistencies and implement strategies. Above all, during a time of change or when building a decision path to achieve goals.

McKinsey 7S Model Excel Template Features
The template consists of four main parts: 1) Dashboard, 2) Diagnosis, 3) Action Plan, and lastly, 4) Analysis Summary.
Dashboard
The design of this Excel sheet lets you navigate easily within the model and customize your settings. Here you may define the analysis order and result options. Therefore, you can begin with this section.
Firstly, decide on your desired order for the key elements. After that, continue with the result option labels from the settings table: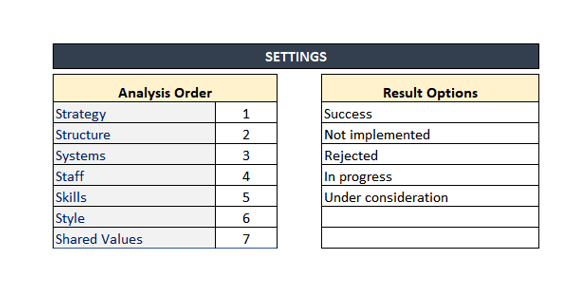 Note! The order you select here will be the order you see in the Diagnosis section.
Diagnosis Section of 7S Model Excel Template
The diagnosis sheet consists of seven cards. Each card includes space for notes and defining inconsistencies. Here you may decide on the consistency of each "element" with the previous one(s). Just by making use of the dropdown buttons!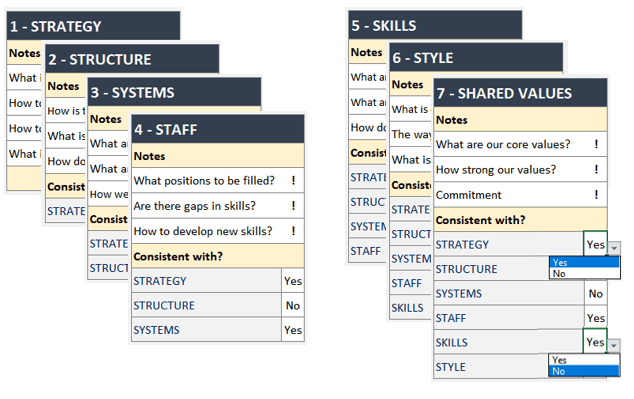 Action Plan
Firstly, select the relevant inconsistency from the selection menu. After that, you may note potential action strategies. Following that, select the results from the dropdown menu. Optionally, you can also include additional notes on each particular inconsistency. Only the inconsistent relations will be on the selection menu of the "inconsistency" column. The selections for the results column can be defined in the settings table of the Dashboard.
Analysis Summary
Analysis Summary section of the McKinsey Excel template includes three main parts. These are Inconsistency Matrix, Actions List and Action Results chart. Firstly, the matrix shows the consistencies and inconsistencies between elements. Secondly, the Inconsistency List includes only inconsistent elements. Moreover, it shows the number of identified actions for each inconsistent element. Lastly, the Action Results chart shows the results of the actions.
McKinsey 7S Model Excel Template Features Summary:
Evaluate organizational synergies and inconsistencies
Analyze the relations between main elements
Take actions against the inconsistencies
Full print ready
Informational notes included
No installation needed, ready-to-use
Works both on Mac and Windows
Does not include VBA code or macros
Compatible with Excel 2010 and later versions
FREQUENTLY ASKED QUESTIONS