US Zip Code Heat Map Generator Excel Templates
US Zip Code Heat Map Generators convert your data into visual geographical heat map by zip code. Editable shapes in Excel & Powerpoint.
TEMPLATE DESCRIPTION
It is always great to visualize your massive data, especially if you work on a project, research, or an essay. It makes the circumstances to be more clear to understand, observe and process. When you are working with US zip code data, a geographic Heat Map come on that point. It can be applied to many different data visualization purposes.
Demonstration on a color palette is a simple but effective method that anyone could understand easily. Its effectiveness comes from its simplicity. As colors are easily distinguished, it is much easier to perceive the color shades rather than the listed raw numbers.
For instance, let's say you would like to observe the population distribution over Zip Codes areas in Washington. As soon as you run the template you will be able to visualize your data with a density map and will look like the example below: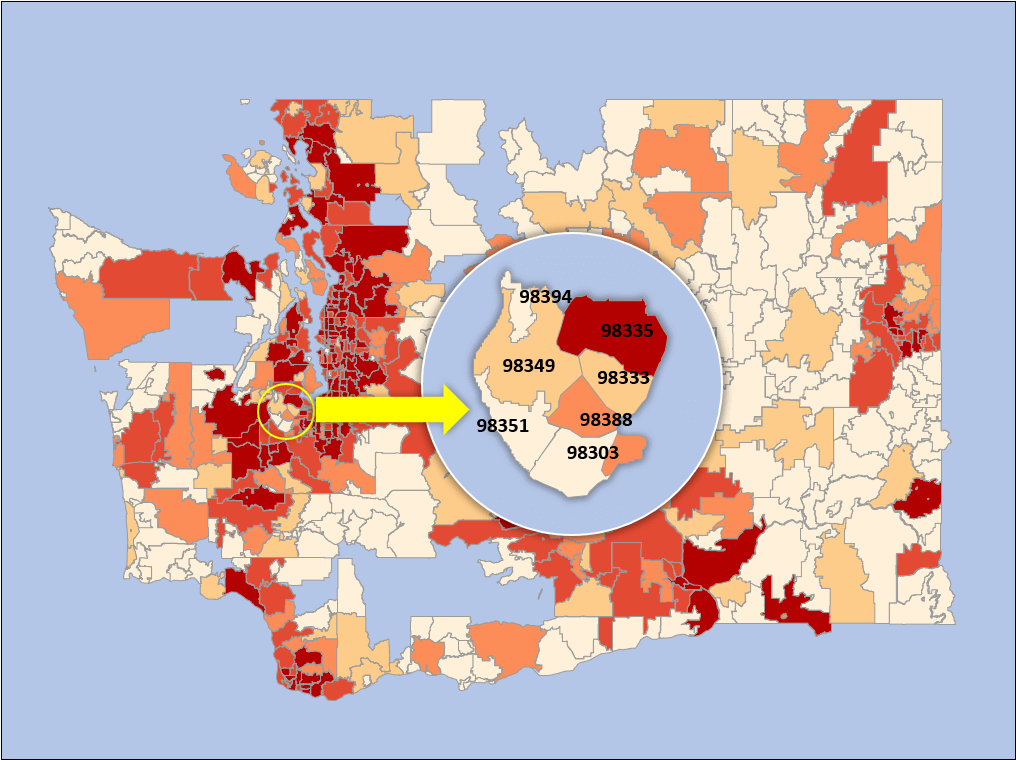 You will find the population data in each template (Source: USA ZIP Code Data – CKAN).
HOW TO USE THE TOOL?
The steps you should follow are:
Put your own values into the data section (you can just copy-paste from another source)
Choose your limits for painting in the settings part.
Choose your color palette (or make your own)
Customize the settings according to your preferences.(Text Settings and Color&Legend Settings)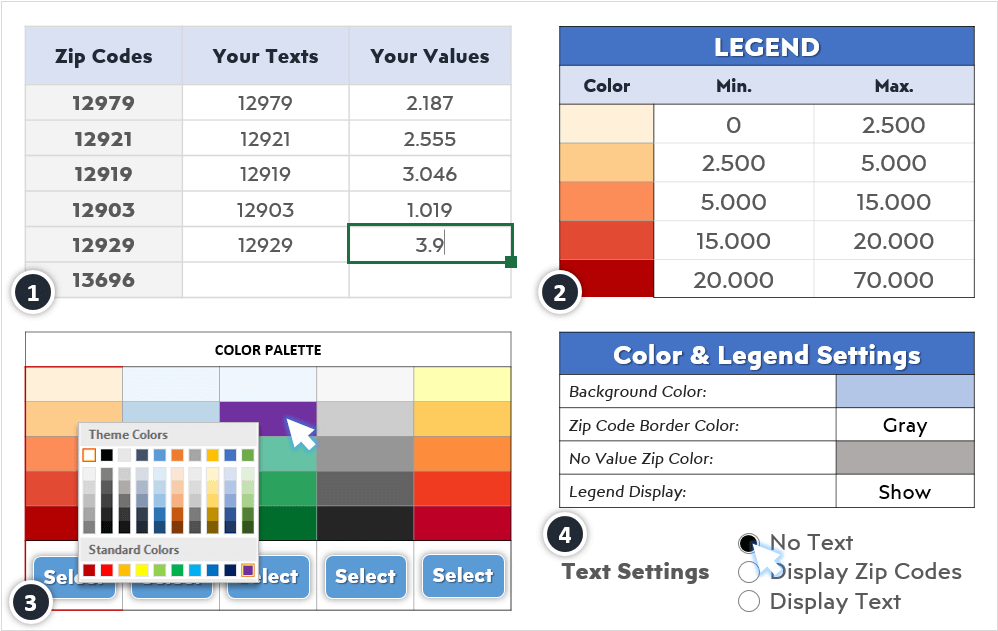 After pressing on the button "PAINT", all your values will be assigned to the color which you determined its limits and will be presented on the Heat Map.
US Zip Code Heat Map Generators come with the property which lets you customize your tool easily while working on it.
SETTINGS
Color Palette: We have integrated the top five used color palettes for these kinds of charts. However, you can also create your own palette by filling in the cells with the colors you want. After you create your own palette before painting the map make sure you press on the "Select" button.
Data Limits: This is your legend. Define the limits of each color to segment them correctly.
*Be careful to keep the minimum value as "0" and the last value as maximum as possible so that the template could easily segment the values which you input according to the new Min. Max levels you defined
Text Settings: In this section, you can choose what to show on the Heat Map. There are three different quick text selections: No Text, Display Zip Codes, and Display Your Texts.

*You can also show values on zip codes by inputting them on the "Your Texts" column on the database.
Color & Legend Settings: This section lets you customize the background color, border color between zip code areas, Legend appearance and color of a non-valued zip code area of the Heat Map you are going to create.
Export to PDF: When you are done creating your map by pressing "Export to PDF" button you may instantly save your map into your computer. However, you may also just copy the map area and paste it into your Powerpoint presentation as well.
Editable Shapes into Powerpoint
It is possible that you may like to edit the shapes which you are working on and we gave you this flexibility!  After downloading this template you will be able to reach all zip codes of the United States of America to work on. You may edit the template's zip code areas and copy the necessary shapes and even use them in your presentations.
For instance, after finishing working on California Zip Code Heat Map Generator you may select and edit the shapes manually according to your own preferences.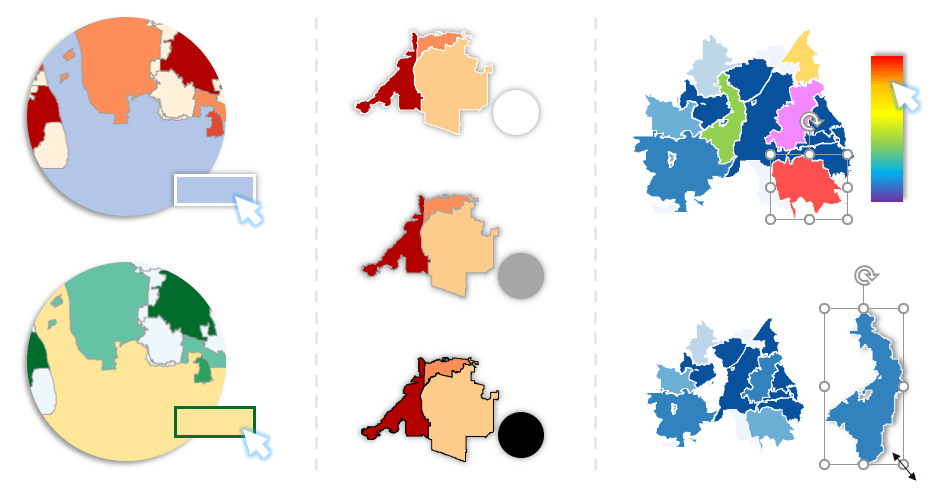 You can change the size, color, shape, and even make your own custom map!
The template has instruction boxes in itself and points out the parts so that it could help the user with the terms and customized settings properties.
Once you get familiar with the template, you may also hide these instruction boxes from the instructions part to get a clear view.
UNITED STATES ZIP CODE HEAT MAP GENERATORS FEATURES:
Unique US Zip Code Heat Map Excel Template for auto-generation of zip codes.
Available for all 51 states of USA and Washington DC
Fully editable zip codes map shapes
Works both on Mac and Windows
No installation needed. Ready to use.
Export to PDF feature
Full Print Ready
White Label
Flexible customization options
On Sheet Instructions
Compatible with Excel 2007 and later versions
STATES AVAILABLE FOR ZIP CODE HEAT MAP GENERATORS
FREQUENTLY ASKED QUESTIONS