Germany Geographic Heat Map Generator
Unique Excel Template to Make Dynamic Germany Heat Map at Region Level. Enter your data in Excel and your heat map gets created instantly.
TEMPLATE DESCRIPTION
Basically, the geographic heat map is a way of data visualization/presentation by using colors, related to geographical values. So, if you are interested to create a Germany Heat Map in Excel, just keep reading.
Why Do We Need To Visualise Data On a Map?
Today, we are able to attain more data than we were yesterday. And as time goes by, it seems that we will be reaching more and more data in terms of quantity. As the number of our data increases, we need to find out quality ways to tell and present it to other people.
So, that's why a geographic heat map has become an effective data visualization method for telling and reading sophisticated data sets. Just see below how does Germany heat map looks like: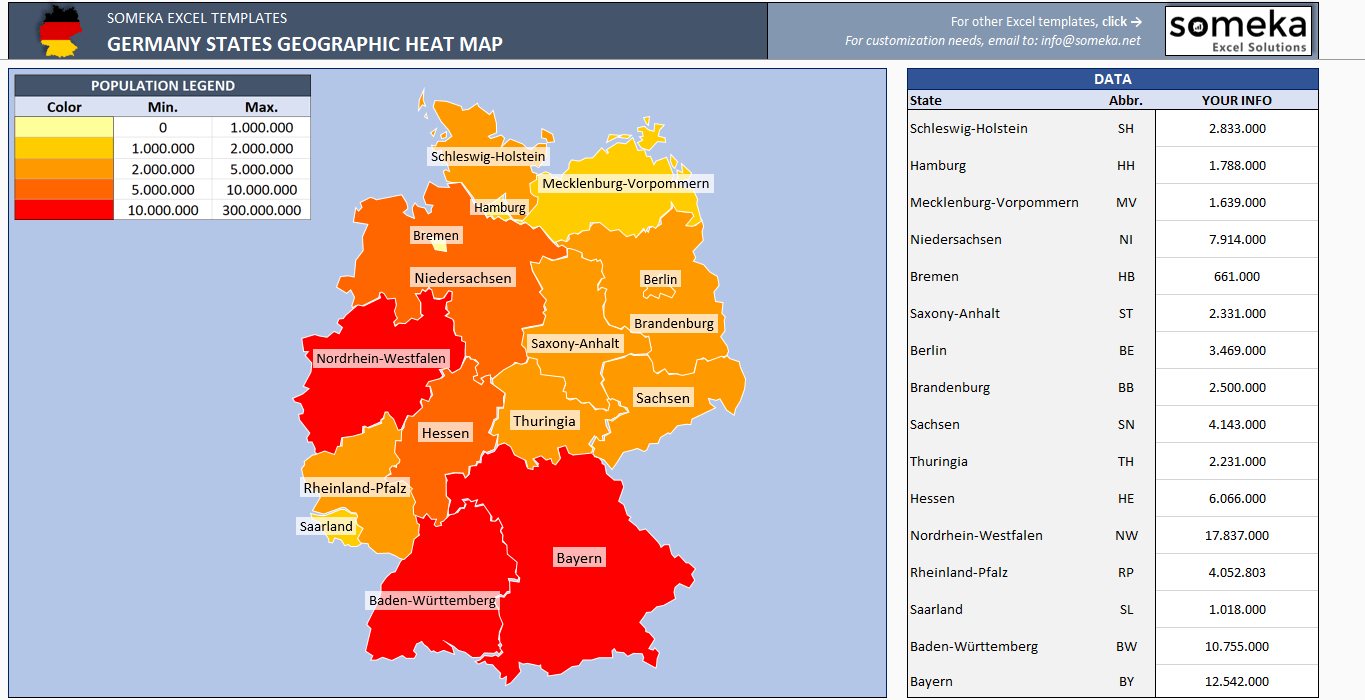 Through this visualization method, our audience is able to read and understand clearly, what we are trying to tell. Obviously, it would be hard to tell something with raw data sets. Moreover, it is definitely more professional and smart to use a Germany heat map for your presentations instead of presenting a set of raw data.
We make use of geographic heat maps in various areas. Especially, the business world is frequently benefiting from this effective data visualization method for their daily reports and presentations. As we all know, another area where geo heat maps are popular is meteorology science. Sociology, economics, and politics are also using geographic heat maps as effective data visualization solutions.
How To Create a Heat Map?
Unfortunately, it is not so easy to create a geographic heat map from scratch. The development of this tool consists of 4 main parts:
Create/Gather Visual Assets
Set up the Data Table and Name Shapes
Create the Legend and Color Scale
Automate with VBA
As you see, it takes a lot of time and effort to make a heat map from zero. For this reason, we have created ready-to-use geo heat maps for continents, countries, and cities, in Excel. Germany Heat Map at the regional level is one of these density map templates.
In 3 simple steps you can create your Geographic Heat Map for Germany:
Paste/Type your data from your own spreadsheet
Choose your limits for data ranges
Choose your color set and click the button!
Your heat map is ready within minutes!
On-sheet instructions in the template will guide you while using the template. We have used population data just for illustration but you can easily put your own data and prepare your heat map:
You can print the results or export them to PDF as you like.
The template offers 5 different color palettes to choose from. Additionally, you can change the colors and choose from your own defined palettes: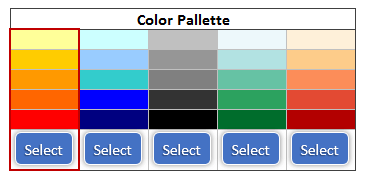 For other country's heat map generators, check our templates:
Someka Heat Maps Collection
Germany Geographic Heat Map Generator Features Summary:
Fully editable Germany map including 16 states
Easy to use and nice design
5 Premade color sets to choose from (you can even modify as you wish)
Export to PDF feature
Clear on sheet instructions (with turn on/off function)
Print Ready
No installation needed, ready-to-use
Works both on Mac and Windows
Includes VBA codes and macros
Compatible with Excel 2007 and later versions
FREQUENTLY ASKED QUESTIONS