Russia Geographic Heat Map Generator Excel Template
Excel spreadsheet to create Russia Heat Map. Visualize your data on a density map automatically. Editable shapes compatible with Powerpoint.
TEMPLATE DESCRIPTION
Utilizing Heat Maps is an effective strategy to present and illustrate your geographic information. By using heat maps you can show population, climate, or any other numeric metric. Our Russia Heat Map Generator provides a simple visual illustration to you during presenting your documents.
You can set the legend according to the data that you will use in your presentation or research. So, you can take the advantage of using colors to present a set of data. Thus, the things that you are going to tell or present will be more attractive and clear.
Russia Heat Map Generator Features:
Once you input the necessary values for each territory or text (could be abbreviations) to color or represent on the map. State your legend criteria from the table on the map. According to the data ranges entered, each color will represent its maximum and minimum values.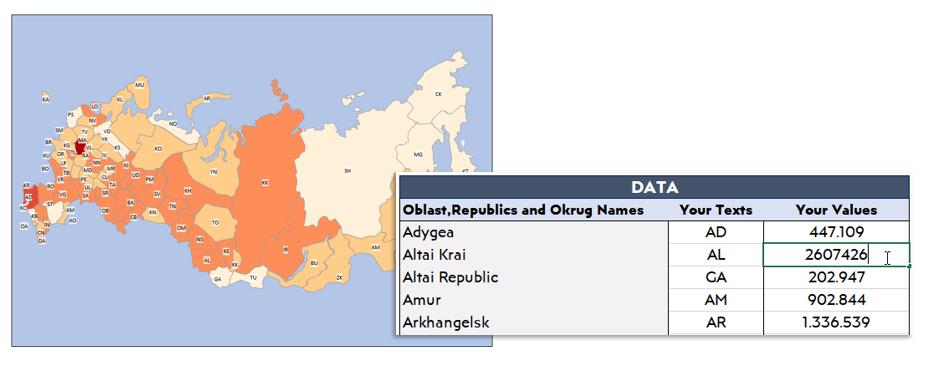 You can select the color range from the color palette that you would like to present the data distribution. The red frame will show the range of colors you have chosen. After that, please hit the "Paint" button once you adjust all the settings and enter all the values you would like to display.
Likewise, you may select different settings to determine how the data you enter will show up on the density map.
The Text Settings
In the text settings you may find three options which are;
No text (where there are no text or values)
Display Names (where the names of the territories are displayed)
Display Text (where the text or values you entered on the "Your Texts" section are displayed).
In Russia heat map, you can also specify the size of the text from the text settings section by inputting it manually. This will change the size of the displayed texts or values on territories.
The Color & Legend Settings
Background Color: Changes the background color of the map.
State Border Color: Change the border colors of territories.
No Value State Color: If a territory value is blank or not in the Min-Max limits, the color of this cell will be applied.
Legend Display: You can select to Show or Hide option for the legend on the map.
To get a PDF of the Russia Heat Map an "Export as PDF" button has been placed in the template.
In addition, you can copy and edit the shapes to your other documents. In that way, you can show each territory more closely as separate in your other documents.
Someka Russia Heat Map Generator Features
Easy to fill
Professional design for presentations
Full Print Ready
Export to PDF feature
Informational notes included
Turn on/off sheet instructions features
No installation is needed. Ready to use.
Includes VBA code and macros
Works both on Mac and Windows
Compatible with Excel 2007 and later versions
FREQUENTLY ASKED QUESTIONS