US County Heat Map Generator Excel Templates
Excel Template to generate heat maps for US Counties. Visualize your data in an editable spreadsheet. Copy paste shapes into Powerpoint.
TEMPLATE DESCRIPTION
Geographic Heat Maps are great when you want to visualize your data distribution over regional mediums (such as US counties).Also, they are being used in many areas like sales dashboards for companies, votes distribution during elections, statistical maps in meteorology, and many more.
For example, you may want to create a heat map showing Population Distribution per California County which will look like this: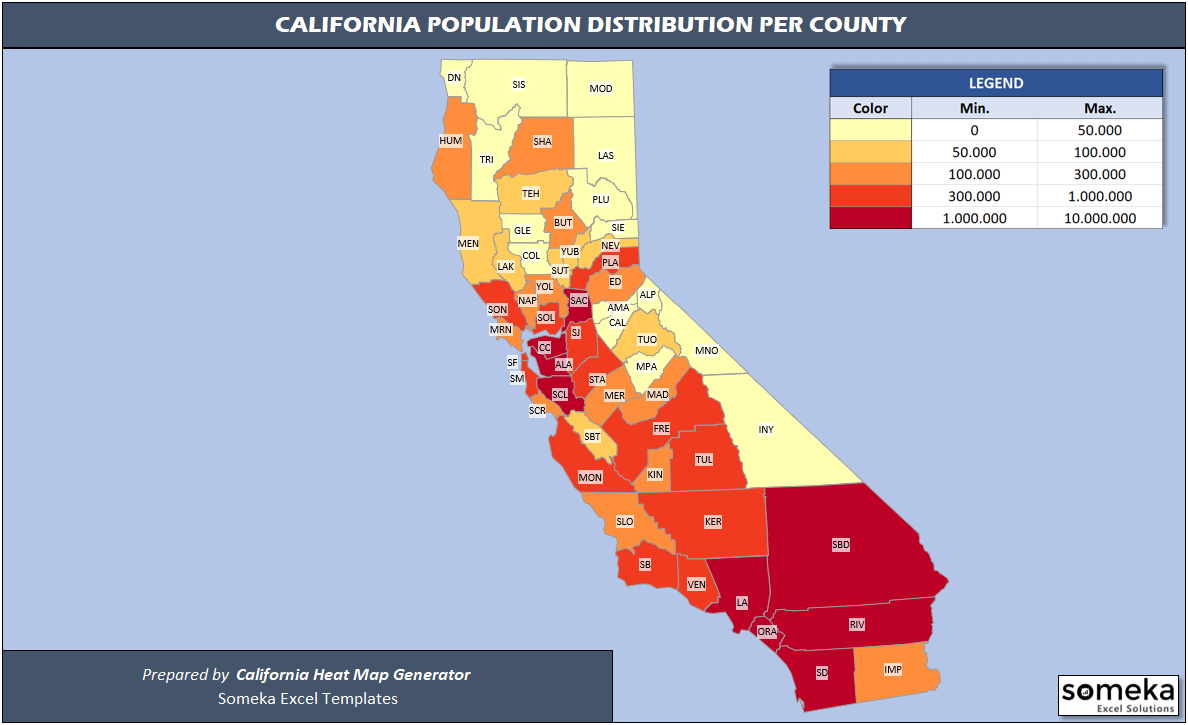 This looks cool! However, making a density map from scratch is not as easy as it sounds. Then, that's why we have prepared Dynamic Heat Map Generators which will let you to create these kind of charts in a few seconds. The best part is, all in Excel! No installation is necessary. Works in both Windows and Mac.
How to prepare a US county Heat Map with this template in less than a minute:
Put your own values into the data section (you can just copy-paste from another source)
Choose your limits for painting
Choose your color palette (or make your own)
That's it! Basically, when you click the button, all your values will be reflected on the map automatically.
EASY DATA AND TEXT MANAGEMENT FOR YOUR MAPS
Moreover, in the template, you can put your own data and texts which you want to be displayed per county on the map: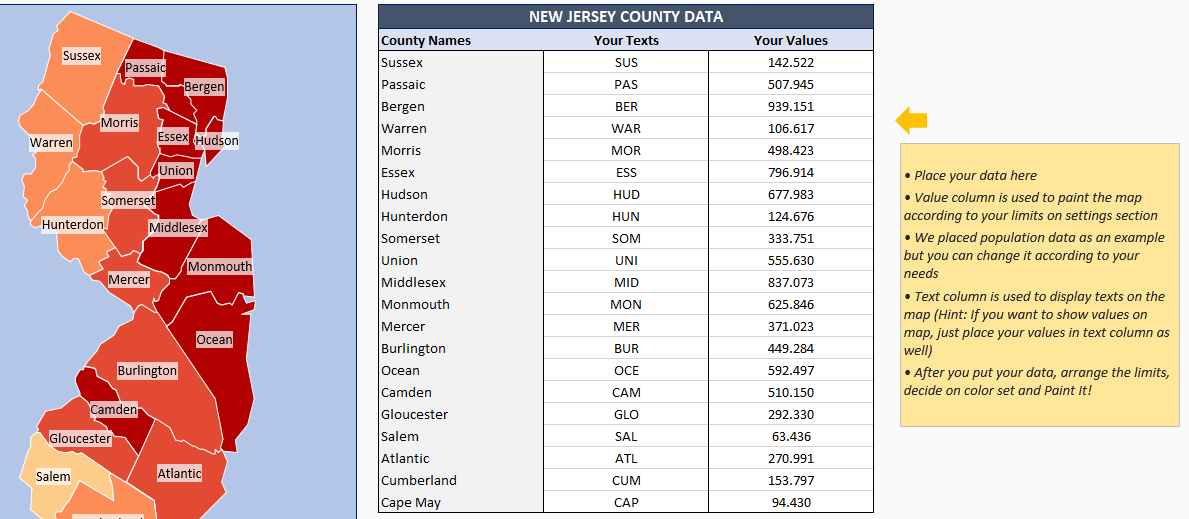 In addition, you can also show values on counties if you want:
FLEXIBLE SETTINGS TO CONFIGURE YOUR MAPS
The United States of America Counties Heat Map Generators come with several options, so that let you customize the output easily.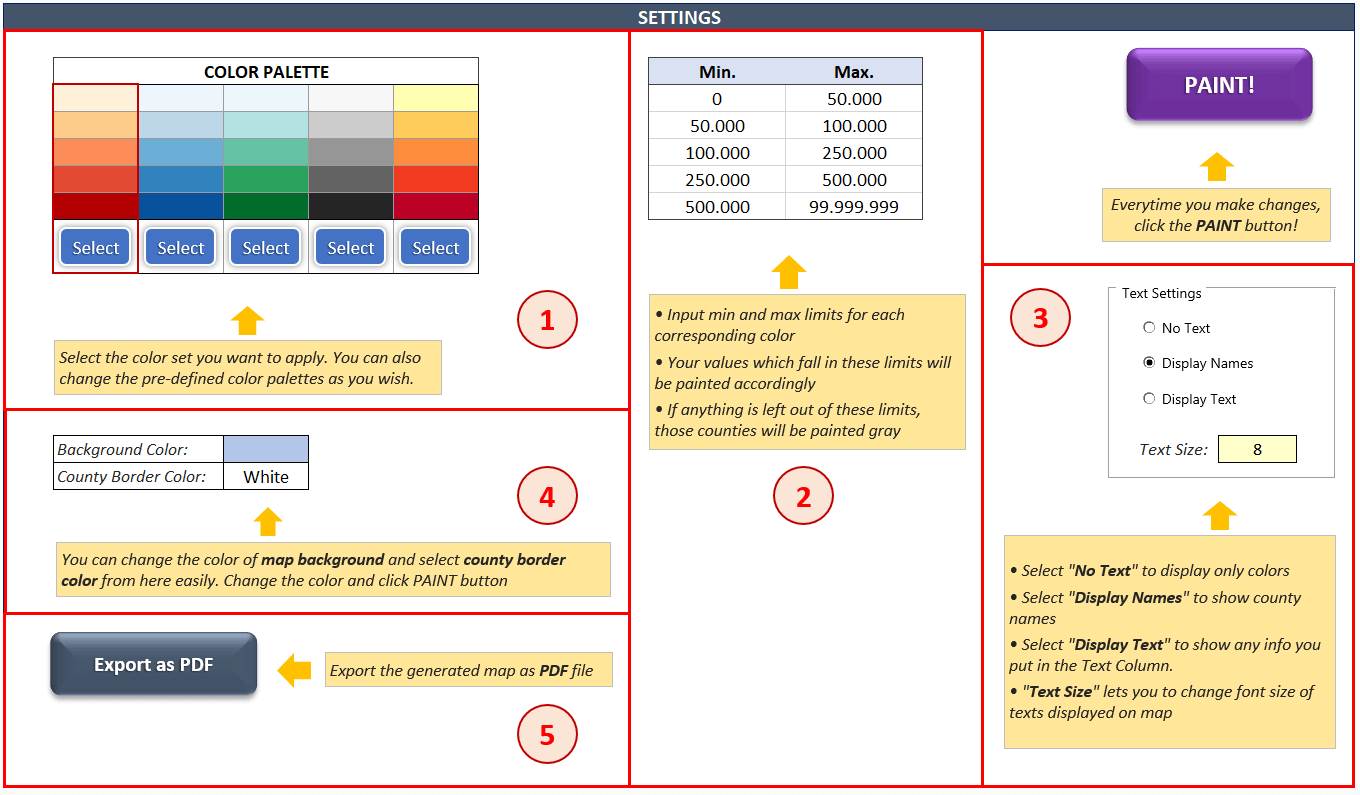 1. Color Palette: Upon our research, we have selected the five most used color palettes for these kinds of charts. However, you can easily change these default palettes with your own colors. To clarify, just select the cell and paint it as you normally do in Excel. Click "Select" and press the Paint button to apply changes.
2. Data Limits: This is your legend. You can define which values should fall into the corresponding color on the left. Please make sure that the first value is always zero and the last value is something very high so that all your values stay within limits. Any county in the heat map which doesn't fall into limits will be painted gray.
3. Text Settings: In this section, you can select what to show on the counties map. You have three different quick text selections. Besides no text and county names, you can display whatever you want on the counties. Just put your own text in the Text column in the data section and select "Display Text" in this section.
Here you can also change the font size of texts to be displayed on the map. This is pretty useful especially when you need to fit texts over the counties.
4. Background and Border Colors: In this section, you can change the map background color and county border color.
5. Export to PDF: When you finish creating your heat map, you can easily export it to PDF by clicking this button. Besides exporting to PDF, you can anytime just copy the map area and paste it into your Powerpoint presentation as well.
EDITABLE COUNTY SHAPES
Sometimes you may want to make some changes specific only to a few counties in the heat map. With this template, you receive all editable map shapes of the purchased state. This is very useful, especially if you want to make individual changes and copy-paste them into your Powerpoint slides or anywhere you wish.
For example, after completing your Texas map you wanted to select some individual counties and paint them purple. Just unlock the template and select the county shapes as you would normally do in Excel:

Also, you can change the size, color, and shape, and even make your own custom map!
ON-SHEET INSTRUCTIONS
Finally, template comes with instructions about how to use the tool. Further, if you want a clear view and don't want to be distracted, you can turn off these guidance texts anytime you want:

US COUNTIES HEAT MAP GENERATORS FEATURES:
Unique US Heat Map Excel Template for auto-generation of counties
Available for all 50 states of USA
Fully editable county map shapes
Works both on Mac and Windows
No installation needed and Ready to use
Export to PDF feature
Full Print Ready
White Label
Flexible customization options
On Sheet Instructions
Compatible with Excel 2007 and later versions
STATES AVAILABLE FOR COUNTY HEAT MAP GENERATORS
FREQUENTLY ASKED QUESTIONS