Switzerland Geographic Heat Map Generator
Automated Excel template to create Heat Map of Switzerland with a button click. Enter your own data and specify the colors. Compatible with Powerpoint.
TEMPLATE DESCRIPTION
One of the most effective ways while making research on countries or states is using heat map generators. However, creating it from scratch is not that easy. Therefore, Someka offers a pre-made Switzerland Heat Map Generator in Excel which includes 26 cantons of Switzerland where you can easily build up your heat map with your data.
Heat Map Generators provide a simple visual illustration, while the dark colors represent the bigger amount, the lighter colors will represent the smaller values. It could help you during presenting your documents. It can be used in various fields such as meteorology, politics, sociology, economy, and so on.
Switzerland Heat Map Generator Features:
The template will let you input the necessary values or texts, to be able to color or represent the map.
Define your legend criteria for maximum and minimum values. This will help to define the colors of the cantons. Once you hit the "Paint" button, your density map will be ready according to your preferences. You may also change the settings of the map.

Text Settings:
No text:  Select this where there are no text or values
Display Names: Select this where the names of the cantons show up
Display Text: Select this where the text or values you entered on the "Your Texts" section are displayed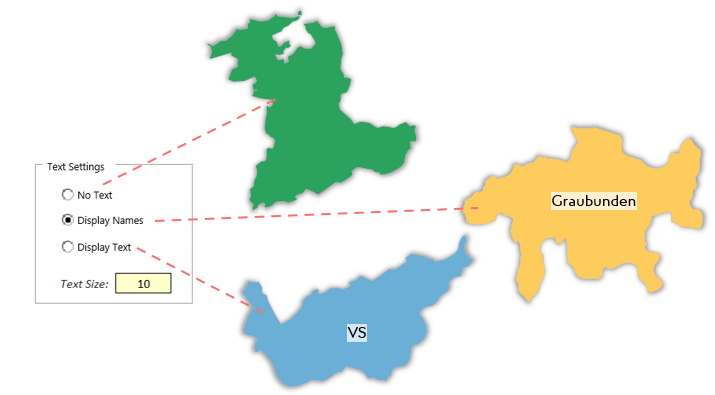 And lastly, text size can be adjusted. This will change the font size of the displayed texts or values on cantons in the Switzerland heat map.
In the Color &Legend Setting:
Background Color: Changes the background color of the map.
State Border Color: Change the border colors of cantons.
No Value State Color: If a canton value is blank or not in the range of the Min-Max limits, this color will be applied.
Legend Display: Allows you to Show or Hide the legend on the map.

To get a PDF of the map an "Export as PDF" button has been placed in the template to get a PDF of the map.
You can copy the shapes to your other documents. You can also edit the shapes in your other documents.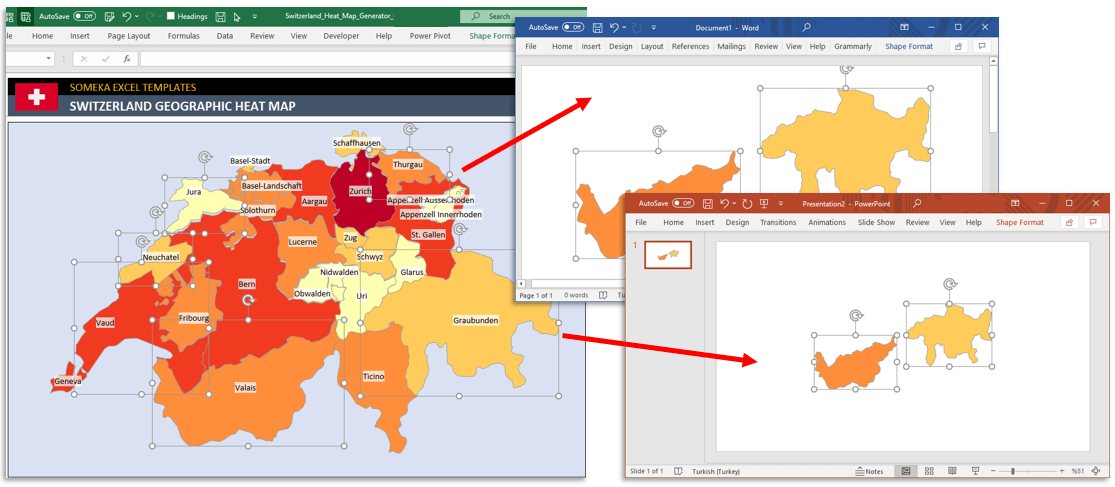 Switzerland Heat Map Generator Features Summary
Easy to fill
Fully editable Geographical Map of Switzerland including 26 cantons
Professional design for presentations
Full Print Ready
Export to PDF feature
Informational notes included (with turn on/off function)
No installation is needed. Ready to use.
Works both on Mac and Windows
Compatible with Excel 2007 and later versions
FREQUENTLY ASKED QUESTIONS