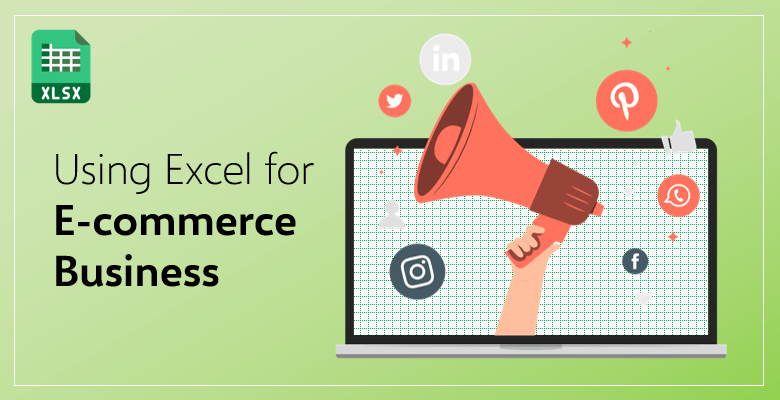 How Should You Use Microsoft Excel for Your E-Commerce Business?
Updated on February 15, 2021
To put it in the simplest words, e-commerce is the acquisition of products and/or services in exchange for money. The main difference separating e-commerce from trade is that all of the purchases are made only via the Internet. Thus, the name comes from the phrase 'electronic commerce'.
Different Types of E-Commerce
There are many ways for companies to conduct their e-commerce businesses. The businesses and their e-commerce sales can be differentiated depending on the products or services which are sold online, Physical products can be sold through the Internet such as clothes, household goods, and technological devices. On the other hand, digital products and online services can be sold as well. These can be subscriptions to online streaming platforms such as Netflix or Spotify.
There are also different types of businesses separated by who they sell their product and service to. There are business to business transactions which are abbreviately called 'B2B'. These purchases include the acquisition of material from manufacturers, vendors, and suppliers to other companies who are also looking to sell the product.
There are business to consumer exchanges or as known as 'B2C'. Retail stores, e-commerce retailers, or online shops can be noted as examples of this type of e-commerce business model. The physical or digital product or service is directly sold from the seller (business) to the buyer (consumer or customer).
Business government transactions are also one of the many different types of e-commerce business models. However, these are deliberately specific due to the fact that purchases are made from a business or a company directly to the government institutions, agencies, or officials. These products or services can be security software, office goods, or uniforms for specific agencies. This business model is known as 'B2G'.
The Importance of Excel for Your E-Commerce Business
No matter which method you choose to develop your e-commerce business, you are going to do some necessary tasks and take some required actions. Crucial processes such as accounting, sales tracking, scheduling, marketing, reaching a wider target audience are the actions that will help you improve your e-commerce business. And you can achieve all of these important operations with a single program: Microsoft Excel.
With Excel's vast amount of functions, you are able to accomplish much more than you think. You can use Excel for your gradually improving e-commerce business in order to make it professional and keep it successful. Let's look at the specific actions you can take and areas to consider in Microsoft Excel to help your e-commerce business grow.
Accounting and Finance
Microsoft Excel is an incredibly detailed and powerful tool for your accounting process. And even though people in the finance industry -and perhaps you- choose to use different programs and software for more complex processes, you can be surprised when you see what Excel is capable of.
With the correct and useful formulas and helpful third party templates, Excel can turn into the program you need. Let's say, for example, you need to create your e-commerce business financial model. This model has to include sales projections, fixed costs, and investments, and detailed reports in it.
Now, you might think that you will need other programs that include complex algorithms and techniques in order to create your comprehensive financial model. You might think that… but you would be wrong!
The right template for Microsoft Excel can create financial projections for your business as far as 10 years into the future. Then, it can test your potential model with a wide range of calculations. It can also try out a few different business models using various marketplaces, establishing your own digital store, or combining both methods. It can perform financial feasibility studies while evaluating the costs and expenses and make a forecast specifically for your e-commerce business.
And this right template is Someka Ecommerce Financial Model. Its detailed inner workings will provide you much needed innovative and informative comprehensive reports. And if you choose to print it and share it with your coworkers, employees, or supervisors, it also has a design which is suitable for presentations yet professional nevertheless.
Sales Tracking
You can look at the number of sales you have done daily and then enter the information one by one into the Excel spreadsheet. But that would be extremely time-consuming for you or to your employees. There is a more efficient and easy option.
Nowadays, with the incredible developments made in the tech world, only by clicking a few buttons, you can download your e-commerce business' entire sales history. That is right, you can log into your Amazon or eBay sellers accounts and generate your sales reports. The reports will be provided as a CSV file (and with the .csv extension). So, you will be able to easily open these reports in Microsoft Excel without installing any other program.
If you choose, you can analyze your sales further, track your numbers, and make predictions about your future sales numbers. And also, Microsoft Excel allows you to create pivot tables with your sales data.
Pivot tables are an incredibly helpful tool not only in Excel but among all of the spreadsheet programs in the market. Pivot tables can summarize large quantities of data into a much more understandable table. This summarization includes calculating sums, averages, totals, and other related calculations done entirely in Microsoft Excel.
Pivot Tables
Pivot tables in Excel are important regardless of your choice to use them in your sales tracking or not. If your business has a lot of different products and services in various online stores or retailers, you will have a large amount of data related to your sales, products, and details in general. That makes the manual approach of entering the information and creating reports by yourself impossible.
Pivot tables are there to process your data which you can gather from different websites and platforms. And in addition to processing and summarizing your data, they also provide three different reports as well. You can have a compact, outline, and tabular reports for whichever area you prefer in your e-commerce business.
You can also compare the progress and profit over time while you create pivot tables and generate reports along with it. Therefore, it becomes much easier to figure out trends of the market and forecast your projection.
KPI Tracking
Key performance indicators (KPIs) are specific features of your business that shows its performance in the long term. These KPIs can consist of the revenue growth of the company, its employment statistics, customer support, financial feasibility of the business, digital marketing, and many other factors. These statistics in the long term will show the company's financial, strategic, and operational successes as well as its failures.
Templates for Essential KPIs
You can use Someka's Digital Marketing KPI Dashboard as an Excel template. It consists of carefully researched and selected 38 of the most used KPIs related to digital marketing. So, the hard work is already done! You can organize and manage the data on your website and traffic metrics, your social media numbers, and track the reach of your advertising.
You can set up specific goals and objectives, follow your statistics, and also, you can compare the past figures to your present ones as well. The Dashboard section in the template offers you interactive charts with comprehensive summaries for your large amounts of data. It also transforms all of the numbers and somewhat complicated tables into easy to read, digest and present graphs. It is a pivotal tool for your e-commerce business in order to track your KPIs focused on digital marketing.
If you want to shift your center of attention to the customer support of your e-commerce business, you can use Call Center KPI Dashboard by Someka. It is designed to track and analyze the metrics which elevate or hinder your e-commerce business' customer satisfaction. Similar to the Digital Marketing Dashboard, this Excel template also features the most used Call Centre KPIs. These 20 essential indicators consist of the average speed of answer for the customers called (ASA), first contact resolution rate of your call center employees (FCR) and the number of holds for each of the calls, and many more.
By allowing monthly and cumulative analyses, it offers the comparison of past years' customer satisfaction to the present statistics. The template also generates charts and graphs in order to make your customer support processes for your e-commerce business easy.
Scheduling and Calendar Management
Every business needs a schedule. Every employee in that business needs a plan which they have to follow. Companies, no matter whether they are e-commerce businesses, local shops, or huge conglomerates, cannot function without planning ahead of time.
Scheduling for your e-commerce business can be done daily, weekly, monthly or even yearly. These schedules can range from assigning certain tasks to certain employees to the delivery of materials and resources. Businesses need to make a profit in order to succeed and -more importantly- survive in the marketplace. Without any plans or with insufficient calendar management, your business cannot function to make a profit.
It is not a guarantee that every schedule and filling every day of your calendar will make you gain revenue. However, it is a guarantee you cannot earn any money without any schedule.
And if you think that 'not every scheduling mistake or an empty calendar will make me lose money directly', you are right. You might not lose money directly, but you are going to lose money in an indirect way. Let's give an example of a scheduling mistake:
You have a meeting with a potential customer on Monday at 10 AM. But it was scheduled as 11 AM on your calendar, so you missed the meeting. Have you lost money, revenue, or profit out of your pocket because you missed that meeting? No. But you did not gain anything either. You might have missed a potential customer which could positively affect your revenue. And that is how a scheduling mistake can make you lose potential customers and lose money in an indirect way.
You can find more information and details about the functions and formulas to use when tracking your inventory in Excel here with this blog post.
Marketing, Advertising, and Social Media Operations
When you google a product to buy, the websites and pages that come up in the first search results are compiled because of their search engine optimizations (SEO). Google has actually done a dramatically effective development for their SEO keywords. The company improved the whole process in order to eliminate any spam, inaccurate products, or highly dense product descriptions to show up in the first seen results. A lot of companies shifted their focus towards Google Ads (or formerly known as Google Adwords).
This platform allows companies to advertise their products, services, listings, videos, or images through Google for them to show up as the first results when a search is done. That means if you want to advertise your e-commerce business and the products in it, you need to organize and manage them. This process and the organization of SEO words can be done in Microsoft Excel. With simple spreadsheets and proper tracking, you are able to follow every ad you placed throughout Google services and the statistics on how many people clicked on your ads.
Advertising
In terms of advertising, nearly every social media platform allows you to place ads on their service. So, you can track your advertisements and their statistics for not only Google but also for other social media platforms such as Facebook, Instagram, Twitter, Reddit and etc. in one place: Microsoft Excel.
Marketing
And for the marketing side of your e-commerce business, Excel is a great place to store and update emails you have received such as callbacks, follow-ups, rejections, and confirmations. You can compile every email and message you receive from buyers, sellers, and even individual customers into a spreadsheet.
You can also track your social media statistics as well. Put the data into Excel, analyze it by generating charts and graphs, and make estimates for the future figures of your social media operations.
Stock and Inventory Management
Managing an e-commerce business consists of organizing and administering your stocks of products. You have to be in control of the number of products sold as well as the number of products located in your warehouses. You need to know what you have in your inventory, which products to purchase more or less and also, how the numbers can change. Keeping track of your stock and your inventory and constantly updating it are activities Microsoft Excel designed to do.
Your company's business strategy relies on the management of the products in your stock and inventory. In order to improve your business and its sales, you need to be in charge of your inventory and the products in it. You can use a third party template to properly organize your stock and inventory in Excel.
An Important Template to Track Your Inventory
Someka's Stock and Inventory Tracker allows you to specify and identify each of your items regardless of their category. You can also easily select (and update) the quantity of all of the items located in your company's inventory. In addition to the current quantity of the items, you can also include the Alert Level as well. The Alert Level of a product is the indicator that if the quantity goes lower than this level, then this will cause problems. So, the Alert Level section is there to keep you in check.
The template also has a section called Received and Sold Products. The category, the individual code of the product, the date it was received or sold, and the price it was received or sold for will be included in this section. All of the details of your items in your inventory can go here in order to avoid any complications with the buyers or sellers.
The template also generates charts dependent on the data you provide. Additionally, it provides reports, so that you can be always in control of your e-commerce business' inventory. And the best part is the template is completely free! Download it and start using it right now!
Customer Relationship Management (CRM)
Customer relationship management or CRM has always been one of the defining factors for the trust and loyalty between a company and its customers. Therefore, developing a CRM system not only will help you manage all of your customer relations but also improve them in order to grow your sales.
It is a delicate and detailed process to take upon, that is why you can find the best suited Excel template by Someka with the Excel CRM Template. The template consists of eight sections, the key ones are the Settings, Address Book, Task List, and Task and Process Records. Each of the sections provides a detailed big picture look at all of your tasks and your customer relations.
The Features of the Excel CRM Template
The Setting section is the place you can see nearly anything you want in your CRM system. The sales agents, the stages of the processes, the importance of the individual tasks, and the lead status.
The Address Book section is the database that stores all of the details related to your customers. In addition to the names and the status of their contact persons, you can also find all the contact details such as phone numbers, emails, and addresses.
In the Task List section, you can enter the descriptions of what to do with each of the customers. You can also adjust the importance of the tasks with being low, medium, or high importance. And you can close or open the activeness of the task as well.
The Tasks and Process Records is where you can see the overall CRM system. You can look for specific clients, change the sales agent assigned to the task, and update the status (or the stage) of the communication.
The template also provides automatically generated charts that show the data of sales agents' performance and the task conversion of the system. These charts are essential for you to track not only the CRM system but also the performance of your employees as well which are presented as Kanban boards.
The template single-handedly will be enough for you to manage the whole of your customer relationship system. It offers a calendar marked with the dates of your tasks and provides a Process Pipeline in which you can sort and filter every detail in your CRM system.
The Biggest E-Commerce Companies Around the World
There are multiple ways for you to establish your e-commerce business. One of the paths you can take is that you can form a business, fill all the required paperwork, and then start selling your products on a well-known e-commerce platform such as Amazon or eBay. And even though most of the purchases around the world are made through these popular platforms, nearly every country has its own big e-commerce company.
---
Recommended Reading: Amazon SWOT Analysis
---
Asia: China
There are two major e-commerce companies in China: Jingdong and Alibaba. Alibaba can be the more known company around the world; however, Jingdong actually has more employees and earned $82.9 billion in revenue in the year 2019. That means that if you or your business is located in China or if you want to get the attention of Chinese customers, it can be better to sell your products through Alibaba (AliExpress) or Jingdong (JD.com).
Asia: Japan
Let's not get away from Asia for a second. Rakuten is the most popular e-commerce company in Japan. And Rakuten Group (which is their parent company) operates Japan's biggest banks, develops apps such as the instant messaging app Viber and sponsors soccer teams around the world such as FC Barcelona. Again, if you are to get into the Japanese e-commerce market, it would be better to do this activity with one of Rakuten's businesses.
FINAL WORDS
The list can go on: There is B2W which handles most of the e-commerce transactions in South America. There is also Zalando, a company founded in and currently operated from Germany, which is the largest European e-commerce firm. The business is mostly focused on shoes and fashion related products. As you can see, there are a lot of options depending on your location and desire to reach out to other markets. Or perhaps, as you read in the previous chapters of this blog post, you can create your own e-commerce company!