Customer Follow Up Sheet in Excel
Lead tracking has never been easier! Customer follow up sheet is an easy-to-use Excel spreadsheet template to record & monitor key prospect data.
TEMPLATE DESCRIPTION
Proper collection and organization of customer information are vital to focus on targeted prospects. So a well-organized Customer Follow Up Sheet Excel template will help you to identify more engaged customers. If you want to keep track of sales leads but don't need the full functionality of CRM software, this Lead List Excel Template will be great for your business.

Customer follow-up sheets or prospect trackers, just like this one, enable departments to seamlessly work together to find qualified leads. Which then results in closing more deals, or eliminating no-gos.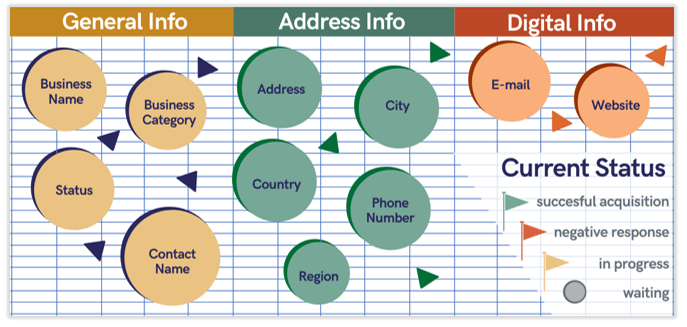 Instead of keeping your client info in pieces, you can use this customer follow-up sheet as a basic CRM tool or a contact list. This way you may easily track communications with customers and also plan follow-up emails & campaigns.
Lead List Template Features
In fact, the Lead Tracking Excel Template consists of one clean worksheet. Above all, the worksheet has pre-defined columns and headings, and you can customize all of them. Besides, you may add new prospect data columns in addition to total new sections.
Customer follow-up sheet readily includes:
General Info: Business Name, Business Category, Contact Name, Progress, Status
Address Info: Address, Country, City, State, Zip, Region, Phone Number, Fax Number
Digital Info: Main Email, Alternative Email, Web Site, and Notes
Progress Update: Progress Definitions, Progress Status
Lead List Template General Info Section
In the General Info section, please include the information first. Once you fill in the necessary information about the customer data or contact info, you can select the progress option from the dropdown menu. And the status column symbols will appear automatically.

Please make sure not to delete 'Progress' column, as the different options you see in the dropdown selection are coming from the "Progress Options" table at the right end of your template. Therefore this section will be explained later on in detail.
Customer Follow Up Sheet Address Info Section
In this section, there are predefined information columns on customer (or prospect, contact) address details. Please remember you may rename each column add new information areas.

Lead Tracker Digital Info Section
Here is another section premade for you to include digital information regarding the contact. Depending on your requirements, you can include email addresses, website information, additional notes and much more. You may delete or add new columns based on the information you need for your business operations.

As shown in the image above, for all the sections of the template you can easily use the filter option to sort the contacts based on your desire to easily follow the data. This allows you to better analyze data to draw a strategy, in addition to quickly check the current status of your customers or prospects.
Customer Follow Up Sheet Progress Options
The lead Progress Options table lets you set the progress labels and related symbols to each category. Furthermore, you can rename and add new progress definitions here such as "successful lead, negative answer, follow up needed, to be contacted" etc.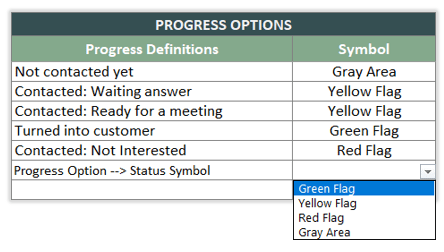 After that just use the dropdown options to select the relevant symbol associated with that progress category. Finally, according to your selection here, the status signs under general info section will automatically populate.
Lead List Template Features Summary:
Sales Lead Tracking Excel Template
Customer follow-up sheet function
Simple framework to track contact list
Customizable input table
Clean and professional design
Print-ready Excel Worksheet
Informational notes included
No installation needed, ready-to-use
Works both on Mac and Windows
Compatible with Excel 2010 and later versions
Does not include any VBA code or macros
FREQUENTLY ASKED QUESTIONS