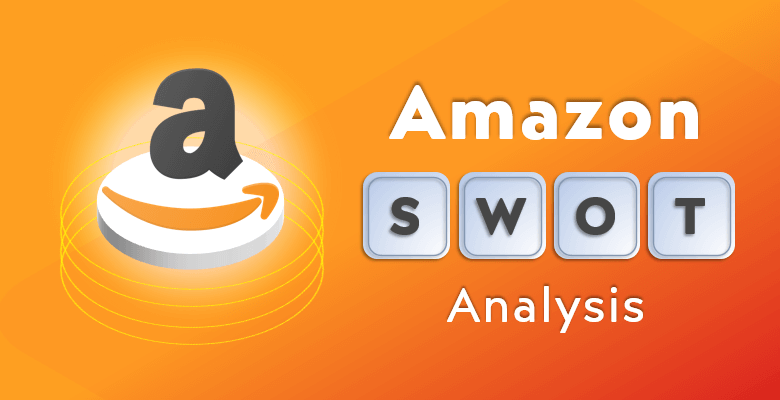 Amazon SWOT Analysis – Strategic Analysis of Amazon.com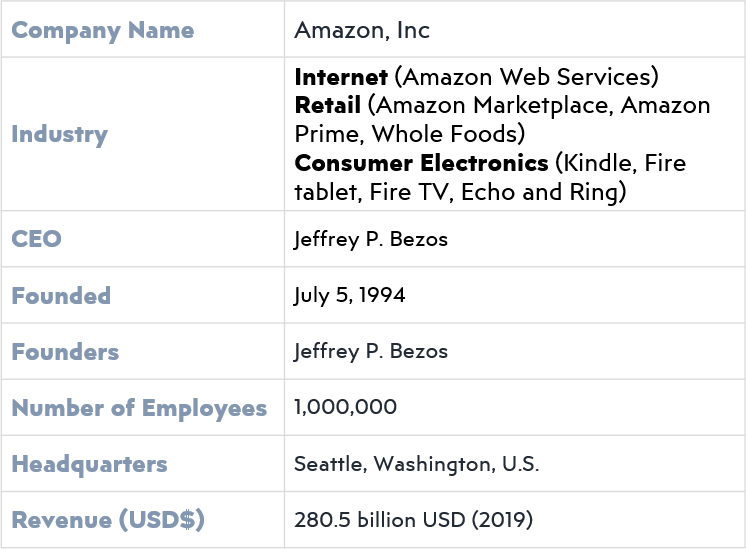 Amazon.com, Inc. (or shortly Amazon) was founded by Jeff Bezos in Bellevue, Washington on July 5th, 1994. The company started as an online marketplace for only books. However, as it grew, it expanded into selling electronics, furniture, jewellery and just about everything.
Its biggest accomplishment came about in 2015 when the company surpassed its biggest retail competitor (by market capitalization) in the United States: Walmart.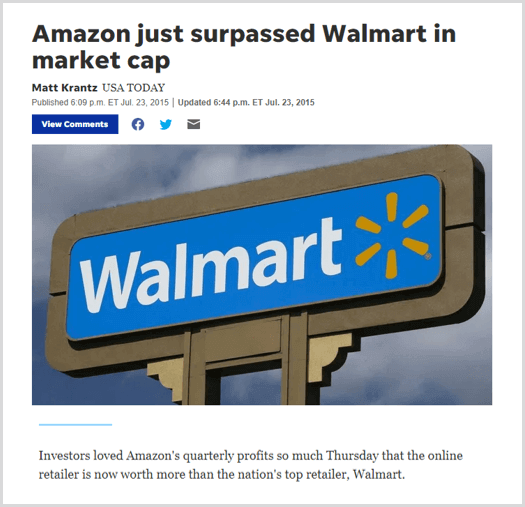 Today, Amazon is the third most valuable brand globally and the fourth biggest company in the world in market value. And its founder and CEO Jeff Bezos is the richest person on Earth.
That's why we aim to give you a better understanding of Amazon Swot Analysis in this blog post.
Amazon's Mission
The market leader of retail targets every customer who has an internet connection and an address. Therefore, its mission is to gradually and increasingly raise the bar on customer experience and satisfaction.
Vision
The company's vision is "to be the Earth's most customer-centric company". Through penetrating in most of the developed and developing markets in the world, Amazon strives to achieve effective and high-quality service to its every customer around the world.
Strengths


The Amazon Brand
As it is mentioned that Amazon is the third most valuable brand in the world, this represents the wealth of the company. With strong financial performance and the popularity among its customers, it is one of the leading companies and more importantly, it is one of the leading forces of the 21st century.
People trust Amazon. Feedvisor's stats show that 89% of customers in the United States are likely to shop on Amazon.com than any other e-commerce website.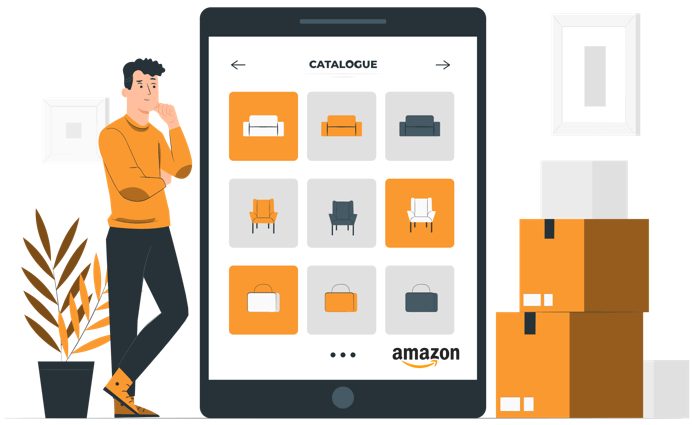 The company provided consistent, transparent shopping and fast, punctual and never-changing delivery experience. This trust grew and cemented itself with the two-day delivery service Amazon Prime in 2018.
In only two years, the service gained nearly 150 million members around the world.
For Every Need of the Customers
Amazon has a very wide range of products and services. You can use an Amazon service without even noticing that the service you are using belongs to the same organization!
Other than the largest online retail service on Earth, the company has been providing products and services from digital streaming (Amazon Prime Video) to artificial intelligence with smart speakers (Amazon Alexa).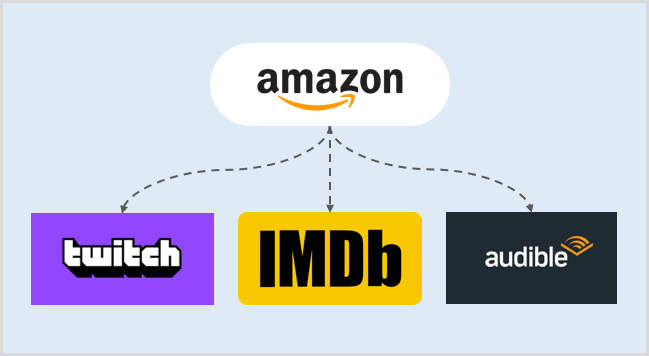 And even if you think you do not use any of the mentioned services, a good percentage of the Internet and cloud storage are connected on Amazon Web Services.
Value and Net Worth
The market share and value of Amazon continue to grow substantially.
While most of the companies around the world shut down or lose significant value in these times of the coronavirus pandemic, the company is continuously adding value and revenue into its safe.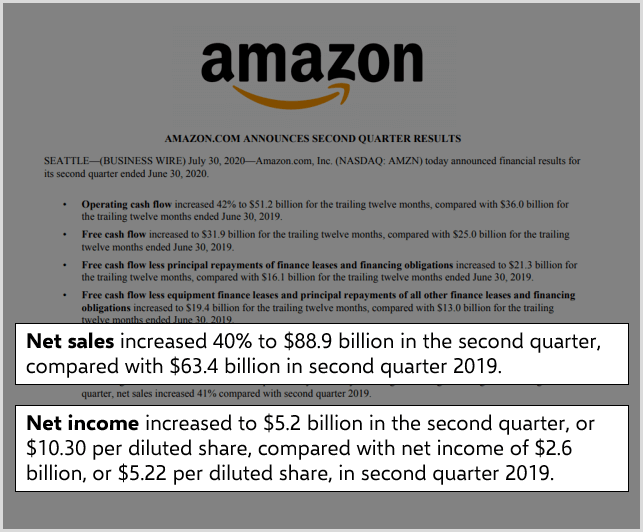 He is now personally worth more than Nike Inc. and McDonald's Corp.
Third-Party Sellers
With 492 million monthly visitors, the e-commerce giant has a high traffic volume. Therefore, a large number of third party sellers, small and big business have joined the platform.
Amazon.com lets businesses sell merchandise. While Amazon takes a share of their profit, the business can advertise and reach more customers.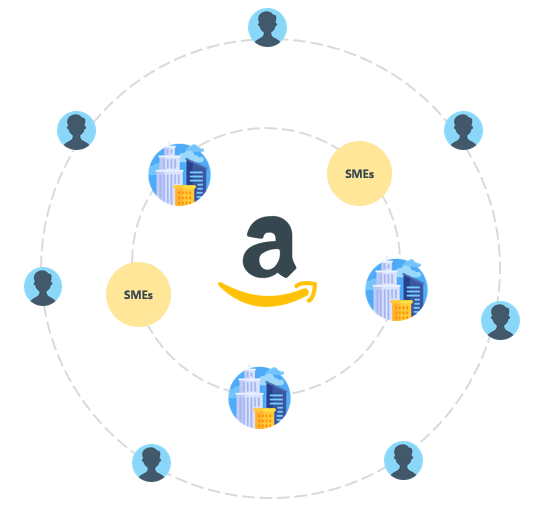 So, Amazon wins by adding and expanding its sellers and the third-party sellers win because they make a profit on the website. Amazon.com has 2 billion of products, items and services from third-party sellers on its website.
Large Selection of Products
The large quantity of third party sellers brings a large selection of products with it. The extensive and comprehensive lists of items make it much easier for people to find whatever they want to buy.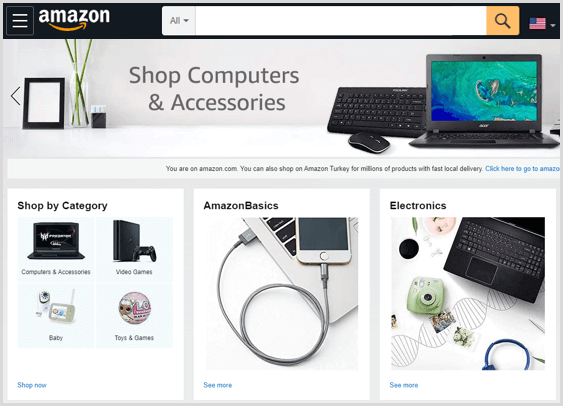 It holds the largest merchandise selection ever on its website.
Acquisitions Around the World
By acquiring small and large companies and businesses, Amazon both eliminates competition and sets itself up for more profit via the company it has bought.
Some of its biggest acquisitions were the biggest organic supermarket chain Whole Foods Market for $13 billion and the self-driving car company Zoox for $1.2 billion. And such as its acquisition of Zappos.com (which is a shoe and clothing retailer), it achieves to "buy out" its competition.

The global conglomerate has small and large companies under its umbrella and also, businesses varying from the United States to United Arab Emirates and India.
Retail Market
Of course, the retail conglomerate has its competitors such as Walmart, eBay and some national and local alternatives in Asian countries.
Weaknesses
Imitations
Although Amazon is one of the first online retail businesses, the online retail industry has become common in the 21st century. New and upcoming companies started to imitate the business model of Amazon.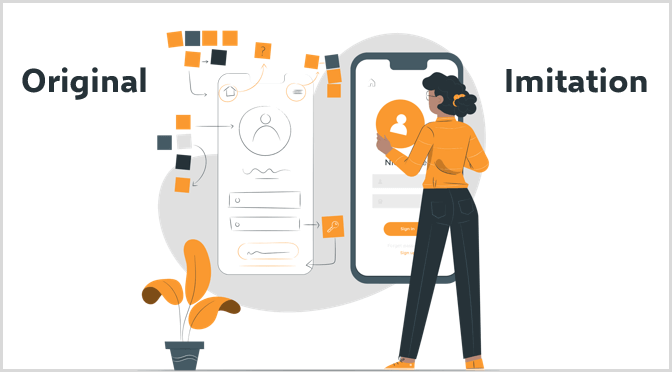 The organization success relies on its detailed analysis of their departments.
This huge corporation lays every information about their key partners and activities, resources, revenue streams and customer and general satisfaction of products.
If you are wondering how to apply this process to your company as well, you can always use tools such as Flowchart Maker Template in order to analyze your own company.

Losing Fields
Rivalling against Amazon might be a tough fight; however, it is still a competition. Amazon competitors are Barnes & Noble and eBay in terms of retail; Netflix and Hulu in terms of digital streaming.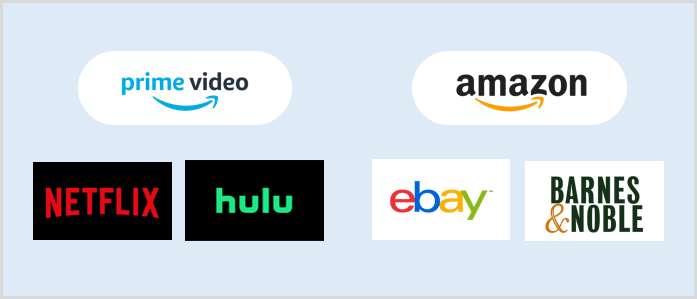 So the different services and products of the company is losing some of these fights and is overlooked in some markets such as India.
Tax Controversies
Amazon tax avoidance controversy occasionally comes up and is heard in the news. These controversies surrounding tax avoidance were some of the early talking points and pledges among the 2020 United States presidential candidates such as Senator Elizabeth Warren: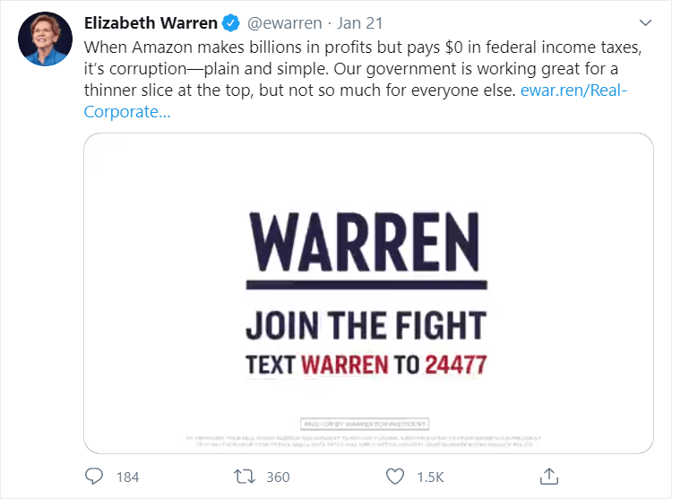 And moreover, the Democratic nominee in the 2020 presidential election Joe Biden also voiced his concerns on the tax issue: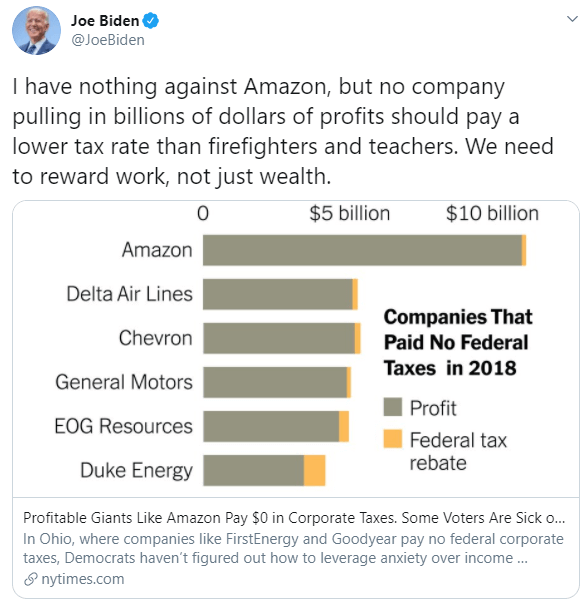 Workplace Conditions
Amazon has also been on the news about their facilities conditions. Some of its employees voiced their frustrations about the bad conditions in which they had to and continue to work.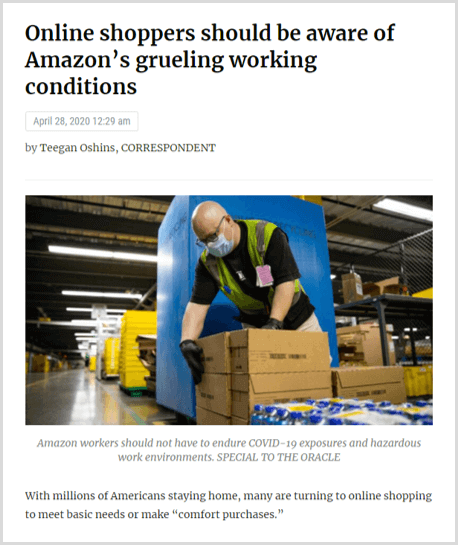 Some of these reports stated the unbearable temperatures due to poor air conditioning and the lack of clocks in the facilities.
Employee Treatment
The employees also said that they were forced to work overtime without pay. On top of that, the employees were met with timed bathroom breaks and constant video surveillance in order to maximize the workflow of the facility.
Negative remarks as such affect Amazon reputations even though the company denied these claims.
Jeff Bezos as a Leader
Amazon founder and CEO and also the richest person in the world Jeff Bezos have been facing a lot of criticism. Some of these criticisms spread from the fact that Bezos, unlike the second wealthiest person Bill Gates, has not focused on charity work as much as other billionaires.
There is even a Twitter account named Has Jeff Bezos Decided To End World Hunger?: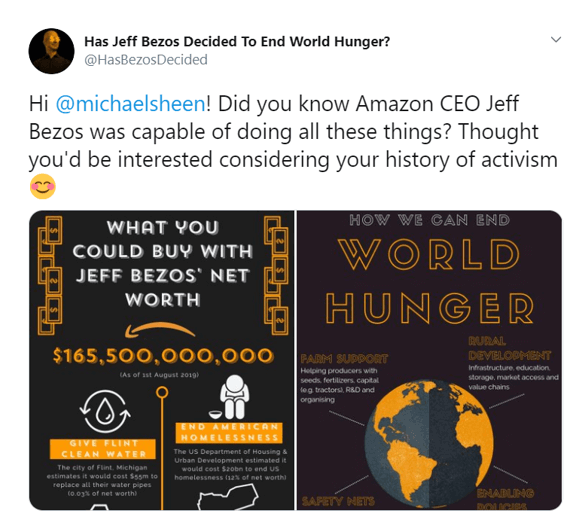 Thousands of people have criticized Bezos on social media platforms as "if he wants, he can make the world a better place."
The International Food Policy Research Institute issued a report stating that "it would take $11 billion annually to end world hunger by 2030". That means Jeff Bezos whose annual income is approximately $78 billion actually can end world hunger with a lot of money keeping in his pocket.
Opportunities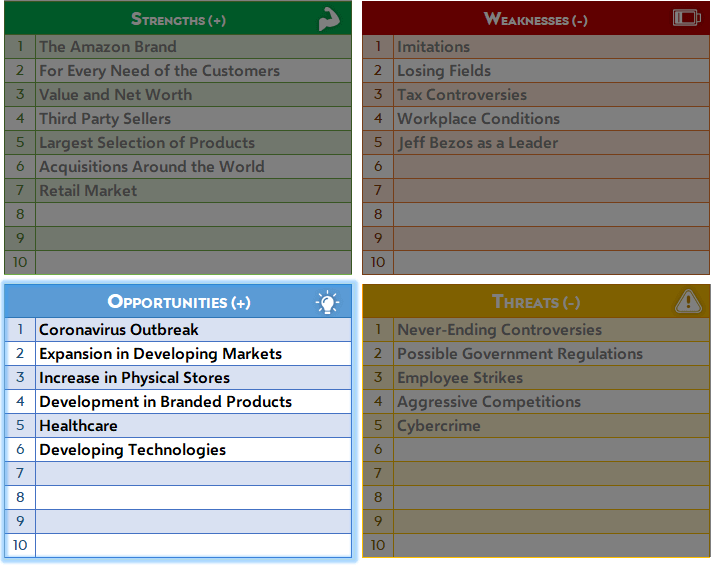 Coronavirus Outbreak
Despite most of the companies around the world shutting down or shrinking their businesses, Amazon has been going strong.
Although, as with nearly every company in the world, took a hit when the outbreak first affected the United States, it has got back on its feet.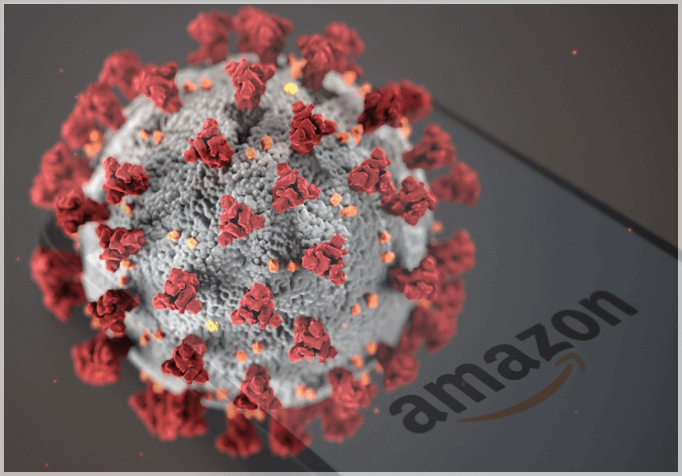 Amazon can continue employing people (with the safety and health conditions required) and also supply the customers their needs without them leaving their homes.
Expansion in Developing Markets
Developing countries have dynamic markets. A lot of small businesses come and go without affecting the market.
By strategically acquiring the right companies and partnerships around the world, the global corporation can easily penetrate and expand in developing countries markets.
Increase in Physical Stores
Imagine buying the items you would buy on Amazon at your local shop. Again, the right acquisitions will allow Amazon to spread literally every place on Earth. These physical stores can range from a small town in Maine in the United States to a village in India.
Download USA Heat Map Generator in Excel!
This means an increase in stores can help lock down its presence not only across the United States but across every continent and region in the world.
Development in Amazon Branded Products
Did you know Amazon made their own products as well? Yes, they make their own towels, chairs, charging cables, mugs, etc. Such as most large supermarkets Amazon has its own-brand version of products, too.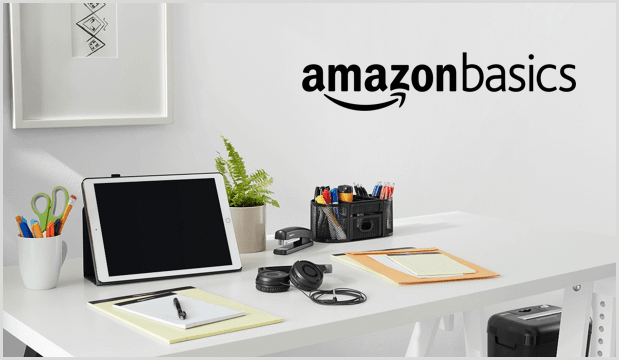 These offer more margin on the profit than third party sellers. If the company produces a wider range of products and promotes it, then, this would make them gain more profit.
Healthcare
Recently, Amazon acquired the healthcare venture PillPack for nearly $1 billion. The international corporation has a large distribution system and huge advantages with its annually big revenue.
Developing Technologies
As Amazon acquires its competitors, it also gets its hands on start-ups which promise hope and developing technologies such as artificial intelligence and space travel. Its space travel ambitions lie with the company Blue Origin.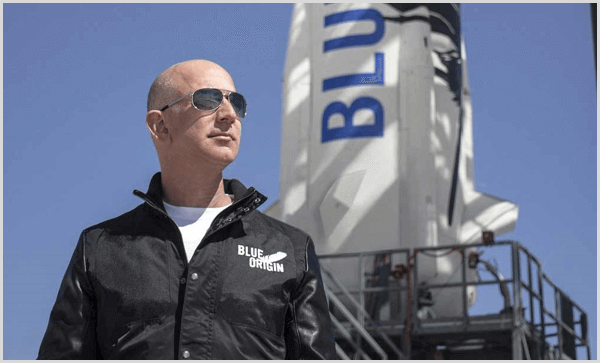 Amazon not only acquires these companies but also helps the technology develop and create new ways for the people on Earth to live their life better.
Threats
Never-Ending Controversies
Being one of the largest companies in the world comes with a price. Amazon has drawn criticism from multiple sources and from multiple platforms. The ethics of the company, their certain business practices and company policies have been questioned in the public eye.
In addition to the allegations of negative treatment towards workers and bad workplace condition claims, Amazon also faced numerous criticisms regarding 'anti-competitive practices'. Some businesses blamed the giant conglomerate for 'monopolistic behavior'.
The retail store was also put into question about some of its questionable products on its website. Organizations and governments have accused Amazon of putting antisemitic content and counterfeit products on their website.
Possible Government Regulations
Prominent figures in politics and people in charge have voiced their intentions on regulating the enormous organization. Democratic figures in the United States are condemning the company due to their huge tax cut.
Employee Strikes
Amazon was warned by the U.S. State Department over the risks which the company is facing in their facilities in Xinjiang regarding human rights abuses. This scrutiny surrounding exploitative and illegal labor exposes the e-commerce leader of the world to economic and legal risks.
Aggressive Competitions
Despite being the largest online retailer in the world, there are some areas Amazon is behind of its competitors. For example, in the area of digital streaming, Netflix is bigger than ever. And Apple TV+, Disney+ and HBO Max are pushing from behind.One of the other areas Amazon is lacking is the self-driving electric cars. Amazon bought the autonomous driving start-up Zoox for nearly $1 billion in 2014. And Zoox is still not even close in competition with Tesla.

Cybercrime
Cybersecurity is one of the essential departments to have and to focus on. Because of the fact that Amazon has the crucial data of all of its customers such as credit card numbers and detailed addresses, the website is always a target for hackers.
A data breach can threaten not only the livelihood of its millions of customers but also the company stock and reputation in the future.
Only recently, Jeff Bezos Twitter account, with several other billionaires, was hacked. Imagine these hackers accessing his private servers and through them into Amazon.com. It is a key threat to the company.
Final Words About Amazon SWOT Analysis:
Such large companies as Amazon can be put on a pedestal and think of as 'immune to every danger possible'. However, without thoroughly analyzing the inside workings of any company, the flaws and accomplishments cannot be seen. Therefore, a SWOT analysis is an essential tool for your company in order to remove the threats you are facing and continue your success in the future.
With Someka SWOT Analysis Template, it is free! Download it, use it in Excel and easily fill the necessary spaces with the information you have.
Recommended Readings: