Business Plan Google Sheets Template
Business Plan in Google Sheets. Analyze and present your business feasibility with step by step guide. Fully printable and accessible from all devices.
TEMPLATE DESCRIPTION
Preparing and representing your business plan is crucial when you start your own company. Then, here is a Business Plan Google Sheets Template you can use online to get your business plan ready.
Why is a business plan so crucial?
Provides a clear vision for the future

Ensures team members are working towards a 

common goal

helps

 you plan for the future

Clarifies your goals and the 

potential obstacles

to achieving them

Provides a 

clear strategy

 to follow when things get busy and messy.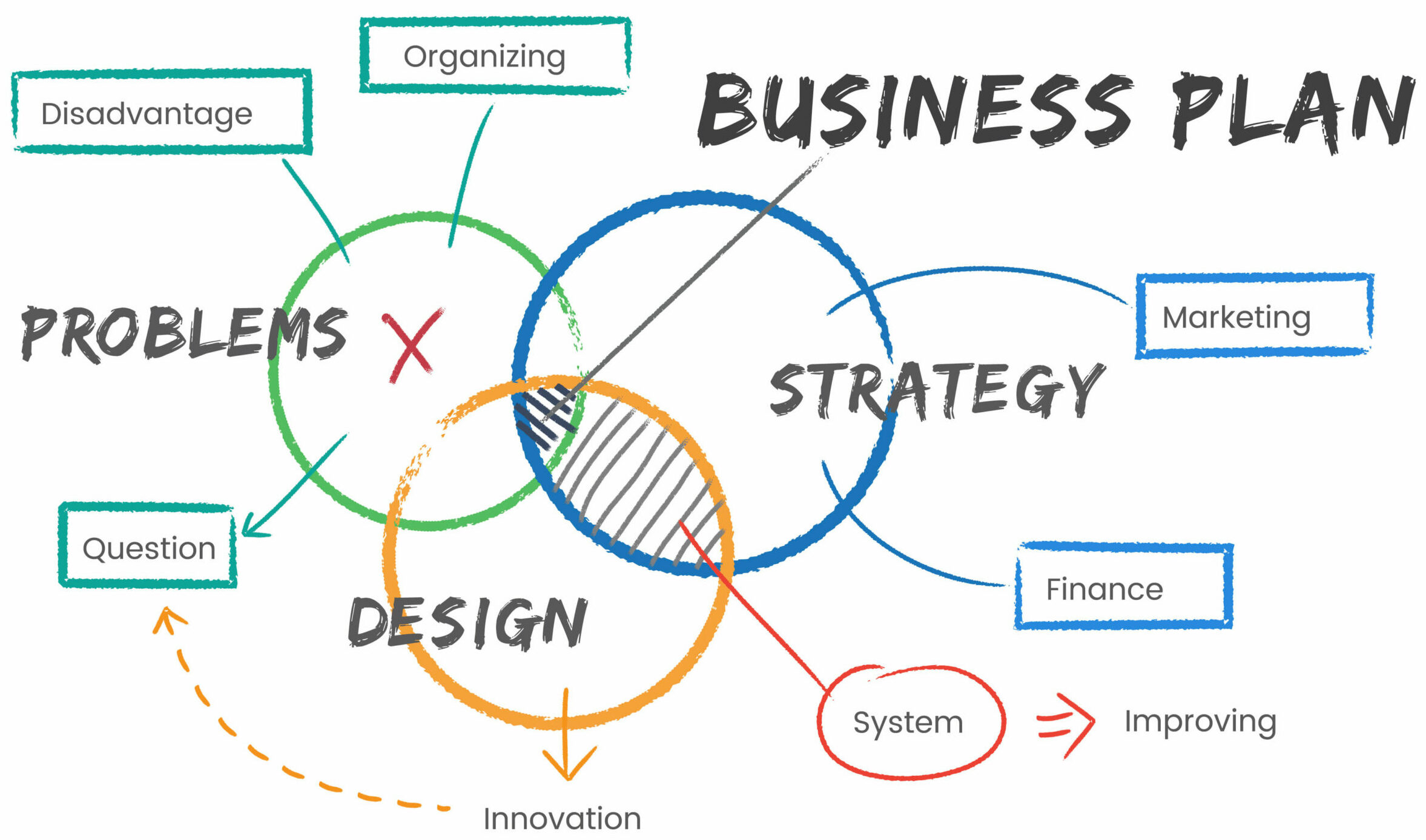 With this Business Plan Google Sheets Template, you will be able to summarize the nature of your business in a detailed manner. In addition, you can display your business drivers, company descriptions, marketing strategies, organizational structures, financial projections, and other background information in this Google Sheets Template.
Business Plan Google Sheets Template Features:
There are six major parts to this Business Plan template besides the Navigation Menu. To clarify, if you use this template, you define your company's internal and external goals and strategies, so you'll have to purchase one template, but you'll save a lot of time, energy, and money by not having to use too many tools.
Navigation Menu:
Above all, the shortcuts for all sheets are in this section as buttons. Clicking on a button will transfer you to a specific sheet. In addition, you can easily see which sections are complete and which sections need to be completed by choosing (✓) from the dropdown menu as soon as you're done with one section.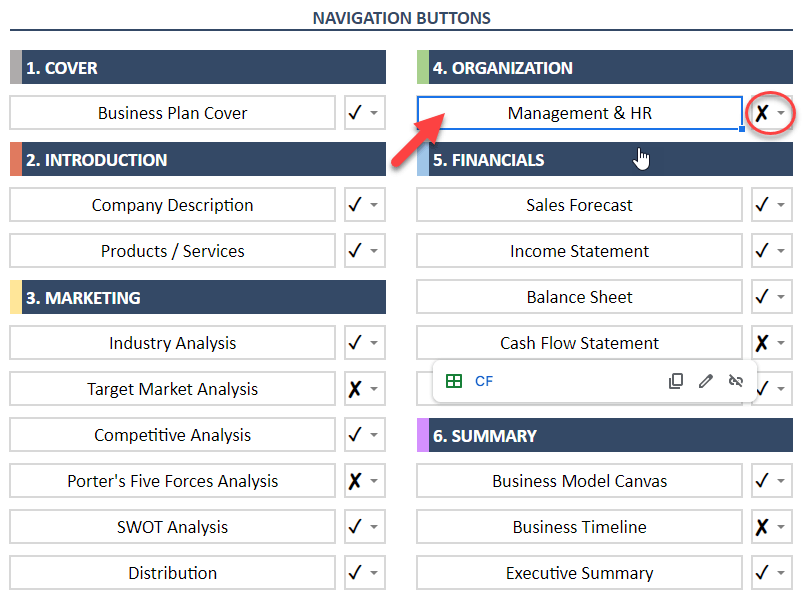 1. Cover of Business Plan Google Sheets Template
Firstly, this Cover Sheet lets you add your contact information: Phone, Email, and Website. You can also add your logo and company name. 
Note:
 To clarify, for instructions on changing the logo, please refer to the 
yellow guidance
 in the template.
2. Introduction
Secondly, for this title, you have two sheets: Company Description and Products & Services. In Company Description, simply fill in the business name, mission statement, core values, etc. In Product & Services, you can include the same information.
3. Marketing
This Marketing title includes 6 different sheets for a detailed Business Plan Google Sheets Template.
Industry Analysis

: Here you can add the general characteristics of your industry, such as the size of your industry, the size of your targeted market, and other notes.

Target Market Analysis

: Using this part, you can figure out if your market has enough buyers or not. Just clarify each of the following: the Geographical Level, the Demographic Level, the Psychographic Level, and the Behavioral Level.

Competitive Analysis

: One of the most valuable assets you can find in this part is that it gives you a great overall picture of your competitors based on a scale from 1-100 by checking nine items such as Price, Quality, Reliability, etc.

You will then be able to identify the weaknesses and strengths of your competitors by using the template to calculate your company's "Overall Scores" for each of your competitors.

Porter's Five Forces Analysis

: With this tool, you can analyze the competitive environment using: Power of Buyers and Suppliers. The threat of Substitutes and New Entrants, and Competitive Rivalry.

SWOT Analysis

: SWOT stands for Strengths, Weaknesses, Opportunities, and Threats, and so a SWOT analysis is a technique for assessing these four aspects of your business. SWOT Analysis is a tool that can help you to analyze what your company does best now, and to devise a successful strategy for the future.

Distribution Channels

: In your Business Plan Google Sheets Template, this section discusses the distribution channels of your business.
4. Organization
The purpose of this report is to give you a general idea about your HR and Management Strategies. For example, you can analyze your total employee number and HR budget here.
5. Financials of Business Plan Google Sheets Template
The financials section of this template mainly consists of Sales Forecasts, three major Financial Statements, and a Financial Summary.
Sales Projections

: You can easily modify the sales projections for the five target markets in this area, as well as calculate the total sales and growth from year to year.

Income Statement

: It is also known as a Profit and Loss Statement. Additionally, the income statement allows you to calculate the company's revenues and expenses.

Balance Sheet

: Business balance sheets are summarized here.

Cash Flow Statement

: Business Plan Google Sheets Template also includes this section. You can see how much cash was generated and spent at a particular time. Investing, financing, and operational activities are also important parts of this section.

Financial Summary

: The dashboard displays key ratios and professional-looking charts for the business' five-year projections, based on previous sales forecasts and financial statements.

6. Summary:
Finally, in this section, you will outline a general overview of your company. To clarify, this section consists of three parts.
Business Model Canvas:

 A business model canvas is a visual representation of a business model, highlighting all 

key strategic factors

. In other words, it is a general, holistic and complete overview of the company's workings, customers, revenue streams, and more. Simply 

drag and drop

 your notes into this section and change the font size, color, or size of the notes.

Business Timeline

: Basically, list your expected 

major milestones

 and set a target date for each one. Additionally, if you have any notes, please include them in the Description column.

Executive Summary

: It gives the business owner the chance to present his business in his own words to the 

target audience

. In one page, the Executive Summary summarizes the company's mission, goals, and prospects.
Meanwhile, all you need is an internet connection and a Google account to get started. And everything will be in sync!
Business Plan

Google Sheets Template Features Summary:
All-in-one Business Plan in Google Sheets

An overview for Marketing, Management, and Finance

Business Model Canvas with drag & drop post-its

Fully customizable and ready to print

Informational notes included

Ready-to-use template

Works on any operating system

Suitable for any device including mobile, tablet, desktop
FREQUENTLY ASKED QUESTIONS