Excel Purchase Order Generator and Tracker
Complete Purchase Order system in Excel with auto-numbering and database features. Record & track your past POs. Ready to print and export to PDF.
TEMPLATE DESCRIPTION
Purchase Order (PO) is a common type of form used between trading companies in the daily business life cycle. This is generally prepared by the companies who want to purchase specific items from the provider. When the seller accepts the purchase order, it becomes a binding agreement between two parties. Using Purchase Order Generator and Tracker will make this process faster and easier.
There are certain elements in a formal PO Template such as PO number, item description, units, prices, terms, date, and so on. Most companies use Excel spreadsheets to prepare purchase orders. But most of the time these are non-standard, missing crucial info, and lacking sleek design which does not tally with the company brand image. Besides, inputting info every time from scratch is quite time-consuming.

Why would I need this Purchase Order Template instead of simple ones?
If you are using simple spreadsheet templates to prepare purchase order forms frequently, this tool may be a perfect fit for the following reasons:
Professional and Well-Structured: A nice-looking and neat purchase order improves your company image. It also includes all the necessary elements so that you don't forget anything.
Save time preparing new POs: This tool has a separate database section for your products/services which lets you "select" instead of making inputs every time. You just keep your database section updated and prepare new POs in 30 seconds!
Record your past orders: Do you ever wonder what was the item you requested from the XYZ supplier? Instead of browsing through several documents, they are just recorded in this template. You can, later on, make analyses and create reports with this data.
This template has many more handy features such as easy Export to PDF, Show / Hide discounts with a button, assigning and recording the responsible person who created the PO, and so on. All these features are super easy to use and come with on-sheet instructions.
SOMEKA PURCHASE ORDER TEMPLATE FEATURES
Basically, PO Template consists of 3 main sections:
Purchase Order Generator
Product / Service Database
Order Records & Tracking
The flow is: Input the products/services you frequently order in the database > Create your POs in the generator section > Analyse your past POs in the Tracking section.
1. PURCHASE ORDER GENERATOR SECTION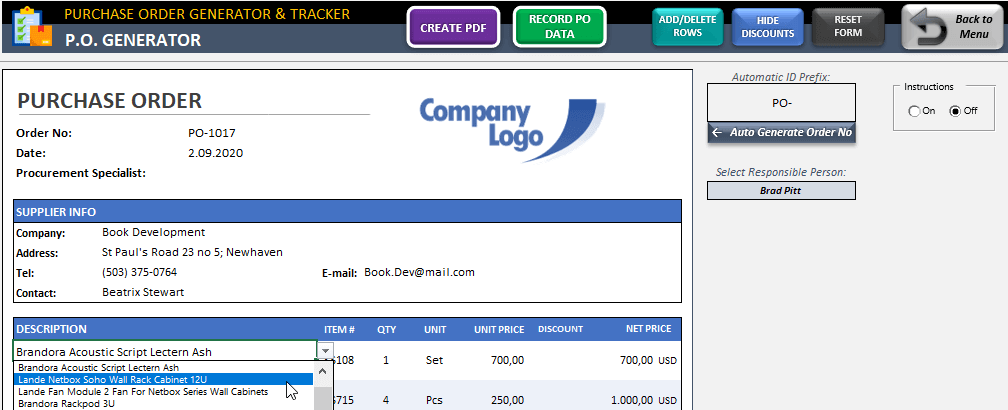 PO GENERATOR – MENU BUTTONS
Create PDF: This creates a temporary PDF as you see your PO Template in Excel. It makes some controls before creating the PDF like checking the unique ID, Date, total amount, and so on. When you create a PDF, don't forget to save it to the relevant folder on your computer.
Record PO Data: This sends the purchase order data to the Tracking section so that you can analyze what / when / how did you create POs for certain providers.
Add/Delete Rows: This button adds new rows or deletes the existing ones in the invoice.
Hide Discounts: Discount field is optional and sometimes you may want to hide it if there is no discount on the item level. So, this button switches the Discount column.
Reset Form: This button deletes all the existing information on the PO Template, refreshes formulas, and makes it ready for a new PO. Use with caution.
PURCHASE ORDER GENERATOR – OTHER
Company Logo: This is a dummy logo. You can easily replace this one with your own.
Order No: Order No is important for recording the POs into Tracking Section. In order to be able to distinguish the separate POs from each other, you should use Unique Order Number on each purchase order you create. You can either write Order No manually at the top section of the form OR click the "Auto Generate" button to create a new ID quickly (you can also change the prefix)
Responsible Person: Responsible Person will be recorded in the tracking section to be able to follow who created the PO later on. You can add/remove the people list in the Dashboard section.
Products / Services Section: You can select your Product/Service items from the drop-downs when you click on the first row under Description. All relevant info will appear automatically according to the data you input into the Database section.
Info: You can change the Amount values specific to the current PO (don't worry about formulas as they will be recreated when you Reset the Form). Also, you can define the currency you would like to use on the Dashboard.
Instructions: You can show/hide instructions from the switcher at the top right section.
Show / Hide Total Discount Selector: You can Show or Hide Total Discount with this selector. PO Template will automatically calculate the amount of Discount you input here.
Show / Hide TAX Selector:  You can Show or Hide TAX here with this selector shown below. PO Template will automatically calculate also the amount of TAX you input and add the total amount.
Show / Hide Shipping Cost: You can Show or Hide Shipping cost with this selector. PO Template will automatically calculate also the amount of Shipping you input and add the total amount.

Order Notes & Instructions: This is a free text field in which you can write down the additional notes you want to deliver to the supplier.
2. PRODUCT / SERVICE DATABASE SECTION

Description & Info: The description column is being used in the drop-downs at the PO Template (as shown in the image below) In the Info column you can put any data for each item. If you put web links here, they will appear as clickable links in the PDF generated.
Item # – Unit – Unit Price – Currency: This info will appear automatically in your quotation when you select the relevant item while preparing your Purchase Order as shown below. A great time saver!

Unit and Currency is defined at Dashboard in order to ensure data consistency throughout your workbook.
3. EDIT SUPPLIER DATABASE
By adding your supplier in the database section, creating a new quote will be easier and takes less time. You can select your supplier name from the dropdown button in the Supplier Info section.

4. ORDER RECORDS & TRACKING SECTION

All these information comes from PO Generator section. Every time you create a new POs and click the record button, the tool informs you that you recorded the PO data to the tracking section as shown below:

This is really useful if you want to keep track of your POs, the responsible person who created the PO, items you requested, and so on.
PURCHASE ORDER GENERATOR & TRACKER FEATURES SUMMARY
PO Template to create professional Purchase Orders
Database section for faster PO preparation
Tracking section for order records
User-friendly and sleek design
Export to PDF feature
White Label
Fully customizable and ready to print
Informational notes included
No installation needed, ready-to-use
Works both on Mac and Windows
Compatible with Excel 2010 and later versions
Includes VBA codes or macros
---
COMPLETE YOUR TOOLKIT WITH OTHER FORM GENERATORS:
FREQUENTLY ASKED QUESTIONS