Auto Repair Invoice Excel Template
Car service receipt template in Excel. Generates printable and professional invoices for mechanics. Customer database also included. Ready to use.
TEMPLATE DESCRIPTION
Every business needs to issue invoices in its daily workflow. And, the auto repair shops are no exception. While you serve your customers clearly in the vehicle repair process, this Excel Auto Repair Invoice template will allow you to put your own information and the service performed for customers.

Auto Repair Invoice Features
Basically, the invoice has two main sections:
Database to record Customer Info
Invoice to generate your Invoice
Customer Database:
Firstly, you can keep your customers' info on a separate sheet. So, you won't need to input the same information again and again. Furthermore, you will just record your customers to the database sheet once, and you will select it from the dropdown menu for later uses.

Once all parts have been completed in the database section, you can start filling the auto repair receipt template.
Invoice:
Before you start filling in the information about services performed and parts replaced or repaired, make sure you define the unit price of the equipment and the hours your team worked. Because the subtotal of the items will be calculated according to the input you type in along with the tax rate.
In this part, you will be able to divide your service into two different categories: Workmanship and equipment used in repairing.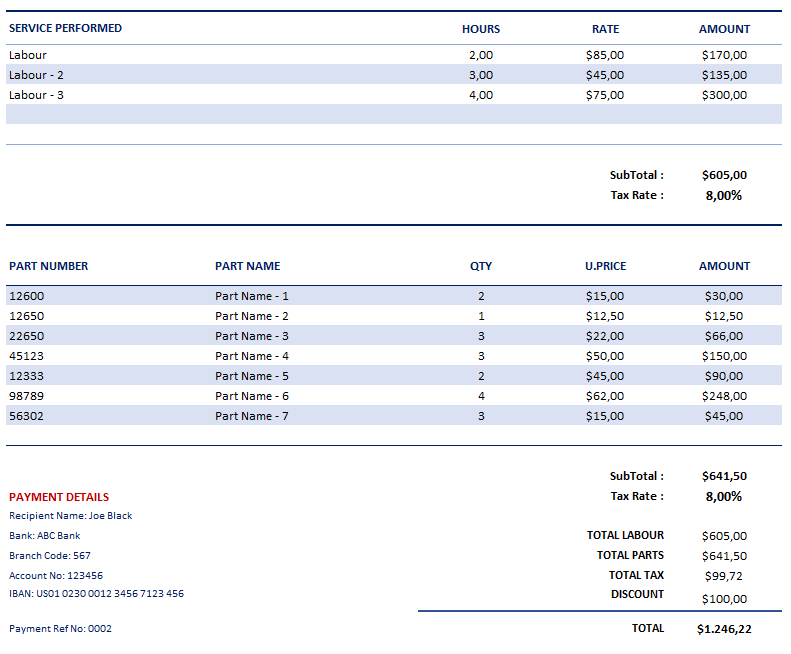 The final part consists of the customer's bank account information and the total cost of repairing within the whole process.
Lastly, once you are done with the tables above, total labor, total parts used, total tax, and discount (you can empty this column if you do not offer any discount for your customers) and the final total will be calculated accordingly.
Excel Auto Repair Invoice Template Features Summary:
Nice looking Automotive Repair Invoice Template
Separate section for keeping customer database
Calculates percentages and totals of car repair receipt
Informational notes included
No installation needed, ready-to-use
Works both on Mac and Windows
Compatible with Excel 2010 and later versions
Does not include any VBA code or macros
FREQUENTLY ASKED QUESTIONS