Contact List Template is a basic Excel spreadsheet to keep and organize your business or personal contacts. Fully printable and easy to customize.
TEMPLATE DESCRIPTION
Contact List Template in Excel will ensure to keep all of your contacts organized and up-to-date. It can be used for organizations, companies, clubs, families, or for your own personal needs. Whether to be saved in a contact list database for a company or a club or as an emergency call list in an apartment.
You will be able to keep the necessary information about your personal or business environment thanks to this template.
Now, let's dive into the template details:
Contact List Template Features
In addition to being quite useful, this ready-to-use excel template is very simple to use.
Our Contact List Template has two sections. These are Database and Contact Form.
Database
All you have to do is input the information you got into the table on the dashboard. There is a property for each column of each row of the table.

There are various categories for the information of the company, first name, last name, and so on. You can customize the columns by changing the name of the title. Also, you can create an extra header and fill this field according to your needs.
Filters help you to find the person or a phone number easily from the business contact list. You do not have to manually check each row to find the person you are looking for.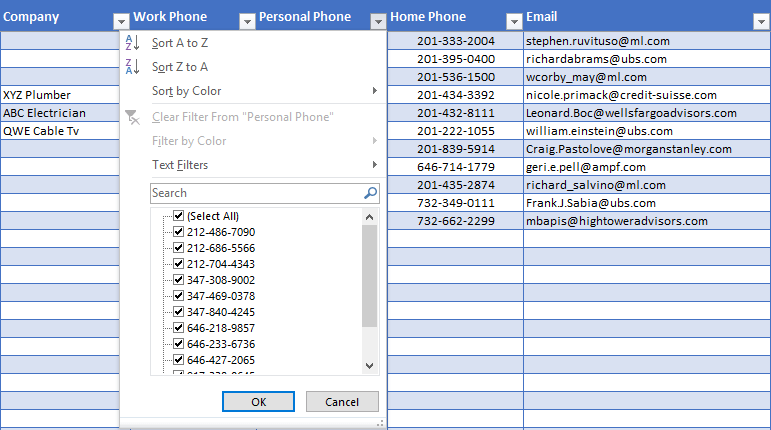 Besides, you can customize the template according to your user preferences, so you are free to add, and delete columns. You will never forget or lose your contacts' information with this client database template!
Contact Form
Contact Form is a section where you would find a set of information such as the name, surname, and other contact details. You can select your "Category" and "Name" from the dropdowns.
In addition, you can select your metrics from the dropdowns in the colorful areas and add new metrics to form from the box with the dotted line. Therefore, sections will be updated automatically except for the "Category" and "Name" sections.

Not only you but also your colleagues or family members will be able to use it easily. Just keep it at a commonplace!
Why keep this when we have our smartphones?
We can easily save, share and delete the details of a contact on a smartphone. But like that, we may also easily lose the phone, delete a contact or forget the password of the cloud account to access the contact list. Besides our smartphones are only useful for storing not demonstrating. This contact list template allows us to present the list when it is necessary with a clean printout.
Contact List Template Features Summary:
One sheet – Easy to use business contacts template
Contact Database Excel Template
Customizable
Print Ready
No installation needed, ready-to-use
Works both on Mac and Windows
Compatible with Excel 2010 and later versions
Does not include any VBA code or macros
FREQUENTLY ASKED QUESTIONS