PERT Chart Excel Template
PERT diagram generator in Excel. Create interactive PERT diagrams in seconds. Easy way to visualize complex tasks. Fully printable and ready to use.
TEMPLATE DESCRIPTION
Project managers or business people use several types of technics, such as PERT or Gantt Chart, to accomplish complex projects. And this PERT Chart Excel Template will help you to easily visualize your tasks with dynamic and interactive diagrams. Furthermore, you do not need to install any software, as it is directly in Microsoft Excel!
A PERT (Project Evaluation and Review Technique) Chart provides a visual representation of tasks, their relationships, and the potential timeline.

PERT allows you to create a critical path model (CPM) even for complex projects with many simultaneous dependents. With PERT Chart, you can anticipate the optimistic and pessimistic duration of each task, like in a best/worst-case scenario. In addition, you may also showcase the relationships and interdependencies between project elements.
PERT Chart Excel Template Features:
Data Section
You should start by filling the data table to create a PERT Chart. There are eight white columns available for data input, but two of them are optional: ID, Description, Predecessors Previous ID/Successors Next ID, Phase (Optional), O (Optimistic Time), P (Pessimistic Time), M (Most Likely Time) and Shape Color (Optional).

The ID column represents each element (whether tasks or steps, etc.) and has to be a unique number. The Description column is what you will see as the main information within each box. In general, standard PERT chart tools require you to define predecessors for each task. But, in this PERT Chart Generator, you also have the option to include successors instead.
Phase is an optional way of grouping tasks. Tasks belonging to the same phase will be slightly differentiated from others, within a bordered and highlighted area. Besides that, you will be able to see the phase name in the top-left corner. This feature will come in even handier when you have a complex timeline.
When three potential duration information is provided for each task (Optimistic Time, Pessimistic Time, Most Likely Time), the algorithm creates different duration possibilities based on average. However, if you fill only one of those columns, the duration will be taken directly from the filled-out column (O, P, or M).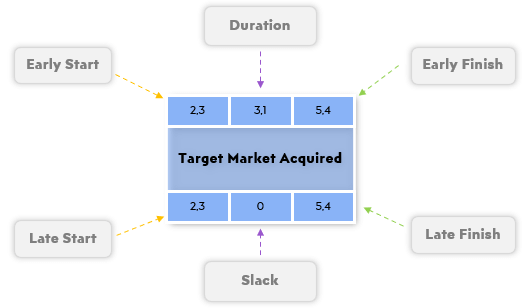 Additional Notes on PERT Data:
The main goal of the Project Evaluation and Review Technique is to dynamically calculate and visualize the critical path of the process. After you fill in all the necessary information,  you will immediately see all the output calculations in the table. You see estimated Duration, Early and Late Start, Early and Late Finish, and Slack for each task.
Note! The grey columns are automatically calculated once you input the necessary columns. So, please do not try to modify or delete them manually.
After you complete the data entry, you should continue with the settings part of the PERT Chart Template.
Settings Section
There are two separate parts for specifying shape and color settings.
Shape Settings:
Chart Layout: You can choose a vertical or horizontal layout. But you can make manual placement changes by dragging.
Full Information: You can select to see the full information or only the description. In addition to the description, full information selection will include all the grey cells in the data table being Duration, Early/Late Start, Early/Late Finish, and Slack.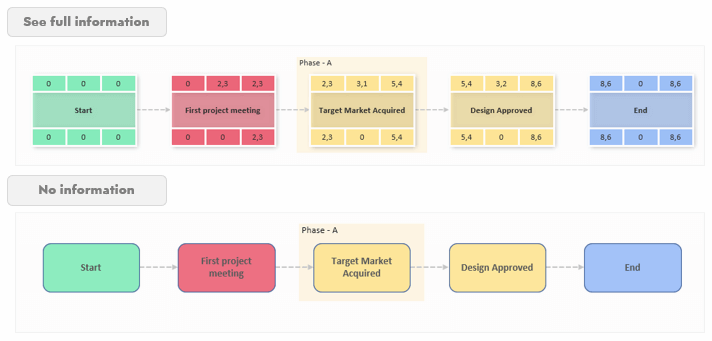 Critical Tasks: If you choose an option to highlight the critical tasks, critical paths (or CPM, the tasks which require the most effort and the longest duration) will be highlighted in the chart with a neon color frame.

Other shape settings include: Shape Width or Height Zoom, Shapes Gap(horizontal, vertical), Connectors (elbow or straight) and Font Size
Color Settings:
In addition to font and connector colors, here you can also change the colors for IDs. Set new colors and names here to be displayed in the "Shape Color" column drop-down menu options.
If you don't select any color on the "Shape Color" column, the default color will be the first color (top) on the color settings palette. You may also change the default color by updating the fill color of this cell.
Chart Section:
After you create your chart, you can also make changes by dragging and moving some of the tasks manually. Then you can click the "Adjust" button to fit the tasks to the grid and update the background or and the print area. Adjust button will also help redraw the phase separators according to the new positions.
As the last step, just click on the "Export to PDF" button to save the PERT Chart as a PDF file. You can also copy the chart to a PPT file and adjust it there directly for presentations!
PERT Chart Excel Template Features Summary:
Creates editable PERT Chart with a button click.
Want to edit the chart? Drag and drop it!
See and highlight the critical paths
Create a project timeline and see the milestones
Shape Settings; Width/Height, Gap Size, Horizontal/Vertical, Font Size
Clear on sheet instructions (with turn on/off function)
Export to PDF feature
Compatible with Excel 2010 and later versions.
Informational notes included
No installation needed. Ready to use.
Works both on Mac and Windows
Includes VBA code and macros
FREQUENTLY ASKED QUESTIONS