No new software, all in Excel. This user-friendly Trade Journal Spreadsheet Template is developed for professional and casual traders. Tracking is easy now!
(One-time Payment | Instant Download)
Payments are processed by our partner company Paddle.com.
You will receive a download link immediately after purchase.
TEMPLATE DETAILS
Works on: Windows / Mac
Requirements: Min. Excel 2010
Bonus: Free Lifetime Updates with your purchase.
Keeping a trading journal is one of the most important tasks for serious traders. It helps to track the development and makes it easy to decide on the next move. However, this task becomes quite time-consuming after a while especially for high volume daily traders. For this reason, we have built an easy to use yet strong Trade Journal Spreadsheet Template. The best part is, all in Excel! So, you don't need to spend time on learning complex software or web services for this job.
 Check the VIDEO below to see how this Trade Journal Template works: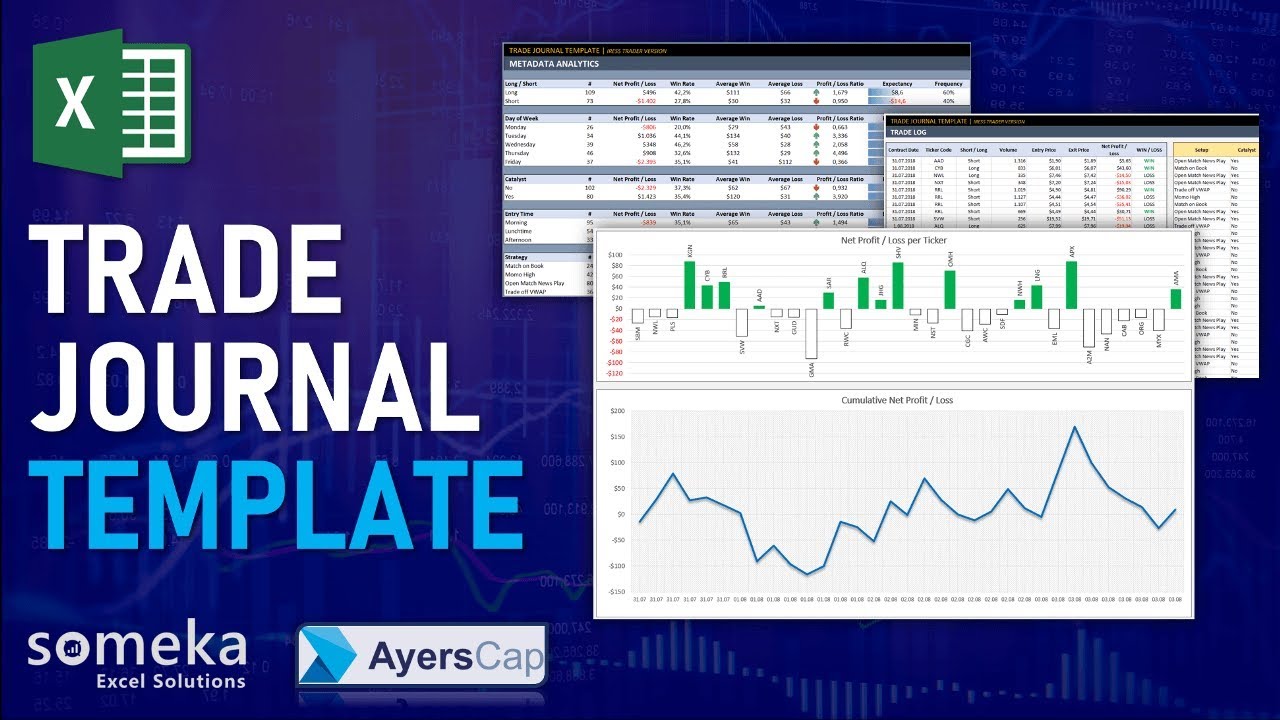 Trade Journal Template Sections
Raw Data: This is where you input your raw data (which you can export from your broker or agency software). We have prepared three different versions for easier raw data management (special versions for IRESS Trader and Viewpoint is also included in the package).
You will simply input your data to the white cells. We have put some dummy data, please don't forget to replace them with your own. You can control commission rates from the top section. If you want to define different rates per broker, you can do this at Settings section. You can also write different commissions for each row manually. (Manual inputs have priority in calculations)
When you are done with putting your data, press "REFRESH" button to reflect changes to Trade Log section. Some rows can be ignored if data is missing, there is an open position or date format is wrong. Check the Data Control Messages. "Reset Table" button clears all existing data.
Trade Log: This is where your raw data is being calculated, filtered and displayed per transaction. As mentioned, this section is being fed from Raw Data. So, if you need to edit something please work on Raw Data section.
If you think your transactions look good and correct according to your raw data, you can proceed to analysis dashboards to check your development and trends.
At the right side of this section you will notice the Metadata selections, which feed the Metadata Analysis we mentioned below.
Weekly Dashboard: Here you can see the weekly performance of your transactions. You can make week selection from top section (multiple selections allowed) New days and filters will appear as you add new data to Raw Data section.
All Trades Dashboard: This is where you see the overall performance of your logs. Cumulative Net Profit / Loss chart will give you a good idea about your decisions in the long term.
Metadata Analytics: This section is fed from the data you input at the right side of Trade Log. (These metadata dropdowns can be edited at Settings section)
Broker Call Tracker: This is an independent section at which you can input some specific data for your trading log. Similar to the metadata analytics, these dropdowns can be edited at Settings section.
Settings: You can input your source data for the dropdowns used throughout the template. This will affect the metadata analytics and broker call tracker sections as mentioned above. You can also manage Entry Time calculation here. Here you can define intervals for different categories. What you input is the start time for that category. If your Date field at Raw Data section also consists of Time data, this will be calculated and reflected at Metadata Analytics report.
Trade Journal Spreadsheet Template Features:
Easy to use tracking template for traders
Works in Excel, no need for complex software
Compatible with both Mac and Windows
No installation needed, ready to use
Professionally designed dashboards
Full Print Ready
White Label
Daily / Weekly / Monthly Views
On Sheet Instructions
Compatible with Excel 2010 and later versions